It's the record store equivalent of the old TV game show, Supermarket Sweep. Imagine going back in time – decades before the term "big box store" existed – with a crisp hundred-dollar bill and someone told you that you had to spend it now. In this Tower Records footage from 1971, there are all those new crisply shrink-wrapped, sale-priced LPs priced at just, gulp, a mere $2.77.
Some amazing footage has surfaced from the Sunset Boulevard store of the once powerful Tower Records chain —"Tower on Sunset" as it was known to all in the Los Angeles area, over the years the site of many huge in-store album release events, strategically situated near many record label West Coast offices. As the clip starts, the needle drops on Sly and the Family Stone's "Thank You (Falettinme Be Mice Elf Agin)." The camera follows an employee carrying cardboard boxes on the sales floor, and we pass stacks and stacks of pristine vinyl, in that unique way that Tower sold music, with the top box open sitting atop more of the same title below.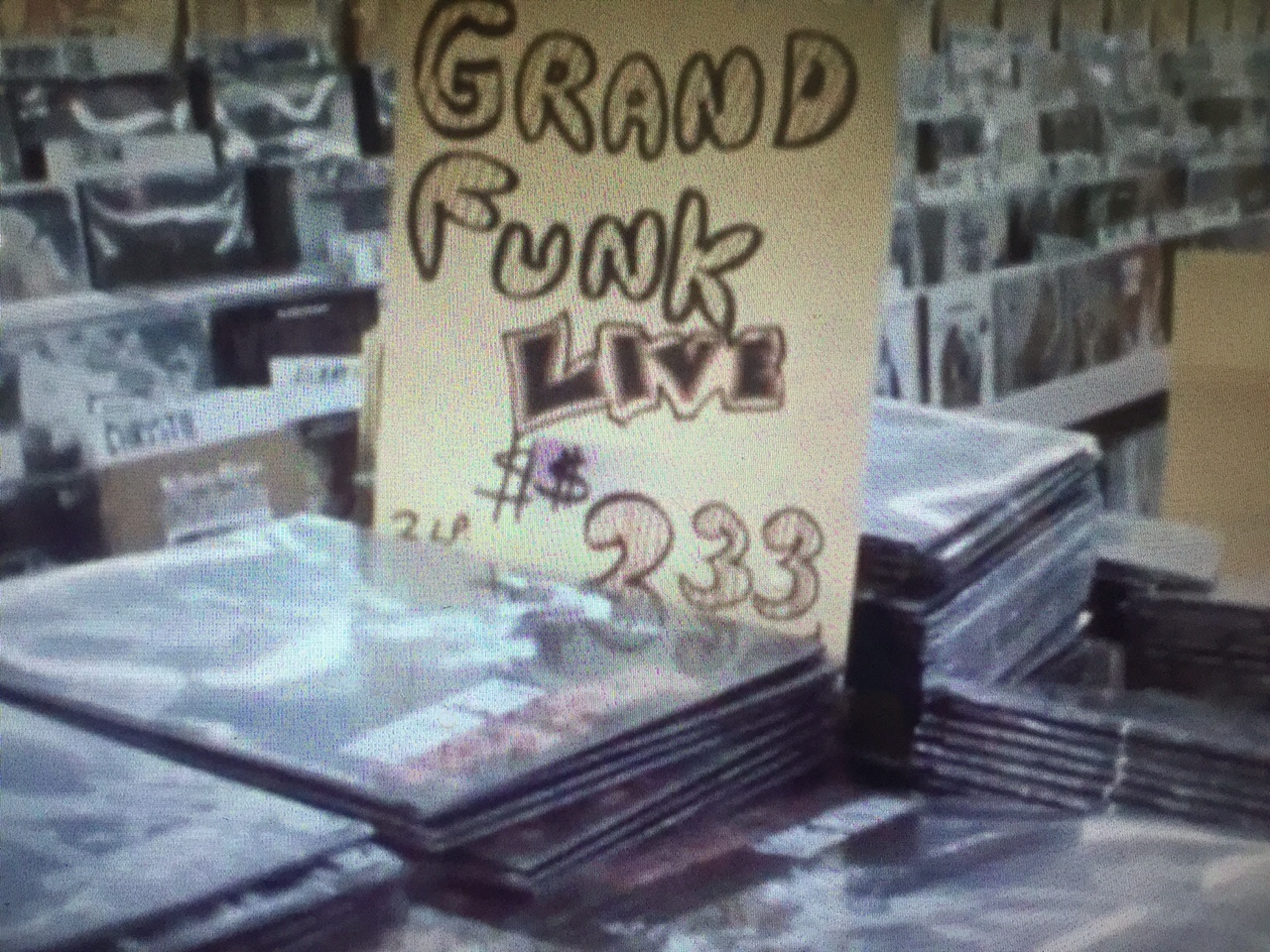 We see an employee opening a box of George Harrison's superb album from the year before, All Things Must Pass, and try unsuccessfully to get a peek at the price that the three-LP set is going for. The camera stops in front of a display revealing a handmade sign touting "Grand Funk Live, 2-LPs, $3.33" and another boosting "Eric Clapton $2.77 Per LP." Classic rock acts before they were classic…
Then there are the bins, alphabetical by genre including the all-important "Misc." section for each letter, where a patient shopper would unearth a hidden gem.
As teenagers in the '70s, we would spend hours in record stores amongst other fans buying new elpees and scarfing up back catalog from artists that we had just discovered. Traffic's 1971 release, The Low Spark of High Heeled Boys, led me to John Barleycorn… and Welcome To The Canteen. The Lamb Lies Down on Broadway  by Genesis in 1971 begat Nursery Cryme and Selling England by the Pound. And so on.
Back to the Tower footage…. There's the iconic yellow bag with the red letters. Sly ends and Janis Joplin's "Me and Bobby McGee" starts. We see a shot of her Pearl album and realize that it's a new release in 1971. There's the year-old Sweet Baby James album. Why is the Elton John bin so small? (Oh, right, in 1971, he had only released four albums.) There's the Hair soundtrack! Where are the Queen, Aerosmith and AC/DC bins? Oh, right – their first records weren't released until two years later!
There's someone wearing a paisley shirt, bell bottoms, long hair, and we see are mustaches galore. But not a single designer logo or licensed product. No baseball caps. No team jerseys.
But plenty of delicious vinyl. Watch the video, filmed and produced by Sacramento City College professor Darrell Forney, to travel back in time.
Related: Interview with Tower founder Russ Solomon

Latest posts by Best Classic Bands Staff
(see all)