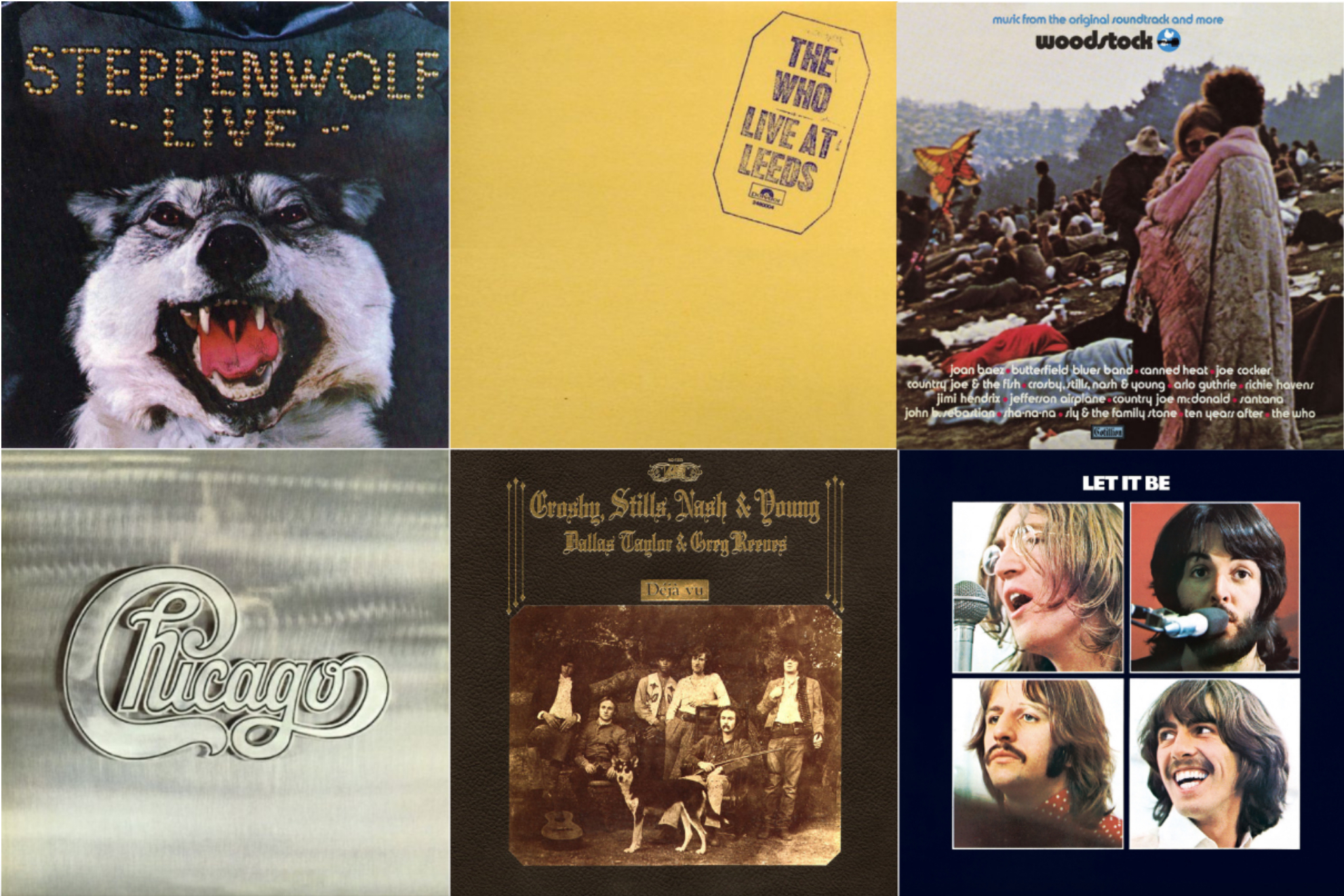 In July 1970, we heard "Good night, Chet" for the final time as the longtime co-anchor of NBC News' The Huntley-Brinkley Report, Chet Huntley, retired.
The syndicated radio program American Top 40 with host Casey Kasem debuted… on just five stations. The series' co-creator continued as host until Aug. 6, 1988. (He would later return with the retitled series AT40.)
It was still a month before the legendary Isle of Wight festival took place off the coast of England. The event featured many of the era's legendary names in classic rock including The Who, Jimi Hendrix, the Doors, Ten Years After, Chicago, Emerson, Lake and Palmer, and more.
Many of these same artists had top albums on the Record World magazine sales chart (below). Other albums rapidly climbing the 100 Top LPs chart were Rod Stewart's Gasoline Alley (jumping from #66 to #42), Grand Funk Railroad's Closer to Home (moving from #63 to #32) and Bob Dylan's Self Portrait (climbing from #33 to #17).
And in the Top 15 this week… Fans couldn't get enough of Steppenwolf and their label capitalized on the demand with the release of Steppenwolf Live. The two-record set, at #15 this week, was recorded earlier that year at the Santa Monica (Calif.) Civic Center.
Another legendary live album, Band of Gypsys, billed to Jimi Hendrix and featuring his power trio of the same name. The album, at #14, was recorded on New Year's Day of that year at New York's Fillmore East.
At #10 was Melanie's Candles in the Rain which included a cover of "Ruby Tuesday" and the 23-year-old's first Top 10 single, "Lay Down (Candles in the Rain)," accompanied by the Edward Hawkins Singers.
Simon & Garfunkel made only five studio albums but what a finale! At #9 this week, the Grammy winner for Album of the Year, Bridge Over Troubled Water, included four hit singles, including the stunning title track–which also took home Record of the Year and Song of the Year honors.
At #8, was Chicago, long ago renamed Chicago II. The album featured the band's first two pop hits, "Make Me Smile" and "25 or 6 to 4," and is included in our feature, 14 Best Studio Double Albums of All Time.
On Crosby, Stills & Nash's follow-up to their 1969 debut, they were joined by Neil Young to create the essential Déjà Vu album that gifted us such memorable songs as "Teach Your Children," "Carry On," "Our House" and "Woodstock." Hmmm… why stop there? Classic rock fans know the entire album – at #6 this week – by heart.
Related: Looking back at the biggest radio hits of 1970
At #4 was Paul McCartney's solo debut album, McCartney, which includes such classics as "Maybe I'm Amazed" and "Every Night." It was released one month before the Beatles final studio album. (More on that below.)
Related: Our Album Rewind of McCartney's solo debut
Many rock fans' favorite live album, The Who Live at Leeds, was released on May 16, 1970, just three months after the band recorded it. The original, at #3 this week, contained only six songs from the concert including "Summertime Blues," "My Generation" and "Magic Bus." Fans had to wait until a 40th anniversary edition before being able to get the entire performance of Tommy from the concert.
At #2 was the 3-LP collection of music from the Woodstock film, featuring iconic performances by Jefferson Airplane, Santana, Arlo Guthrie, Sly & the Family Stone, Joe Cocker, Crosby, Stills, Nash & Young, Country Joe McDonald, and numerous others, including many stage announcements.
Sitting comfortably at #1 was Let It Be, the final studio album released by the Beatles, roughly a month after their break-up. The album's material was recorded over a two-year period, with Abbey Road recorded and released in between. Billy Preston notably joined the group for seven of its 12 tracks.
Related: The #1 albums for all of 1970
15. Steppenwolf Live (ABC/Dunhill)
14. Band of Gypsys – Jimi Hendrix (Capitol)
13. It Ain't Easy – Three Dog Night (ABC/Dunhill)
12. On Stage – February 1970 – Elvis Presley (RCA)
11. Get Ready – Rare Earth (Rare Earth)
10. Candles in the Rain – Melanie (Buddah)
9. Bridge Over Troubled Water – Simon & Garfunkel (Columbia)
8. Chicago – Chicago (Columbia)
7. Greatest Hits – Fifth Dimension (Soul City)
6. Deja Vu – Crosby, Stills, Nash & Young (Atlantic)
5. ABC – Jackson 5 (Motown)
4. McCartney – Paul McCartney (Apple)
3. Live at Leeds – The Who (Decca)
2. Woodstock (Music From the Original Soundtrack) (Cotillion)
1. Let It Be – The Beatles (Apple)

Latest posts by Best Classic Bands Staff
(see all)