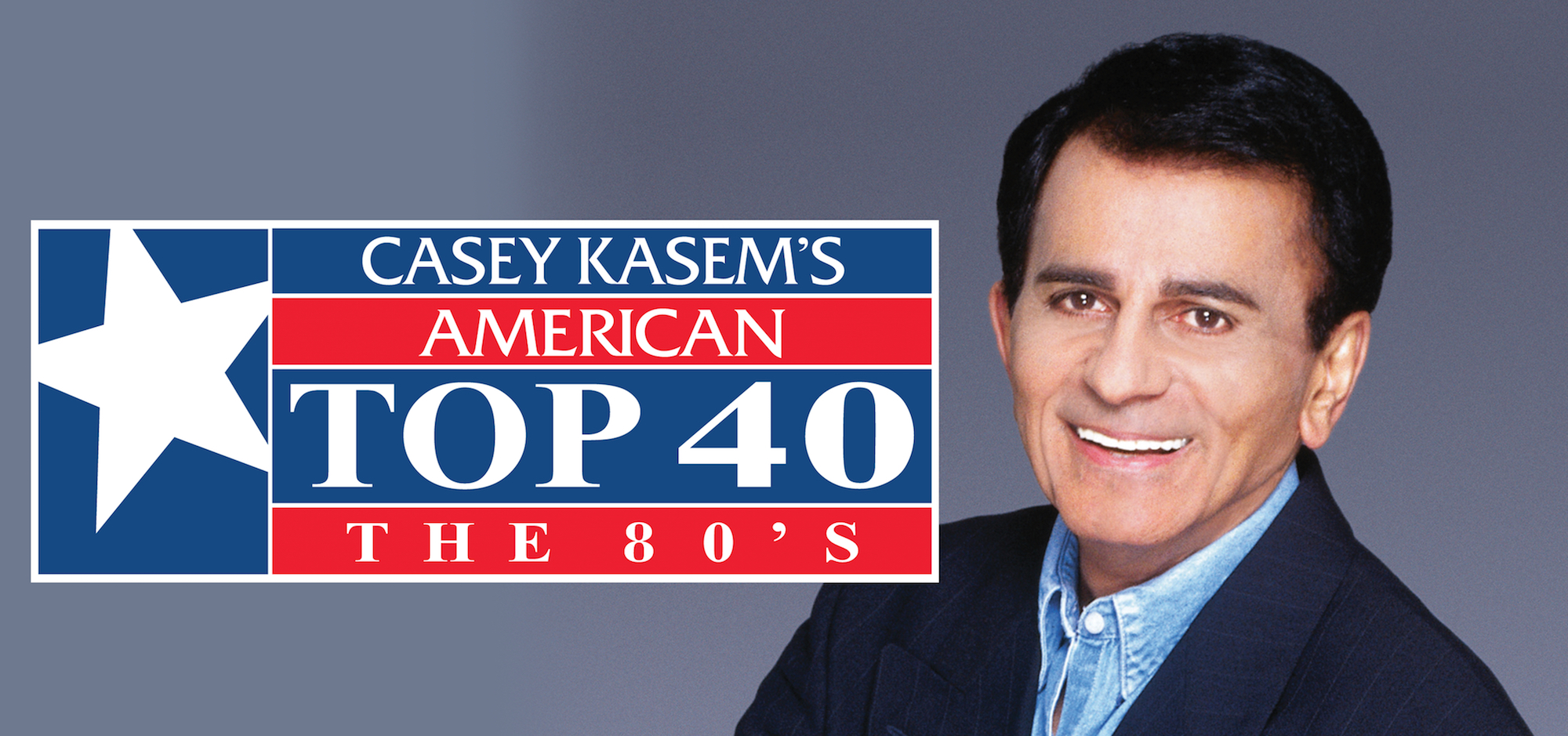 For decades, radio listeners tuned in each week to hear the countdown of the most popular songs on the Top 40 format, delivered by the mellifluous voice of Casey Kasem. The American disc jockey, music historian, radio personality, voice actor, and actor, was best known for being the host of several music radio countdown programs, most notably American Top 40.
The syndicated program was "heard in the fifty states and around the world every week on great radio stations like…" as its host regularly gave shout-outs to such small market affiliates such as WPAC in Ogdensburg, NY and WDZN in Cumberland, Md. It became a regular listening habit for countless music fans, who tuned in not just to hear the new ranking but also for Kasem's great stories about the songs and artists.
Kasem was born Kemal Amen Kasem on April 27, 1932, in Detroit, Mich., the son of Lebanese immigrants. After graduating from high school, he was drafted into the U.S. Army where he served in Korea as a disc jockey for Armed Forces Radio. Once he returned home, he worked at a series of radio stations in Flint, Mich., Buffalo, NY, and Cleveland, Ohio, before moving to California. It was there that he began to incorporate biographical tidbits of the performers into his programs.
Kasem's star grew when he moved to Los Angeles' KRLA in 1963 and his career took a big step with acting roles in front of the camera and as a voice actor. In 1969, he was hired to provide the voice of "Shaggy" Rogers for Scooby-Doo, a role he continued off-and-on for the next forty years.
One year later, Kasem co-founded American Top 40 with his childhood friend and fellow broadcaster Don Bustany, who wrote and directed it, and radio veterans Tom Rounds and Ron Jacobs, of radio syndication company, Watermark. The program debuted on July 4, 1970 with Kasem's introduction:
"Here we go with the Top 40 hits of the nation this week on American Top 40, the best-selling and most-played songs from the Atlantic to the Pacific, from Canada to Mexico. This is Casey Kasem in Hollywood, and in the next three hours, we'll count down the 40 most popular hits in the United States this week, hot off the record charts of Billboard magazine for the week ending July 11, 1970. Now, on with the countdown!"
The program's first song? At #40, Marvin Gaye's "The End of Our Road." Among the other songs on that first program were Crosby, Stills, Nash & Young's "Ohio" (#30), Stevie Wonder's "Signed, Sealed, Delivered" (#26), The Brotherhood of Man's "United We Stand" (#14), the Carpenters' "(They Long to Be) Close to You" (#7), the Jackson 5's "The Love You Save" (#2) and Three Dog Night's "Mama Told Me (Not to Come)" (#1).
Listen to that first show
And, yes, he closed it with what would become his signature sign-off, "Keep your feet on the ground, and keep reaching for the stars."
Related: The top radio hits of 1970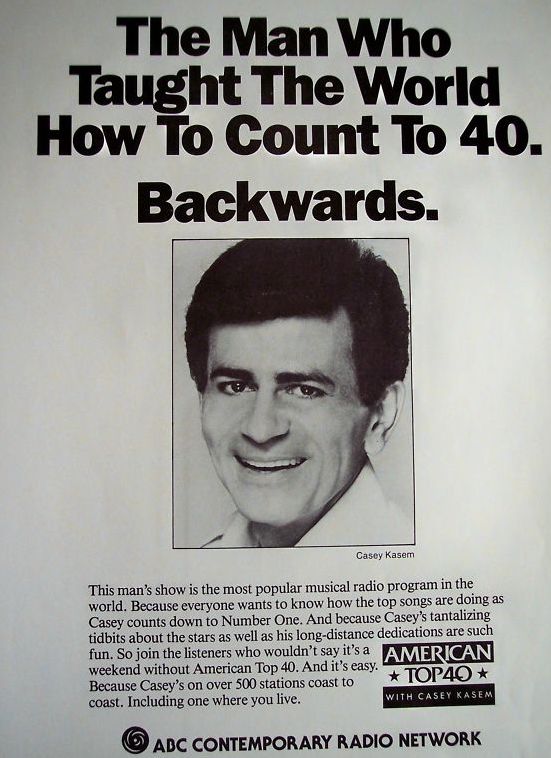 That first three-hour show took 18 hours to record and Watermark cleared just seven stations. Over the next decade, the program grew significantly, in many ways. It became four hours, due largely to the increasing length of the singles, and to incorporate more breaks for advertisers. (Typically, the syndication company would sell national ads that would appear on all of the stations. Each affiliate would also have plenty of opportunities to include local ads for their market.) By the '80s, AT40 – as the show became known – was syndicated to over 500 stations.
The program also included such features as "whatever happened to" and a "long distance dedication."
The latter featured heartwarming stories sent in by listeners. On one such occasion, though, Kasem was clearly dissatisfied with the producer's choice for the song which preceded that week's letter about the death of a family's dog named Snuggles.
"See, when you come out of those up-tempo goddamn numbers, man," he screams to the control room, "it's impossible to make those transitions, and then you gotta go into somebody dying."
Listen to Kasem's epic rant [Warning: foul language]
Kasem hosted AT40 until 1988, when he left in a salary dispute and in 1989, he began Casey's Top 40 with Westwood One. He ultimately returned to AT40 from 1998 to 2004 and continued hosting several spinoffs until 2009.
In addition to his radio shows, Kasem continued to voice "Shaggy" on Scooby-Doo, and other animated characters.
Listen to Kasem's final segment on American Top 20 on the 4th of July holiday weekend in 2009, at age 77
Kasem was active in animal rights and environmental causes. Among his industry honors are a star on the Hollywood Walk of Fame in 1981 and induction into the National Association of Broadcasters Hall of Fame in 1985.
In 2013, a daughter revealed that he was suffering from Parkinson's disease, which robbed him of his ability to speak with that magnificent voice in his final months. The legend died on June 15, 2014, at age 82.
You can hear complete, remastered AT40 shows hosted by Kasem on SiriusXM's '70s on 7 channel.

Latest posts by Best Classic Bands Staff
(see all)