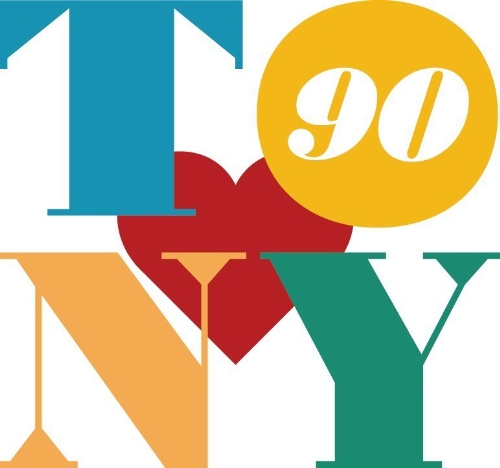 Update (Dec. 20): Reminder… Tony Bennett Celebrates 90… The Best is Yet to Come airs Tuesday night (Dec. 20) on NBC at 9 p.m. ET. (See the clip below.)
Update (Nov. 13): RPM Records/Columbia Records has announced that it will release a deluxe edition of the Tony Bennett Celebrates 90 album set for release Dec. 16. The deluxe edition is a three- CD set that is an Amazon exclusive, which includes the standard CD as well as two additional CDs featuring rare and previously unreleased studio and live performance tracks of Bennett's throughout his career. The set also includes a 28-page booklet with a comprehensive decade-by-decade account of his life and career, written by Will Friedwald. Pre-order is available here. The single-CD version here.
Scroll down to the bottom for complete track listings.
In addition to the new CDs and NBC special, Bennett's fifth book, Just Getting Started, will be released on November 15. Bennett collaborates with journalist Scott Simon to "celebrate the people and places who have helped, influenced and steered him along the way, among them his parents, Frank Sinatra, Duke Ellington, Ella Fitzgerald, Lady Gaga, Pablo Picasso, the city of San Francisco, among others," according to a press release. Just Getting Started also features over 80 color images of Bennett's original artwork and is being released by HarperCollins. Order it here.
Bennett will also be performing in the Macy's Thanksgiving Day Parade, which also celebrates its 90th Birthday this year, and Christmas in Rockefeller Center, both airing on NBC on November 24 and 30, respectively.
Our original report…
If you're an American cultural icon who's turned 90, you've earned some well-deserved attention and accolades. NBC has announced a December 20 airdate for Tony Bennett Celebrates 90: The Best Is Yet To Come, a two-hour special airing at 9 pm ET/PT.
The first announced guests include an eclectic list: Aretha Franklin, Billy Joel, Elton John, Stevie Wonder, Alec Baldwin, Andrea Bocelli, Michael Bublé, Steve Buscemi, Lady Gaga, Diana Krall, kd lang, Homer Simpson, Kevin Spacey, John Travolta and Bennett himself.  The special will be taped at New York's Radio City Music Hall on September 15 and select audience seats will be available for purchase for the taping event.
Tickets for his 2016-17 dates are available here. (Alternatively, try here.)
In conjunction with the NBC special, Columbia Records will release an album on December 16 featuring the event's musical performances comprised of new solo, duet and medley performances by Bennett and the superstar guests. Columbia will also release a deluxe box set with two audio discs of over 30 never-before-released and rare recordings – both live and in studio – a DVD of newly released historical footage and performances, the CD inspired by the television special and a book that will feature photos and essays from President Bill Clinton, Harry Belafonte, Martin Scorsese, Johnny Mandel and others. Pre-order Tony Bennett at 90 deluxe edition here.
Bennett also confirmed to Billboard that he has plans to record a second album of duets with Lady Gaga.
Tonight (August 3), the Empire State Building will present a dynamic, choreographed music-to-light show at 8:45 pm to honor Bennett's musical legacy, followed by a light display of the Italian and American flag colors in honor of his heritage. His star-studded birthday festivities will be held at the Rainbow Room and will be highlighted by Lady Gaga "flipping the switch" to light up the Empire State Building as well as a performance for invited guests.
.@itsTonyBennett & @LadyGaga lit the ESB ahead of tonight's music-to-light show honoring Tony's 90yr musical legacy! pic.twitter.com/N3KxdZHCSi

— Empire State Bldg (@EmpireStateBldg) August 3, 2016
Related: Our appreciation for Bennett including duets with Billy Joel
Track Listing For Tony Bennett Celebrates 90: (Standard)
1. The Lady Is A Tramp/Lady Gaga
2. The Good Life /Michael Bublé
3. Ave Maria/Andrea Bocelli
4. Autumn Leaves /Leslie Odom Jr.
5. I've Got The World On A String /Diana Krall
6. New York State Of Mind/Tony Bennett And Billy Joel
7. I Can't Give You Anything But Love /Rufus Wainwright
8. A Kiss To Build A Dream On/K.D. Lang
9. Visions /Stevie Wonder
10. La Vie En Rose /Lady Gaga
11. Can You Feel The Love Tonight/Elton John
12. The Very Thought Of You / If I Ruled The World Medley/Kevin Spacey
13. Who Cares?/Tony Bennett
14. The Best Is Yet To Come/Tony Bennett
15. I Left My Heart In San Francisco/Tony Bennett
16. I Got Rhythm/Tony Bennett
17. How Do You Keep The Music Playing?/Tony Bennett
18. Happy Birthday/Stevie Wonder
Track Listing for Deluxe Edition

CD1
Same as Standard CD listing above
CD2
1. Fascinatin' Rhythm
Vocal By Joe Bari (Tony Bennett)
2. St. James Infirmary Blues
Vocal By Joe Bari (Tony Bennett)/The 314th Army Special Services Band Of The European Theatre
3. Vieni Qui (Come To Me) Joe Bari (Tony Bennett) With Pat Easton
4. We Mustn't Say Goodbye *
5. Close Your Eyes With The Pastels
6. A Blossom Fell
7. Something's Gotta Give
8. Whatever Lola Wants
9. Heart
10. Imagination* With Ralph Sharon, Piano
11. It's A Sin To Tell A Lie *
12. The Heart That Broke Was Mine *
13. Vanity *
14. You Can't Love 'Em All
15. Day Dream With Herbie Hancock, Piano; Stan Getz, Tenor Sax; Ron Carter, Bass; Elvin Jones, Drums, Bob Brookmeyer, Trombone
16. I've Waited For A Waltz*
17. Got The Gate On The Golden Gate *
18. This Is All I Ask * With John Bunch, Piano
19. (I've Got) Beginner's Luck * With The Ralph Sharon Trio
20. Love You Madly *
(*denotes previously unreleased track)
CD 3
1. The Lady's In Love With You
2. Georgia Rose
3. Limehouse Blues
4. I've Got Just About Everything I Need
5. Don't Wait Too Long
6. Pennies From Heaven
7. Blue Moon
8. From This Moment On
9. Don't Get Around Much Anymore
10. Country Girl
11. Broadway
12. Days Of Love
13. I'm Way Ahead Of The Game
14. Quiet Nights Of Quiet Stars
15. Firefly
16. Once Upon A Time
17. Chicago (That Toddlin' Town)
18. Lullaby Of Broadway
Watch as the Empire State Building honors Bennett's legacy with a music-to-light show synced to four of his hits…

Latest posts by Best Classic Bands Staff
(see all)