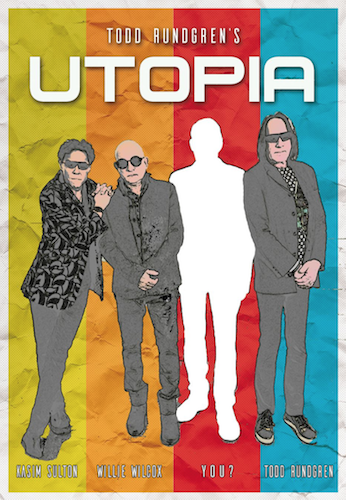 Just a few weeks ago, Todd Rundgren announced a North American spring reunion tour of the classic mid-'70s lineup of his prog-rock outfit Utopia—Rundgren on guitar and vocals, Ralph Schuckett on keyboards, bassist Kasim Sulton and John "Willie" Wilcox on drums.
Now, it seems, Schuckett can't make the tour and Utopia will be needing a new keyboardist. What if, Todd wonders, that person is among the band's fans, just waiting for his or her big break?
Rundgren posted this shout-out on his Facebook page:
"Due to unexpected health issues, unfortunately Ralph Schuckett will be unable to tour with Utopia this spring.
"While discussing a replacement keyboardist, it occurred to us that there may be someone out there who already knows the music and vocal parts and would like an opportunity to tour with us. So if you think you could fill those big shoes, we invite you to submit an audio and/or video sample to us.
"We are on a very fast track, so the decision will be made this week. Band rehearsals begin in 2 weeks, so you won't have a lot of time to learn the set. If you still want to try out, send your submissions (mp3s or links) to info@panacea-ent.com.
If audio-only, a photo would be nice but not required.
Good luck!
Utopia"
At the time of the original announcement in early March, it was also announced that, to commemorate the reunion, Friday Music will release a 7-disc box set, The Road to Utopia: The Complete Recordings (1974-82), on April 20. The limited edition collection features their seven classic albums, now in first-time CD digipak gatefold covers, featuring the original album artwork elements, rare inner sleeve art, newly written commentary from the band, and more. Pre-order here.
Utopia's tours, among the first to aggressively incorporate then-state-of-the-art video technology, produced at Todd's groundbreaking Utopia Video Studios, featured some of the most lavish and audacious stage productions in rock history.
Meanwhile, a 3-CD set culled from Rundgren's May 1978 concerts at the Roxy Theater in West Hollywood, was recently released. The title includes the entire set from the May 23 concert over two discs, along with a third disc comprising other soundboard recordings made during his residence of shows there.
Related: The story behind Rundgren's "Hello, It's Me"
Todd Rundgren and Utopia Tour Dates (Tickets are available here and here)
Apr 18 – Jim Thorpe, PA – Penn's Peak
Apr 20 – Englewood, NJ – Bergen PAC
Apr 22 – Houston, TX – House Of Blues
Apr 23 – Dallas, TX – Majestic Theatre
Apr 25 – Ft. Lauderdale, FL – Au-Rene Theater at Broward Center
Apr 27 – St. Petersburg, FL – The Mahaffey Theater
Apr 28 – Atlanta, GA – Tabernacle
Apr 29 – Durham, NC – Carolina Theater
May 1 – Huntington, NY – The Paramount
May 2 – Washington, DC – Warner Theater
May 3 – New York, New York – Town Hall
May 5 – Upper Darby, PA – Tower Theater
May 6 – Boston, MA – Orpheum Theater
May 7 – Ridgefield, CT – Ridgefield Theater
May 9 – St. Louis, MO – Peabody Opera House
May 10 – Cincinnati, OH – Taft Theater
May 12 – Milwaukee, WI – Pabst Theater
May 13 – Minneapolis, MN – State Theater
May 15 – Grand Rapids, MI – 20 Monroe Live
May 16 – Toronto, ON – Massey Hall
May 17 – Detroit, MI – The Fillmore
May 19 – Cleveland, OH – Hard Rock Live
May 20 – Cleveland, OH – Hard Rock Live
May 22 – Chicago, IL – Chicago Theater
May 24 – Denver, CO – Paramount Theater
May 26 – Las Vegas, NV – The Joint at Hard Rock Hotel & Casino
May 27 – Phoenix, AZ – Comercia Theater
May 29 – Los Angeles, CA – The Wiltern
May 30 – San Francisco, CA – The Masonic
June 1 – Seattle, WA – Moore Theater
June 2 – Portland, OR – Revolution Theater
June 4 – Sacramento, CA – Crest Theater
June 5 – Riverside, CA – Fox Performing Arts Center
Watch Rundgren perform the 1974 album Todd Rundgren's Utopia in its entirety in 2011

Latest posts by Best Classic Bands Staff
(see all)