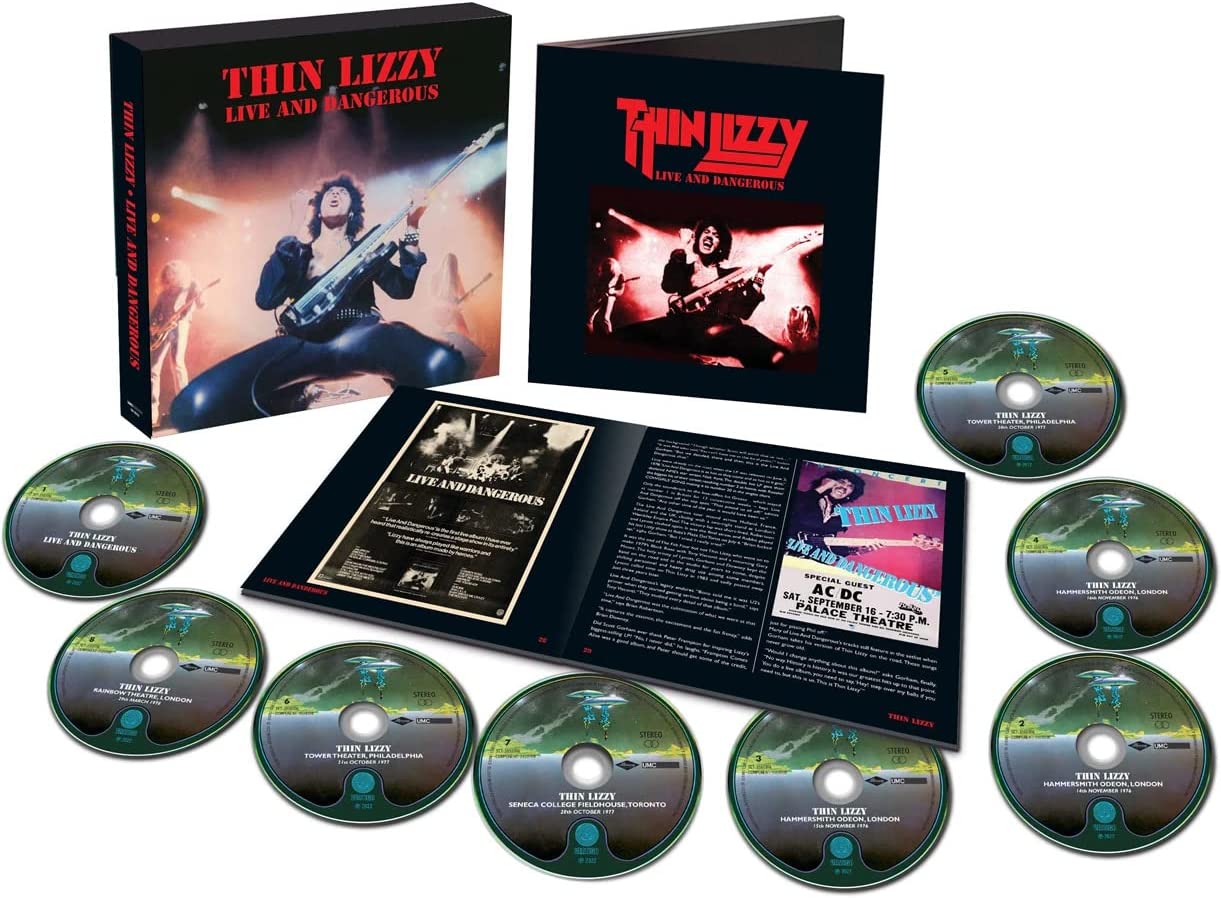 Thin Lizzy's 1978 two-LP concert album, Live and Dangerous, has gotten a massive upgrade for its 45th anniversary. The collection, recorded in London and Philadelphia in 1976 and 1977 during the tours supporting their Johnny the Fox and Bad Reputation studio albums, was originally released in 1978 and is considered by many to be one of the best live albums of all time. The newly remastered 8-CD super deluxe box set arrived Jan. 27, 2023.
The Irish band's plan was to originally release another studio album, but their leader, Phil Lynott, came up with the idea that they spend two weeks together compiling a live album instead. Working with producer Tony Visconti, they organized 17 tracks culled from performances at London's Hammersmith Odeon and Philadelphia's Tower Theater. The new box set, with 63 previously unreleased tracks, is the definitive version of Live & Dangerous, containing all six shows that make up the record including the 1977 concert at the Seneca College Fieldhouse in Toronto, all newly mixed by Ben Findlay from the original multi-tracks, mastered by Andy Pearce and overseen by Thin Lizzy guitarist Scott Gorham.
Besides lead vocalist and bass guitarist Lynott and Gorham, the concerts feature the band's guitarist Brian Robertson and drummer Brian Downey. They were joined on some tracks by John Earle from Graham Parker & the Rumour, and Huey Lewis, then of Clover. (Those bands were support acts for these dates.)
Listen to Lewis play harmonica on "Baby Drives Me Crazy" [Audio is from the original release]
It goes to dispel the rumors that the album was extensively overdubbed in the studio and it's presented here as the shows were intended with the rawness of a band, that were at the top of their game night after night.
See the complete track listing below the Amazon links.
The original 1978 release of Live & Dangerous reached #2 in the U.K. but just #84 in the U.S. The new package includes sleeve notes by Mojo's Mark Blake and has a booklet packed with rare photos and memorabilia.
Related: Our feature story on one of rock's great earworms, "The Boys Are Back in Town"
Thin Lizzy Live & Dangerous Super Deluxe Edition Track List
Disc 1 (Live & Dangerous original album)
1 Jailbreak
2 Emerald
3 Southbound
4 Rosalie
5 Dancing in the Moonlight
6 Massacre
7 Still in Love with You
8 Johnny the Fox Meets Jimmy the Weed
9 Cowboy Song
10 The Boys Are Back in Town
11 Don't Believe a Word
12 Warriors
13 Are You Ready?
14 Suicide
15 Sha la la
16 Baby Drives Me Crazy
17 The Rocker
This version is from the original 1978 release…
Disc 2 (Live at Hammersmith Odeon, November 14, 1976)
1 Jailbreak
2 Massacre
3 Emerald
4 Johnny
5 It's Only Money
6 Still in Love with You
7 Johnny the Fox Meets Jimmy the Weed
8 The Boys Are Back in Town
9 Rosalie/Cowgirl's Song
10 Suicide
11 Warriors
12 Sha la la
13 Baby Drives Me Crazy
Disc 3 (Live at Hammersmith Odeon, November 15, 1976)
1 Jailbreak
2 Massacre
3 Emerald
4 Johnny the Fox Meets Jimmy the Weed
5 The Boys Are Back in Town
6 Rosalie/Cowgirl's Song
7 Suicide
8 Warriors
9 Sha la la
10 Baby Drives Me Crazy
11 Me and the Boys Were Wondering How You and the Girls Were Getting Home from Here Tonight
12 The Rocker
Disc 4 (Live at Hammersmith Odeon, November 16, 1976)
1 Jailbreak
2 Massacre
3 Emerald
4 Johnny
5 It's Only Money
6 Still In Love with You
7 Johnny The Fox Meets Jimmy the Weed
8 The Boys Are Back in Town
9 Rosalie / Cowgirl's Song
10 Suicide
11 Warriors
12 Sha La La
13 Baby Drives Me Crazy
14 Me And the Boys Were Wondering How You and The Girls Were Getting Home From Here Tonight
Disc 5 (Live at Philadelphia Tower, October 20, 1977)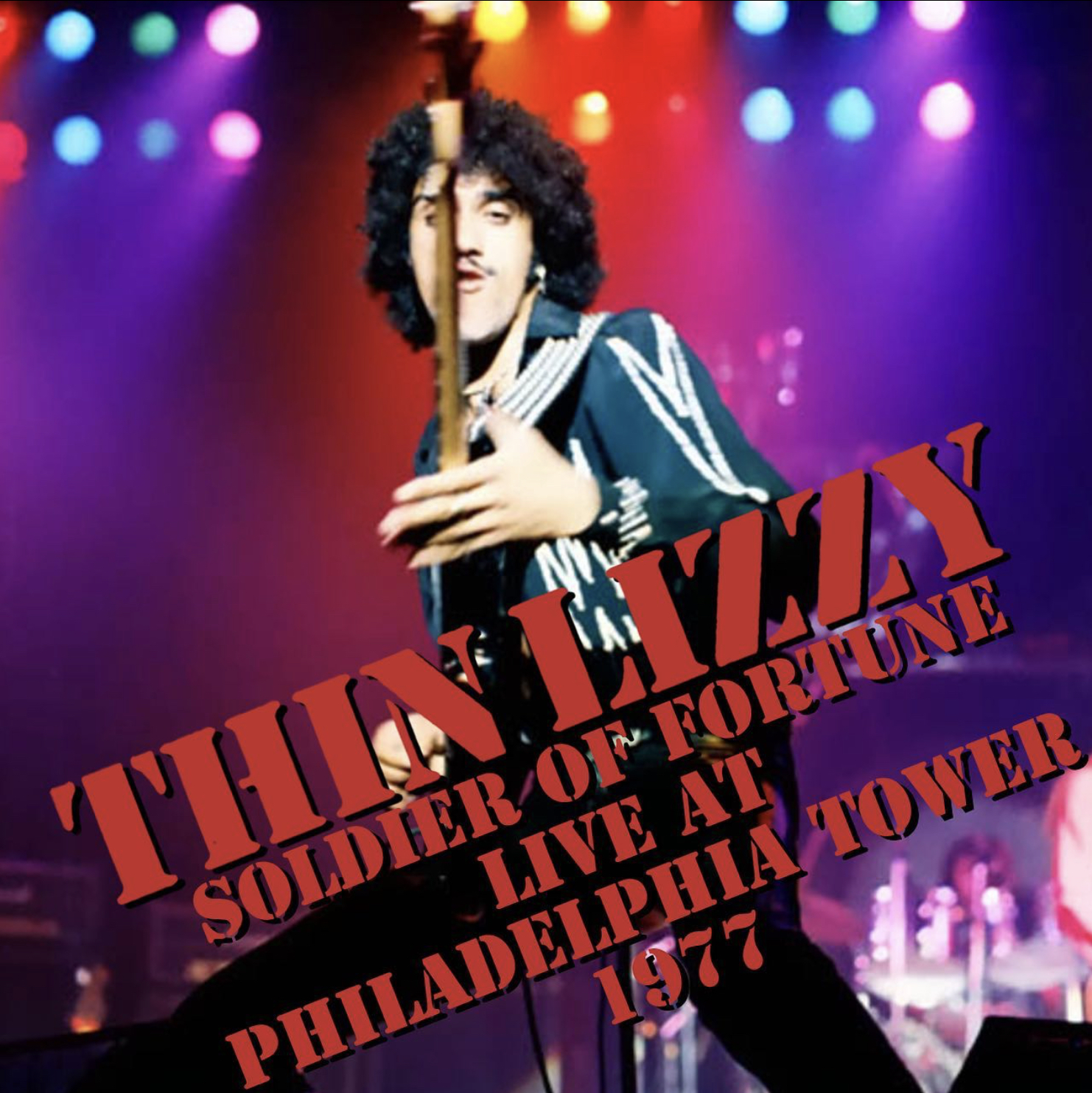 1 Soldier Of Fortune
2 Jailbreak
3 Johnny
4 Warrior
5 Dancing In the Moonlight
6 Massacre
7 Still In Love with You
8 Cowboy Song
9 Boys Are Back in Town
10 Opium Trail
11 Don't Believe a Word
12 Emerald
13 Bad Reputation
14 Baby Drives Me Crazy
Disc 6 (Live at Philadelphia Tower, October 21, 1977)
1 Solider of Fortune
2 Jailbreak
3 Johnny
4 Warriors
5 Dancing In the Moonlight
6 Massacre
7 Still In Love with You
8 Cowboy Song
9 The Boys Are Back in Town
10 Opium Trail
11 Don't Believe a Word
12 Emerald
13 Bad Reputation
14 Baby Drives Me Crazy
15 The Rocker
Disc 7 (Live at Seneca College Fieldhouse, Toronto, October 28, 1977)
1 Soldier Of Fortune
2 Jailbreak
3 Emerald
4 Dancing In the Moonlight
5 Massacre
6 Still In Love with You
7 Johnny The Fox Meets Jimmy the Weed
8 Warriors
9 Opium Trail
10 Cowboy Song
11 The Boys Are Back in Town
12 Don't Believe a Word
13 Bad Reputation
14 Are You Ready?
15 Me And the Boys Were Wondering How You and The Girls Were Getting Home From Here Tonight
16 The Rocker
Disc 8 (Live at the Rainbow Theatre, March 29, 1978)
1 Jailbreak
2 Emerald
3 Southbound
4 Rosalie
5 Dancing In the Moonlight
6 Massacre
7 Still In Love with You
8 Johnny The Fox Meets Jimmy the Weed
9 Don't Believe a Word
10 Warriors
11 Cowboy Song
12 The Boys Are Back in Town
13 Suicide
14 Are You Ready?
15 Sha La La
16 Baby Drives Me Crazy
17 The Rocker

Latest posts by Best Classic Bands Staff
(see all)