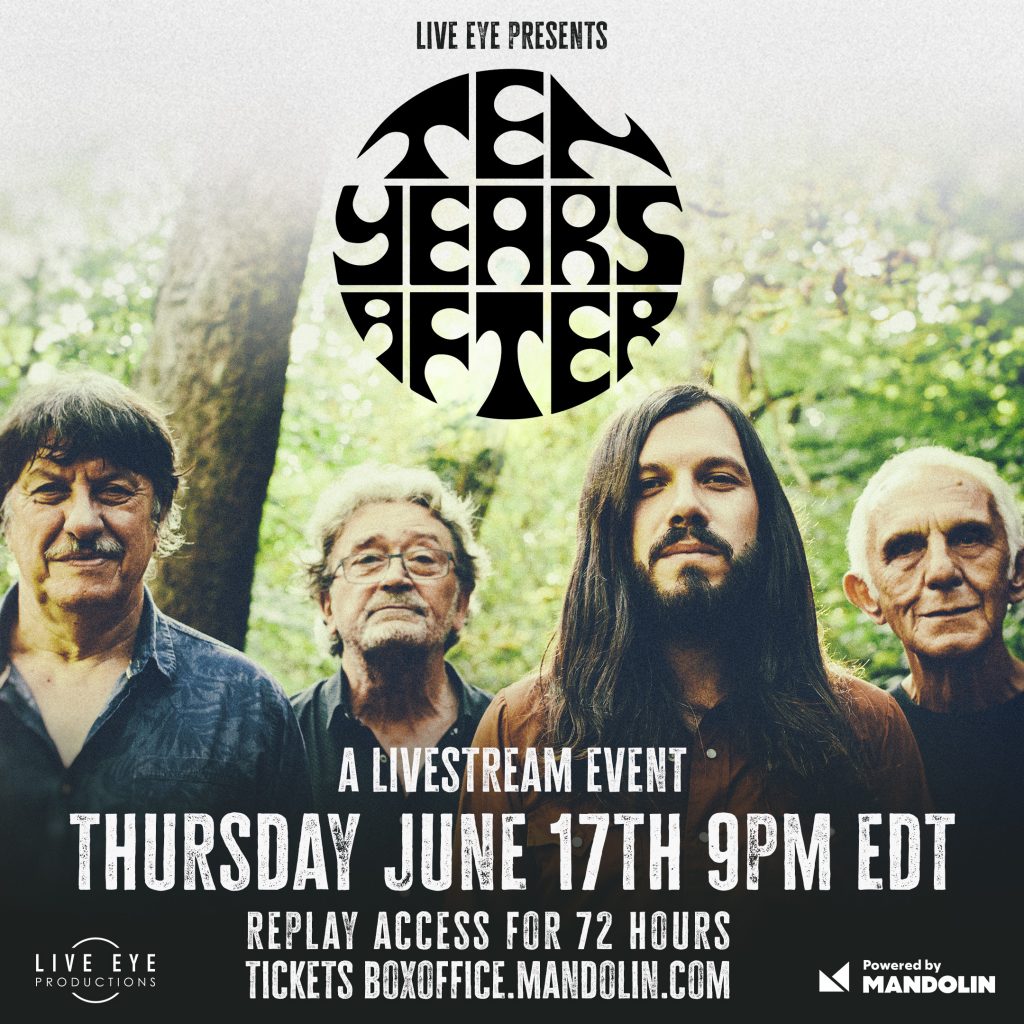 Ten Years After, the British blues-rock band best known for its incendiary performance of "I'm Going Home" at the Woodstock Festival in 1969, has announced that they will perform a livestreamed event. Titled "Blue Crossroads," the event includes performances by two other artists as well, the Marcus Bonfanti Electric Band on July 1, and Jawbone on July 15. The Ten Years After portion of the performance will take place on June 17, 2021, at 9 p.m. EDT (with replay access available for 72 hours afterwards), Tickets are available for purchase via boxoffice.mandolin.com.
Ten Years After released a deluxe edition of their 2017 album, A Sting in the Tale, on March 19, 2021.
The current lineup of the band still includes original members Ric Lee (drums) and Chick Churchill (keyboards), joined by guitarist/vocalist Marcus Bonfanti and bassist Colin Hodgkinson. (Original guitarist Alvin Lee passed away in 2013, and bassist Leo Lyons no longer performs with the others.)
The album was engineered and produced by Bonfanti at his Cricklewood Green Studios in Cricklewood, North London and mixed by acclaimed Canadian mix engineer Doug Organ in Edmonton, Canada.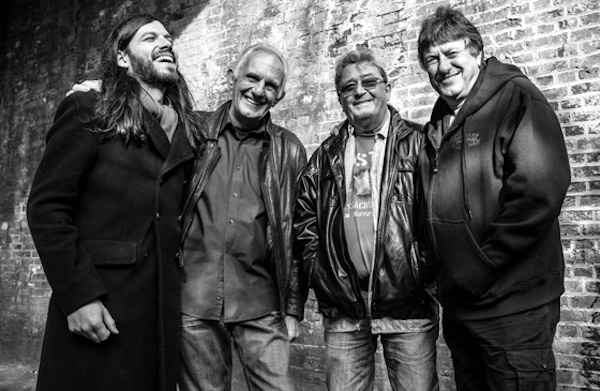 The new edition of the album features four live bonus tracks, including "I'd Love To Change the World." They were recorded during a tour in Germany. As drummer Ric Lee states in a press release, "The creative process of the studio album was a joy. Writing and recording together, being able to construct songs that reflect the personalities, memories and experiences of each of the members was extremely satisfying.
The title A Sting in the Tale," says the release, "reflects the same sentiment Ric and Chick wished to convey in the 2015 live album, The Name Remains the Same…The subject material on the album ranges from childhood memories of growing up in postwar Britain, songs of love lost to the rock 'n' roll lifestyle as well as sincere odes to a life well lived. They pay homage to the steam train drivers of the past and guitar heroes of the future as well as other interesting characters the band have encountered since they embarked on this journey over 50 years ago."
Related: What are all of the surviving Woodstock artists doing now?
In addition to the new album, Lee has written his autobiography, From Headstocks to Woodstock.
"It was something I'd always wanted to do and I actually started it more than 10 years ago, but kept stopping and starting for various reasons," explains Lee in a press release. "Then a chance conversation with a friend in Los Angeles persuaded me to get it finished." The book runs 448 pages.
Watch the video of "Suranne Suranne," from the album

Latest posts by Best Classic Bands Staff
(see all)