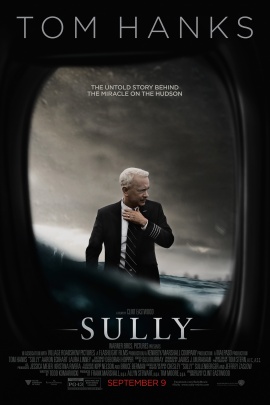 If you've become a regular Best Classic Bands reader, then you know we cover the occasional pop culture story regardless of whether it has anything to do with classic rock. For instance, when Patty Duke died earlier this year, we knew that her hit comedy from the Sixties was meaningful to many of you, and we ran a tribute to her. Our Classic Video series has featured numerous comedy routines and movie trailers.
And you've responded by reading them and sharing them with your friends.
So when we saw that Warner Bros. Pictures released the trailer for the upcoming film Sully starring Tom Hanks as Captain Chesley "Sully" Sullenberger and directed by Clint Eastwood, it was an easy call for us to share it with our readers. Add Aaron Eckhart as Sully's co-pilot, Jeff Skiles, and Laura Linney as Sully's wife, Lorraine, and we're more than sold.
The setup: on January 15, 2009, the world witnessed the "Miracle on the Hudson" when Captain "Sully" Sullenberger glided his disabled plane onto the frigid waters of the Hudson River, saving the lives of all 155 aboard. However, even as Sully was being heralded by the public and the media for his unprecedented feat of aviation skill, an investigation was unfolding that threatened to destroy his reputation and his career.
If you're a new Best Classic Bands reader, we'd be grateful if you would Like our Facebook page and/or bookmark our Home page.
Mark your calendars: after all the comic book and action movies of the summer, the film hits theaters on September 9. High fives all around. Chills…
The reviews are coming in; click here to see the critics ratings on Rotten Tomatoes.
Don't miss a post! Sign up for Best Classic Bands' Newsletter; form is on every page.

Latest posts by Best Classic Bands Staff
(see all)