Steve Miller is honoring the 50th anniversary of his chart-topping, Platinum eighth studio album, 1973'sThe Joker, with a new set chronicling the artistic journey that led to its creation. J50: The Evolution of The Joker showcases Miller's process as he expands and reimagines his craft, ultimately finding a strikingly original new sound that brought him to a wider audience than ever before and set the stage for even greater successes to come. It arrived September 15, 2023, via Sailor/Capitol/UMe on 2-CDs or 3-LPs + 7". Hear many of the previously unreleased recordings below.
From the July 25 album announcement: Curated by Miller himself, J50 dives deep into the creative process of writing and assembling The Joker and amplifies its enduring magic by chronologically placing the original album tracks alongside 27 previously unreleased recordings from Miller's personal archive – including songwriting tapes made by Miller on his TEAC 4-track in hotel rooms on the road and at live performances, plus studio outtakes and rehearsals – as well as six audio commentary tracks from Miller and exclusive liner notes from both Miller and journalist Anthony DeCurtis. The vinyl version includes a reproduction of a vintage The Joker iron-on and a limited-edition lithograph.
J50: The Evolution of The Joker is highlighted by "The Joker Suite," an extended piece showcasing the musical path to the album's 5x RIAA Platinum-certified, worldwide #1 hit title track, "The Joker," with the previously unreleased "Lidi" and "Travelin'."
On August 18, Miller shared how "Sugar Babe" evolved, with a series of three audio clips. "[The song] turned into a powerful electric riff in the studio, but in this first recording it's just a small seed of an idea," says Miller. "Eventually it got defined on the stage and in the studio and that's what you hear."
The Joker was originally released worldwide on October 19, 1973 and quickly became a hit in the United States crossing over from FM underground radio to the AM pop radio of the day. Shortly thereafter, the song went to #1, first in the States and the rest of the world followed. This mainstream breakthrough success was certainly fueled by dramatic shifts in both the lineup and Miller's own approach to songcraft. J50 kicks off with acoustic live renditions of "Children of the Future," "Brave New World" and "Space Cowboy," recorded while on the road in 1972.
Miller had long nurtured his still-growing audience with constant touring, routinely visiting hundreds of cities each year. Backed by Dickie Thompson on keyboards, Gerald Johnson on bass, and John King on drums, the lineup marked the Steve Miller Band's first iteration as a quartet. Fueled in part by Thompson's B3 organ and electric Hohner clavinet, the band developed a distinctive new sound, blending Miller's signature psychedelic blues with a focused songcraft that expertly merged his many inspirations and influences into something wholly original and all his own.
Their lengthy sets were highlighted by covers of R&B gems like Young Jessie's "Mary Lou" and The Clovers' "Your Cash Ain't Nothin' But Trash," both of which would be featured on The Joker.
Energized by his band's nightly workouts, Miller spent his late-night hours recording on a TEAC 4-track tape machine in hotel rooms across the nation, working on new songs largely on 12-string guitar. In July 1973, the band hit Capitol Records' Studio B in Los Angeles and quickly got to work, recording, mixing, and mastering the album in just 17 days with Miller producing.
"The most important rule that every kid out there who wants to make a record should remember is: When you go into the studio, be ready to do the whole performance the first time you do it, because that's going to be the best time you do it," Miller says. "The whole thing is to capture the first performance. That's a lot of what The Joker's about. It was all first takes, and first takes are always better than perfect takes.
"To make a hit record, I thought it was best to have five hooks," he continues. "Not one, not two, not three, not four, but five, if you really wanted to deliver a hit. Like if you take 'The Joker.' 'Some people call me the Space Cowboy.' What the hell was that? Then it continues and it gets your attention again: the slide guitar, the chorus, the harmony, the wolf whistle. It all adds up. All of these things are just elements of writing. You learn those elements, and you're always playing with them."
Miller's new songs, from the album-opening "Sugar Babe" and longtime live favorite "Shu Ba Da Du Ma Ma Ma Ma," to the easygoing blues shuffle, "The Lovin' Cup" (extended by a driving, live acoustic version of Robert Johnson's "Come On In My Kitchen," with foot-stomping percussive accompaniment) and the devastating, slow-burn "Evil," the latter recorded on stage at Boston, MA's Aquarius Theater. "Something To Believe In" closes The Joker on a warm, reassuring romantic pop lullaby. "Like clear water in a mountain stream," he sings, "l will come to you in your dreams/Like pictures reflected in a mountain lake/I will be with you when you wake."
Released as a single in October 1973, "The Joker" proved, in Miller's words, "a real, no kidding, non-stop hit." With its title track seemingly everywhere (as well as its indelible masked album cover by famed photographer Norman Seeff), The Joker album was quickly certified platinum by the RIAA – Miller's first up to that time. The album positioned Miller for the next, vitally important stage of his career, when he would become one of the biggest hitmakers and most definitive artists of the 70s. His releases combine for more than 75 million in sales. He has multiple #1s and five Top 10 Billboard Hot 100 songs.
The Steve Miller Band will celebrate The Joker and much more during its 35-city U.S headline tour through December. Tickets are available here and here.
The complete track listing and more audio clips appear below the Amazon links. When you buy something using a link on this page, we receive a commission. Thank you for supporting Best Classic Bands.
Related: Our 2019 concert review of the Steve Miller Band
Steve Miller J50: The Evolution of The Joker Tracklist
LP1 SIDE ONE
Steve Miller Commentary 1
Children of the Future (Live)
Brave New World (Live)
Dear Mary (Live)
Space Cowboy (Live)
Ginger Man (Live)
Nothing Lasts (Live)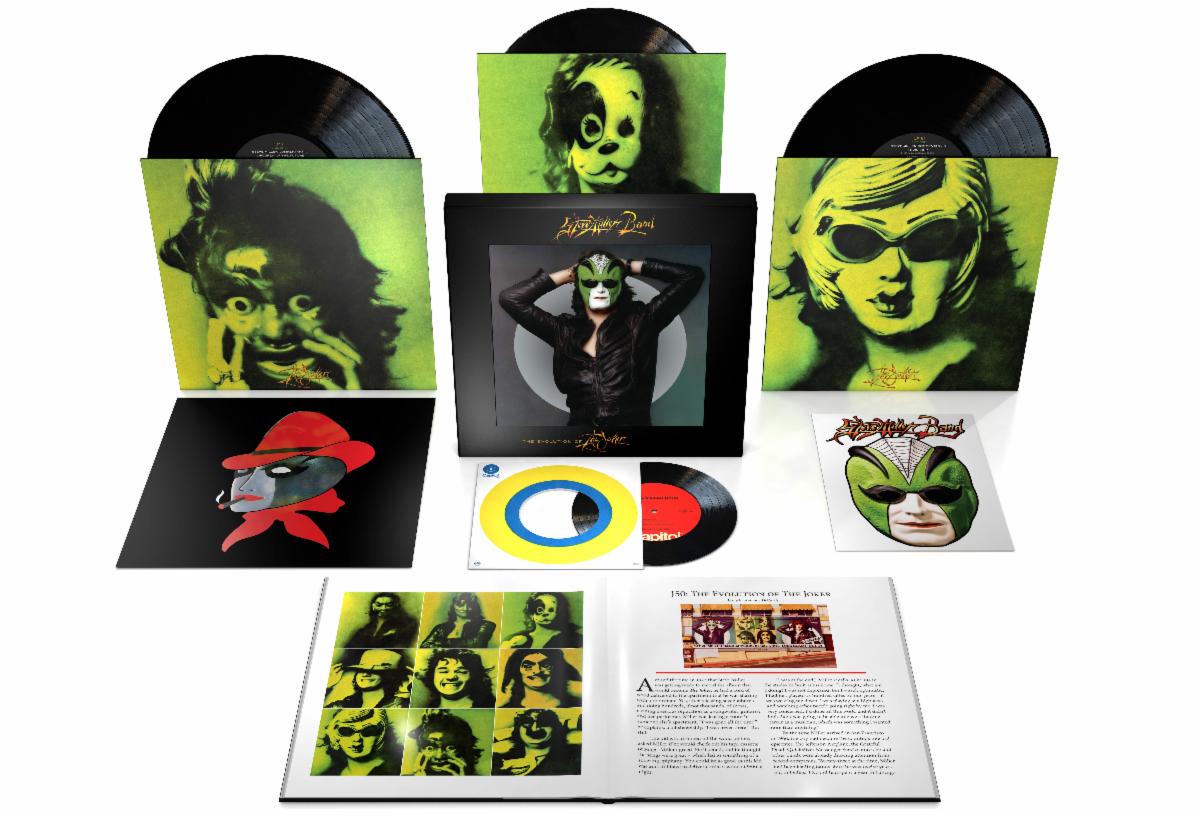 LP1 SIDE TWO
Steve Miller Commentary 2
Sugar Babe (Early Version)
Sugar Babe (Live)
Sugar Babe (Album Version)
Mary Lou (Early Version)
Mary Lou (Album Version)
LP2 SIDE ONE
Steve Miller Commentary 3
Hat (Live – Pre Shu Ba Da Du Ma Ma Ma Ma)
Say Hey Ray (Pre Shu Ba Da Du Ma Ma Ma Ma)
White Elephant (Pre Shu Ba Da Du Ma Ma Ma Ma)
Shu Ba Da Du Ma Ma Ma Ma (Early Version)
Shu Ba Da Du Ma Ma Ma Ma (Album Version)
LP2 SIDE TWO
Steve Miller Commentary 4
Your Cash Ain't Nothin' But Trash (Early Version)
Your Cash Ain't Nothin' But Trash (Album Version)
Lidi (Twang Guitar)
Lidi (Studio)
Lidi/Travelin' (Harmonics – Looking for a Chorus for The Joker)
Travelin' (Looking for a Chorus for The Joker)
The Joker (Album Version)
LP3 SIDE ONE
Steve Miller Commentary 5
Lovin' Cup (Live)
Lovin' Cup (Album Version)
Come On In My Kitchen (Live)
Come On In My Kitchen (Album Version)
Evil (Studio Demo)
Evil (Album Version)
LP3 SIDE TWO
Steve Miller Commentary 6
Coupe De Ville (A Cappella)
Something to Believe In (Early Version)
Something to Believe In (Tough Crowd – Live)
Something to Believe In (Album Version)
I Don't Mind (Hotel 4-Track)
I Don't Mind (Studio)
Mama Church (A Cappella)
7" SIDE A
The Joker (Single Version)
Lidi/Travelin' (Harmonics – Looking for a Chorus for The Joker)
7" SIDE B
I Don't Mind (Studio)
Lidi (Studio)

Latest posts by Best Classic Bands Staff
(see all)