Squeeze, Rejuvenated, Treat Fans to Standout Show: 2017 Concert Review
by Greg Brodsky
Buoyed by the addition of two new band members and a new studio album, The Knowledge, Squeeze began their "Join the Dots" tour in 2017 with dates in their native U.K. Four shows into their quick 13-date U.S. jaunt, the rejuvenated group arrived in New York City on Nov. 19 to play the Beacon Theatre, a mid-sized venue that they have played numerous times.
This reviewer has seen the band–or its co-founder Glenn Tilbrook solo–perform live perhaps a dozen times at venues large (Madison Square Garden in 1982) and small (Tilbrook at the 184-seat Joe's Pub in the East Village in 2009).
The current version of Squeeze tops any other. Hands down. Whether it's the recent addition of bassist Yolanda Charles and percussionist Steve Smith, or the skills (and on-stage antics) of the now-veteran extraordinary duo of keyboardist Stephen Large and drummer Simon Hanson, Tilbrook and the band's co-founder (and co-songwriter) Chris Difford have created a live performance that tops all other editions.
With five of the evening's first eight songs from 2017's pleasing The Knowlege still unfamiliar to most in attendance, the band wisely interspersed three lively fan favorites into the early part of their set. Moments after the top-notch opening song, "Please Be Understanding" ended, the crowd rose to their feet as soon as they heard the familiar first notes of "Pulling Mussels (From a Shell)."
After another new song came "Hourglass." (If you knew that Squeeze earned just three songs on the U.S. Hot 100 with "Hourglass" their biggest chart success here, raise your hand. At that 1982 MSG gig, their longtime label flew in dozens of U.S. radio programmers to show them first-hand how popular they were in New York. Sadly, Top 40 programmers never embraced them.) "Hourglass," always a crowd pleaser, featured playful images on the stage's backdrop and earned a huge ovation.
Watch them perform it one week earlier
Difford's unbelievably low register on "Cool For Cats" is always a highlight. Smith and Large were also standouts here.
Next up was 1980's "Another Nail in My Heart," one of the best (among many) of Difford and Tilbrook's compositions, with their trademark clever lyrics: I've been such a fool, I've loved and goodbyed. It's performance was the evening's standout.
Watch them perform it a few weeks earlier
Later, their first single, from 1978, "Take Me I'm Yours," was performed with all six members in a row, military style, with Large swapping his keyboards for an accordion and Hanson and Smith strapping on portable drums. Another early favorite, "Goodbye Girl," always stands out.
The set ended with 1978's "Slap and Tickle." In concert, the song is dominated by Hanson and Smith's lively percussion and Large banging away on the keys, and is the closest Squeeze gets to doing extended solos on stage. "Is That Love" and "Black Coffee in Bed" were the encores.
With so much new material, the setlist left almost no room for songs from their now-deep catalog. ("Labelled With Love" or "In Quintessence," anyone?) But if the reception to the new stuff was any indication, expect more material and return visits from the rejuvenated band.
Squeeze, Beacon Theatre, New York City, November 19, 2017 Setlist
Please Be Understanding
Pulling Mussels (From the Shell)
Patchouli
Hourglass
Final Score
Rough Ride
Annie Get Your Gun
Innocence in Paradise
Cradle to the Grave
Nirvana
Cool For Cats
Another Nail in My Heart
Departure Lounge
Albatross
Take Me I'm Yours
Tempted
Wicked and Cruel
Goodbye Girl
Up the Junction
If I Didn't Love You
Slap and Tickle
Encore
Is That Love
Black Coffee in Bed
Audience member "Larry Rulz" has shared the entire show.
Related: Our interview with Glenn Tilbrook
Squeeze are on tour; tickets are available here and here.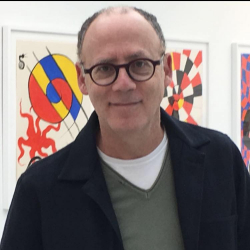 Latest posts by Greg Brodsky
(see all)