When The Smithereens Turned It Up to '11'
by Cary Baker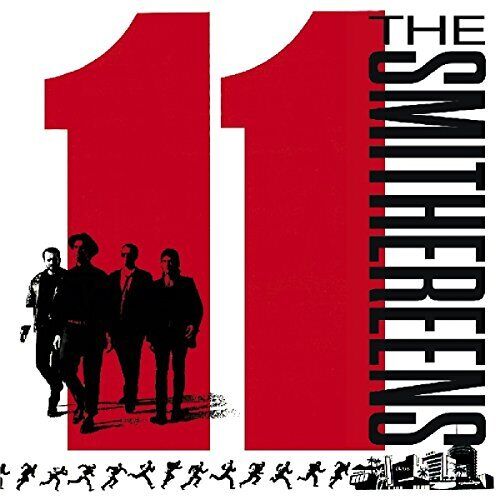 The Smithereens' 11 was actually not the band's eleventh album but rather its third. Its title was inspired by the 1960 Rat Pack heist film Oceans 11, starring Frank Sinatra, Dean Martin and Sammy Davis Jr. But it was equally a nod to This is Spinal Tap. "This one goes up to 11," guitarist Jim Babjak told an interviewer at the time.
The album, released on Oct. 24, 1989, was buoyed by the single "A Girl Like You" (#38 on the Billboard Hot 100), and was also the band's first enlistment of a new producer. Their prior albums, Especially for You (1986) and Green Thoughts (1988), had been produced by Don Dixon, himself signed as an artist to Enigma Records (which had released the first two Smithereens albums) but better known as co-producer (with Mitch Easter) of R.E.M's Murmur and Chronic Town albums. Ed Stasium, known for steering such albums as Ramones' Leave Home and Talking Heads' 77, as well as LPs by Living Colour, Mick Jagger and Soul Asylum, was brought in to produce 11.
Like the band, Stasium was a New Jersey native, and used to work at The Piano Shop on Highway 22 in North Plainfield, where a young Pat DiNizio used to shop for guitars. "Pat remembered that I used to let him play the guitars," Stasium recalls.
"We dug working with Ed Stasium," says Smithereens drummer Dennis Diken. "He got what we were all about. We're still good friends to this day."
"I'm not sure what we were looking for…maybe a heavier guitar sound, like in 'A Girl Like You.' We were trying to preserve our integrity, yet find a home on radio," the late lead singer DiNizio said on the official bio for the album.
Indeed, it did find a home on the radio, with "A Girl Like You" landing at #2 and #3, respectively, on Billboard's Mainstream Rock and Alternative Airplay radio charts. The song had been written by DiNizio on assignment for Cameron Crowe's film Say Anything. DiNizio based the lyrics on bits of dialogue found in the screenplay. (Reportedly Crowe asked DiNizio to change the lyrics as they revealed too much about the film's plot. DiNizio refused.) The song did not appear on Crowe's soundtrack after all, as did Living Colour, Nancy Wilson, Cheap Trick and the Red Hot Chili Peppers; instead, the band held it until the sessions for 11.
Related: Our review of a 2019 Smithereens live show with Marshall Crenshaw on lead vocals
Featuring backing vocals by Maria Vidal (who had her own #8 hit in 1984 with the dance-pop "Body Rock"), "A Girl Like You" became the album's crown jewel. Originally Madonna had been set to sing backups, thanks to management in common with the band. Sadly, she didn't show up; the band later heard reports that she'd become distracted due to an argument she had with Warren Beatty that day!
And on April 14, 1990, the band hit another career crescendo when it performed the song as musical guests on Saturday Night Live.
Further, the 11 album completed the Smithereens' metamorphosis from indie Enigma Records to parent label Capitol Records. Capitol-EMI had distributed Enigma since 1986 and purchased it outright in 1989, moving the indie label's more bankable acts (Smithereens and Poison among them) into the Capitol Tower.
11 was recorded at American Recording with Bill Cooper, who owned the studio with Richie Podolor in Woodland Hills, Calif. Overdubs were recorded at the legendary Rumbo studio, the facility owned by The Captain and Tennille. Stasium's partner Paul Hamingson engineered.
According to Diken, "Smithereens 11 marked a very exciting time for the band. After we found an audience with Especially for You, the success of our sophomore effort Green Thoughts made us feel like our career had legs. 11 helped expand our fan base and notched things up for us even further. It became our first gold album and 'A Girl Like You' would be our first Top 40 hit."
The breakthrough came at no compromise to what one might refer to as the Smithereens' blueprint: a rockin' power pop sound defined by DiNizio's distinctive voice ("a voice that would melt a girl's heart" in the words of Babjak's late wife, Betty, quoted in the Asbury Park Press upon the singer's Dec. 12, 2017, passing); Babjak's guitar, with concise solos that dependably serve the song; and the thundering while unwaveringly poppy rhythm section of Mike Mesaros on bass, and Diken on drums. Variety cited the band's "melodic yet tough tunes that won the band comparisons to precursors like the Who and contemporaries like England's Rockpile."
"A Girl Like You" was just one of the album's many recognizable songs. Other tracks that received airplay included "Blues Before And After" and "Yesterday Girl," the second and third single, respectively.
For 11, the Smithereens brought in a few special guests. Belinda Carlisle, working a solo career on leave from her role as lead singer of The Go-Go's, and managed by Gold Mountain Management, which looked after the Smithereens as well, sang in "Blue Period." The somewhat more unexpected guests were the Honeys (Ginger Blake, Diane Rovell and Marilyn Wilson, the latter the ex-wife of Beach Boy Brian Wilson), who sang background on two of the tracks.
Diken recalls: "We were completely immersed in the world of the Beach Boys so it was a special thrill to work with the Honeys, who sang harmonies on 'Baby Be Good' and 'Cut Flowers' (the latter being the very cool collaboration between Jimmy [Babjak] and DiNizio). We also became good friends with Marilyn, Diane and Ginger. Their contribution meant the world to us."
The track "Maria Elena" was DiNizio's tribute to Buddy Holly's widow. Says Diken, "She was touched by the song and we spent a lovely evening with her while on tour in Texas. Another big thrill for us!"
In writing the curiously titled "William Wilson," DiNizio was inspired by his reading of the account of Brian Wilson walking into the theater as the line "Hello, Mr. Wilson" was uttered by an actor in the film Seconds. Wilson reportedly thought Phil Spector might have engineered this line to be inserted in the movie to mess with his head!
For Stasium, satisfaction came in the form of hearing "A Girl Like You" on Jed the Fish's show on L.A.'s influential KROQ-FM, and later attending the SNL taping.
"It's not with hindsight when I say we all felt that this would be a special record right from the start," recollects guitarist Babjak. "The band was tight and confident after coming off some intense touring. The stars were aligned for this one. It was a great feeling of accomplishment. Everyone involved in making this record rose to the occasion."
Watch the Smithereens perform "A Girl Like You" in 2015
Latest posts by Cary Baker
(see all)