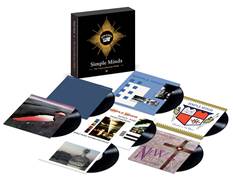 Fresh on the heels of the release of their Sparkle in the Rain deluxe box set in March, Simple Minds are releasing another impressive collection of tunes – The Vinyl Collection 79-84 – as well as a re-release of their seminal Once Upon a Time record from 1985. The box set will be available October 30th, and the reissue will be out December 4th, just in time for the holidays.
The period from 1979 to 1984 was a prolific one for the eclectic Scottish rock band, as they experimented with post-punk, glam, Krautrock and dub-inspired disco. The limited edition Vinyl Collection set takes listeners on a journey through these musical developments, compiling the first seven of the group's albums: Life in a Day (1979), Real to Real Cacophony (1979), Empires and Dance (1980), Sons and Fascination (1981), Sister Feelings Call (1981), New Gold Dream (1982) and Sparkle in the Rain (1984). All seven albums have been remastered at Abbey Road Studios and will be available on heavyweight 180gm vinyl.
Sons and Fascinations and Sister Feelings Call, two separate albums assembled from the same recording sessions and released simultaneously, were the first to reach a wide international audience – and, interestingly, the first to showcase Simple Minds' rhythm section, which is louder and more driving here than on any previous albums. Fifth record New Gold Dream was the true turning point, though, as the band gained critical and commercial success throughout the United Kingdom and Europe. The more stadium-oriented sounds of Sparkle in the Rain finally peaked at No. 1.
Meanwhile, the reissue of Once Upon a Time celebrates the 30th anniversary of the band's most successful album to date. It sold two million copies in two months and spawned four top 20 singles ("Alive and Kicking," "All the Things She Said," "Sanctify Yourself," and "Ghost Dancing"), launching a fifteen-month-long world tour. The standard edition will contain the complete original remastered album, and the double-CD deluxe edition will also feature 13 tracks including single mixes – among them their #1 hit "Don't You (Forget About Me)," featured in he movie The Breakfast Club but never issued on an original Simple Minds album – B-sides and alternate versions, four of which are previously unreleased.
Once Upon a Time Two-CD Deluxe Edition Track List:
DISC ONE
1.     Once Upon A Time
2.     All The Things She Said
3.     Ghost Dancing
4.     Alive And Kicking
5.     Oh Jungleland
6.     I Wish You Were Here
7.     Sanctify Yourself
8.     Come A Long Way
DISC TWO – Single mixes, B-sides and alternates
1.     Don't You (Forget About Me)
2.     A Brass Band In Africa
3.     Don't You (Forget About Me) [Extended Version]
4.     A Brass Band In African Chimes
5.     Alive And Kicking [Edit]
6.     Alive And Kicking [Instrumental]
7.     Up On The Catwalk [Live] (Barrowland, Glasgow: 5th January 1985)
8.     Alive And Kicking [7" Remix Edit]  PREVIOUSLY UNRELEASED
9.     Alive And Kicking [12" Remix] PREVIOUSLY UNRELEASED
10.   Alive And Kicking [Kervorkian 12" Remix] PREVIOUSLY UNRELEASED
11.   Sanctify Yourself [Edit]
12.   Sanctify Yourself [Instrumental]
13.   Sanctify Yourself [Alternative Edit] PREVIOUSLY UNRELEASED

Latest posts by Best Classic Bands Staff
(see all)