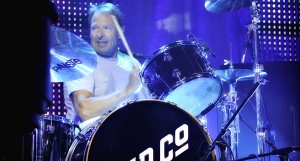 The drummer for Free and Bad Company was born Simon Frederick St George Kirke in London on July 28, 1949. He was raised in rural Wales but returned to London at age 17 intent on becoming a professional musician.
He joined a blues/R&B band called Black Cat Bones and formed an alliance with its guitarist Paul Kossoff. The two went off to form Free with singer Paul Rodgers and bassist Andy Fraser in 1968. The hard-touring band scored a hit single in 1970, "All Right Now," that went to #1 in a number of European counties, #2 in England and #4 in America.
Related: Our Album Rewind of Free's Fire and Water
In 1973 Rodgers and Kirke left Free and joined forces with former Mott the Hoople guitarist Mick Ralphs and ex-King Crimson bassist Boz Burrell to form Bad Company. Managed by Led Zeppelin overseer Peter Grant and signed to Zep's Swan Song label, they became one of the most successful classic rock bands of the 1970s, with a number of albums selling in the millions and hit songs like "Can't Get Enough," "Feel Like Makin' Love" and "Rock 'n' Roll Fantasy." Kirke co-wrote the song "Bad Company" with Rodgers.
Watch vintage Bad Company
Kirke has also done three tours as a member of Ringo Starr's All-Starr Band. In addition to drums he plays guitar, keyboards and saxophone and performs and records on his own as a singer-songwriter.
Watch Kirke on tour with Ringo's band in 1997 on a Bad Company song that name checks the Beatles
His daughters Jemima and Lola are actresses, the former had a starring role in the HBO series Girls; daughter Domino is a singer.
Kirke now lives in the U.S. and hasn't toured with Rodgers as Bad Company since 2019. (Ralphs suffered a stroke in 2016.) When they tour, tickets are available here and here.
Related: Kirke talked about Bad Company, Rodgers and Ralphs in a 2020 interview

Latest posts by Best Classic Bands Staff
(see all)