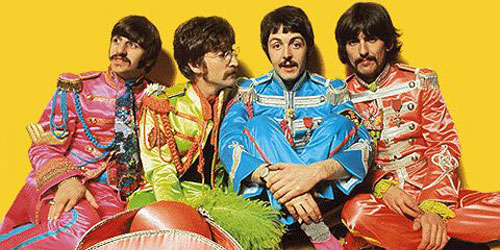 With the 50th anniversary of the release of The Beatles' Sgt. Pepper's Lonely Hearts Club Band coming up in June, event organizers in Chicago and Liverpool, England, are making plans to celebrate in style.
The Fest for Beatles Fans, an event that began in 1974, held the first of two annual events in Jersey City, NJ in March. Its second takes place in Chicago from August 11-13. Details will be announced soon.
The event hosts a giant Beatles marketplace with collectibles, clothing, recordings, books and more, from dozens of vendors; a dance party; Beatles sound-alike contest; battle of the bands, and much more.
Meanwhile, back in the actual Liverpool across the water, a group calling itself the Bootleg Beatles also plans to play the entire album, but their concert—which features the group accompanied by the Liverpool Philharmonic Orchestra—is already sold out, according to the U.K. website The List. Folks in that city have another opportunity to hear Beatles music though: a group called the Cavern Club Beatles will perform—where else?—at the Cavern Club.
Related: Sgt. Pepper artist Peter Blake creates collage
Liverpool is also hosting an event called 50 Summers of Love, which will reach beyond Beatledom to spotlight, among other things, Liverpool poets Roger McGough, Brian Patten and Adrian Henri. A tribute to the Velvet Underground, who had absolutely nothing to do with Liverpool, will feature that band's John Cale, and, according to The List, other events are scheduled, including the Mersey River Festival and the Liverpool International Music Festival.
From May 25 – June 16, Liverpool presents Sgt. Pepper at 50 with the slogan "13 Tracks. 13 Events. One City." Click here to see the details which include many free events.
Of course, visitors to Liverpool can always take one of the many Beatles tours, which make stops at the homes of the future Fabs as well as other sites that are part of their legend.
Watch Liverpool perform "A Day in the Life" at the Chicago edition of The Fest in 2015…
Reports surfaced recently of the Sgt. Pepper's album being augmented with two favorite Beatles songs. Click here for that story.
A book, Sgt. Pepper at Fifty, arrives on June 1 and provides, says its announcement, "an in-depth critique of the album, by looking at the unique cultural circumstances that led to its creation; examining the rich assemblage of influences that informed its sound; exploring the landmark cover art, which continues to inspire debate and intrigue; and assessing the record's enduring legacy as the pinnacle of British pop." It can be pre-ordered here.
Never miss a post! Sign up for Best Classic Bands' Newsletter; form is on every page.

Latest posts by Best Classic Bands Staff
(see all)