The Summer of Love and That Song About 'San Francisco'
by Jeff Tamarkin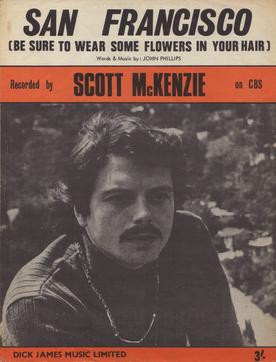 You know who really hated "San Francisco (Be Sure to Wear Flowers in Your Hair)"? The city officials of San Francisco.
It was apparent by the early months of 1967 that their city was going to be receiving an influx of young people once school let out and the weather warmed up—some higher-ups were predicting that thousands of them might besiege the city, jobless, homeless, many of them taking drugs and congregating on the streets without a care in the world.
The migration had already begun in 1965-66, the city's population swelling with seekers of love and life (many of them runaways escaping boring lives in boring places), drawn to the vibrant, freewheeling culture and physical beauty of the city. In particular they were swarming to the Haight-Ashbury district, adjacent to Golden Gate Park. They'd spend their days lying about in that park and their evenings at one of the city's newly sprouted rock music ballrooms, where they'd listen and dance to new bands with odd names like Jefferson Airplane and Grateful Dead.
For the youth, San Francisco was a mecca, a place one could go to be around similarly inclined outcasts from around the country. Living was cheap and no one minded sleeping on the floor of a crash pad in one of the Haight's trippy Victorian houses with a dozen new friends, toking on joints (or maybe popping a tab of Owsley acid) and passing bottles of cheap wine while the record player blasted out newly released albums like the Beatles' Sgt. Pepper's Lonely Hearts Club Band, the Airplane's Surrealistic Pillow and the Jimi Hendrix Experience's Are You Experienced. In January they held a Human Be-In to celebrate the very existence of their community.
That spring, on May 13, 1967, to be exact, a new single was released by a previously unknown singer named Scott McKenzie that invited everyone to come to the city by the Bay and join the fun. "San Francisco (Be Sure to Wear Flowers in Your Hair)," perhaps too ironically, was written and recorded by people from Los Angeles.
The song was composed by John Phillips, the nominal leader and chief songwriter of the Mamas and the Papas. The vocalist, McKenzie—originally Philip Wallach Blondheim III, born January 10, 1939 in Jacksonville, Fla.—was already 28 years old and had known Phillips since the mid-'50s. They'd sung together in a doo-wop group and then the folk group the Journeymen. When that group called it a day and Phillips formed the Mamas and the Papas, McKenzie decided to try his luck as a solo artist.
He left New York for L.A. and was signed by producer Lou Adler to his Ode Records. "San Francisco" was written with McKenzie in mind and co-produced by Adler and Phillips. Phillips orchestrated the session, playing the acoustic guitar himself and bringing in bassist Joe Osborn and drummer Hal Blaine, who had played on most of the Mamas and the Papas' recordings, plus Gary L. Coleman on bells and chimes, to give the song a happy, springtime feel.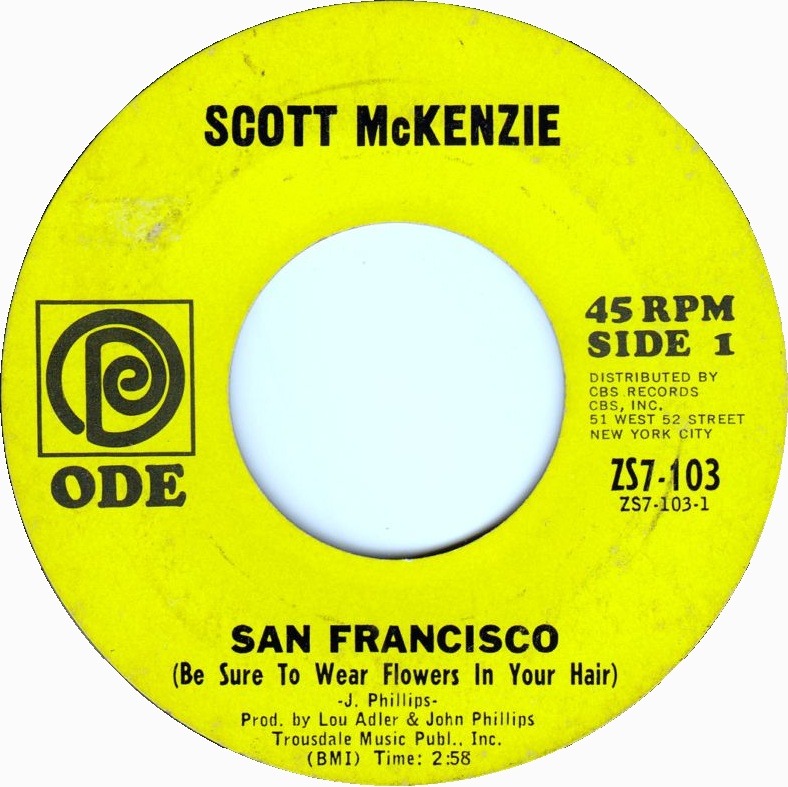 "San Francisco," as its parenthetical subtitle suggested, implored listeners to make their way west, flowers strategically placed:
"For those who come to San Francisco
Summertime will be a love-in there
In the streets of San Francisco
Gentle people with flowers in their hair"
The song is credited with having added to the mass of youths arriving in the city for what became known as the Summer of Love. Whether San Francisco was equipped to handle such an invasion and its attendant problems was a bone of contention at the time. Many residents, including hippies who'd already been enjoying the city's freedoms, resented the newcomers as well. Some of the local bands openly scoffed at the song, calling it naïve and hokey, not to mention intrusive on their scene.
Nonetheless, "San Francisco (Wear Flowers in Your Hair)" and its message of communality and gentle vibes struck a chord with a segment of the nation (and abroad) for which the phrase "flower power" was a new rallying cry. Many came to San Francisco to have a look—including both George Harrison and Paul McCartney—and some came to stay. Most hung out for a little while and then moved on, either back home or, perhaps, to rural communes or other communities built around like-minded folks. Millions who never got near the Golden Gate Bridge simply liked the easy-flowing song enough to make it a quick success.
Scott McKenzie performed his hit—which reached #4 nationally on the Billboard chart and, not insignificantly, #1 in the U.K., where London was undergoing a similar renaissance—at the Monterey Pop Festival, backed by the Mamas and the Papas' musicians.
His big hit, sung by McKenzie at the Monterey Pop Festival on June 18, 1967
He never came close to repeating his success—his only other top 40 hit was "Like an Old Time Movie" later that year—but he'd made his impact on the emerging youth culture.
McKenzie did, however, experience great success vicariously one more time. A song he composed, "Kokomo," became the last #1 hit for the Beach Boys in 1988, a couple of years after McKenzie himself joined with Phillips in a reconstituted lineup of the Mamas and the Papas.
Scott McKenzie died on August 18, 2012, at age 73.
Listen to the studio version of the song
Related: What were the other top hits of 1967?

Latest posts by Jeff Tamarkin
(see all)