Carlos Santana, Isley Brothers on Their Collaboration
by Greg Brodsky
The spirit of Jimi Hendrix was evident as  Carlos Santana and his wife Cindy Blackman Santana joined  Ronnie Isley and Ernie Isley of the Isley Brothers at the New York City studio that the guitarist built. The quartet was at Electric Lady Studios on Aug. 1, 2017, to talk about their new recording collaboration, Power of Peace, which was released July 28 by Sony Music's Legacy Recordings. But the conversation occasionally veered back to the guitar god. And in a room with two in the flesh who could justifiably be called just that, it was Hendrix's impact that was discussed often at the press gathering.
"I want to say hello to brother Jimi, because we're in his house," said Carlos Santana at the outset. For Ernie Isley, the "other" guitarist in the room, who plays so beautifully on Power of Peace, there was a personal connection to Hendrix. "Jimi was a houseguest of the Isley Brothers from 1963-'64. I was 11 and had never heard anyone play like that."
The gathering soon became a mutual admiration society as each musician talked about the others' greatness. Jazz and rock drummer Cindy Blackman Santana spoke reverently about her husband and Ernie Isley, calling them "two of the most incredible guitar players who have ever graced the instrument."
Carlos Santana was asked when he first became aware of Ronnie Isley's singing. "It goes back to 1962. I was listening to his voice on 'Twist and Shout.'" Though the Isley Brothers' version wasn't the song's highest-charting on the Hot 100–that honor goes to the Beatles' cover a year later–it did reach #2 on the U.S. R&B chart. "It was like listening to an extraterrestrial galactic sound. I'm hearing this jukebox… the speakers are going whoomp, whoomp, whoomp. [Ronnie's] voice… it will stay gravitating in time," says Santana, reliving the astonishment he felt more than five decades earlier.
At 65, Ernie Isley was too young to have performed on the Isley Brothers' earliest hits like "Shout" and "Twist and Shout." But there he was at just 16 playing bass on their 1969 #2 pop hit, "It's Your Thing." Ronnie–known as Ronald then–was one of the group's co-founders with brothers O'Kelly and Rudolph.
Power of Peace is a celebration of funk, soul, blues, rock, jazz and pop, and is largely a covers album. Tracks include songs written by Curtis Mayfield ("Gypsy Woman"), Stevie Wonder ("Higher Ground"), Marvin Gaye ("Mercy Mercy Me [The Ecology]") and Billie Holiday ("God Bless the Child").
So how'd the collaboration come about? "I showed up in St. Louis just to see [Carlos]," said Ronnie Isley, recalling the 2012 meeting in the city he now calls home. "We had been backstage talking for hours talking about the music. He gave me a CD of these songs. We talked every day. He became my greatest friend."
The meeting and constant discussions evolved into the Power of Peace album. Ernie Isley recalled: "I had a chance to be playing guitar in the same studio as Carlos Santana. I was grinning so hard–particularly when he was playing–to see the person that I had listened to [all these years]. He was in a zone and then he stops and points at me. And I start playing. And I look up and he's playing. Flat-out wonderful. It was somewhere between fun and joy and happy all mixed up together."
And that "God Bless the Child" cover.  Said Santana, "Ronnie is masterful. He grabs a melody on 'God Bless the Child' and I'm sure Billie Holiday is smiling from ear to ear."
Added Ernie, "A classic. When we did it, I obviously heard the jazz but I also heard a church hymn. I felt like I discovered something brand new."
"We did 13 songs in four days," said Ronnie. "'God Bless the Child' was the last song we did. We trusted everything [Carlos] wanted to do and it turned out perfect for us."
Santana has been a fixture on the classic rock scene for so long, it's surprising that he only just turned 70 on July 20. When he first burst onto the national consciousness from the Woodstock festival stage in August 1969, he was only 22. His band's debut album came out that month and yielded his first hit single, "Evil Ways." There have been five other Top 10s since, none bigger than 1999's "Smooth" from the 8x Grammy Award-winning Supernatural LP.
Ironically, on an album of covers, Power of Peace's standout may be the lone original, "I Remember," written and sung by Cindy Blackman Santana. When it came time to record the song with the Isleys, she spoke up.
"Cindy said, 'Don't look at me,'" Ronnie recalled about their duet. "And she sang the song. I did my part and asked, 'What other record did Cindy solo?' and they said, 'First time.' And I said 'What?!?' I had been thinking we should get Roberta Flack. And Carlos said, 'Nah, Cindy should do it'."
The result, a throwback to a '70s-era soul ballad, is nothing short of stunning and when a writer told her that she blushed.
So, back to an earlier time. Who was Hendrix, Santana was asked. "Leonardo Da Vinci. He created a spectacular dimension for electric guitar. I never heard anyone paint it [like he did]. He influenced so many musicians to think outside the box."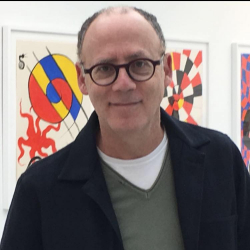 Latest posts by Greg Brodsky
(see all)