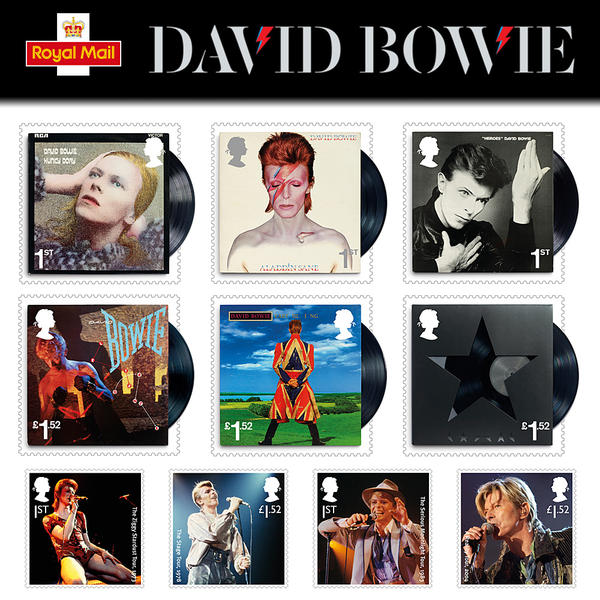 Great Britain's Royal Mail announced January 25, 2017, a set of 10 special stamps to honor David Bowie, citing him as "one of the most influential music and cultural figures of all time." The stamps debuted March 14.
This represented the first time Royal Mail has dedicated an entire stamp issue to an individual music artist or cultural figure. The only other music artists to have been honored with a dedicated stamp issue are groups: The Beatles (2010), Pink Floyd (2016) and Queen (2020) and the Rolling Stones (2022).
The stamps were issued in the year of what would have been his 70th birthday, and 50 years since his first album release.
From the official announcement: Six of the stamps showcase Bowie's changing musical styles and personas across the decades and feature images of some of his most admired and defining album covers: Hunky Dory, Aladdin Sane, "Heroes," Let's Dance, Earthling and ★. The arc of the vinyl album protrudes from the right hand side of each stamp.
Completing the set, four stamps show Bowie in action performing live on tours across four decades; The Ziggy Stardust Tour, 1973; The Stage Tour, 1978; The Serious Moonlight Tour, 1983; and A Reality Tour, 2004.
The stamps and a range of limited edition souvenirs were available online and at 7000 U.K. post office branches.
Bowie's 1972 album cover for The Rise and Fall of Ziggy Stardust and the Spiders From Mars was previously featured in the Classic Album Covers stamp set issued in January 2010.
Album cover stamps
Hunky Dory, Bowie's fourth album and released in December 1971.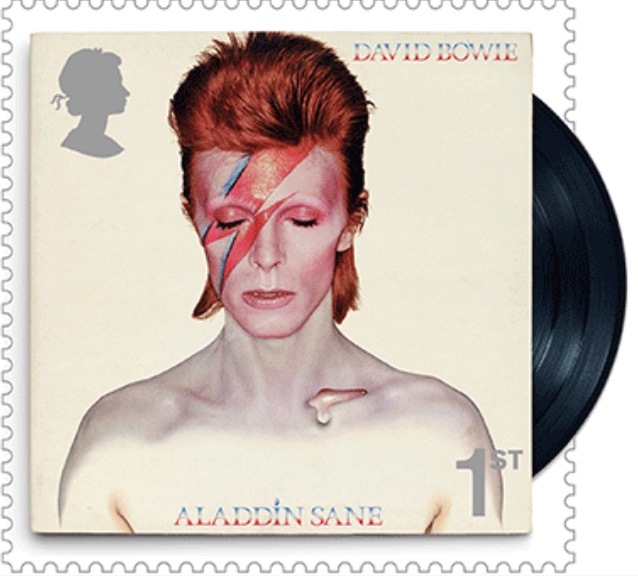 Aladdin Sane, his sixth album and released in April 1973. The album features the iconic photograph by Brian Duffy.
"Heroes," his 12th studio album and released in October 1977. This was the second installment of his "Berlin Trilogy" recorded with Brian Eno and Tony Visconti. The title track remains one of Bowie's best known and acclaimed songs.
Let's Dance, his fifteenth studio album and released in April 1983. Co-produced by Nile Rodgers, and featuring three of his most successful singles: "Let's Dance," "Modern Love" and "China Girl." Let's Dance is Bowie's best-selling album.
Earthling, his 23rd studio album and released in February 1997. The striking cover art features Bowie in an Alexander McQueen designed Union Flag coat.
★, Bowie's 28th and final studio album, released on his 69th birthday – January 8, 2016 – and charting at #1 in more than 20 countries. Bowie died two days after the release of ★, the album reaffirming his legacy as modern music's most unrelenting innovator.
Live stamps
The Ziggy Stardust Tour, 1973. The tour promoted Aladdin Sane and brought him to the U.K., North America and Japan.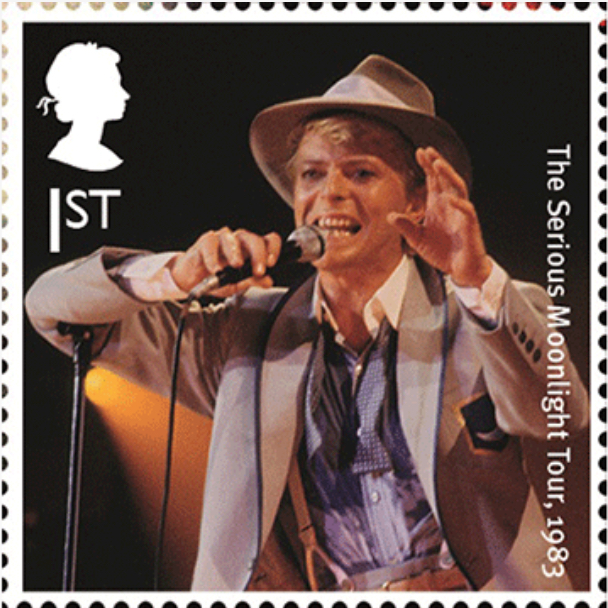 The Serious Moonlight Tour, 1983. The tour was designed to support the Let's Dance album and up to that point was Bowie's longest and most successful concert tour.
The Stage Tour, 1978. Also known as Isolar II – The 1978 World Tour was staged to promote the Low and "Heroes" albums.
A Reality Tour, 2003/2004. Staged to promote the Reality album, this tour became Bowie's longest tour and it would also be his last.
Philip Parker, Royal Mail stamp Strategy manager, said: "For five decades David Bowie was at the forefront of contemporary culture, and has influenced successive generations of musicians, artists, designers and writers. Royal Mail's stamp issue celebrates this unique figure and some of his many celebrated personas."
The stamps were also made available in a variety of special formats: a Presentation Pack with the six album covers and stamp sheet; First Day Cover; Album Art Fan Sheet, and more.

Latest posts by Best Classic Bands Staff
(see all)