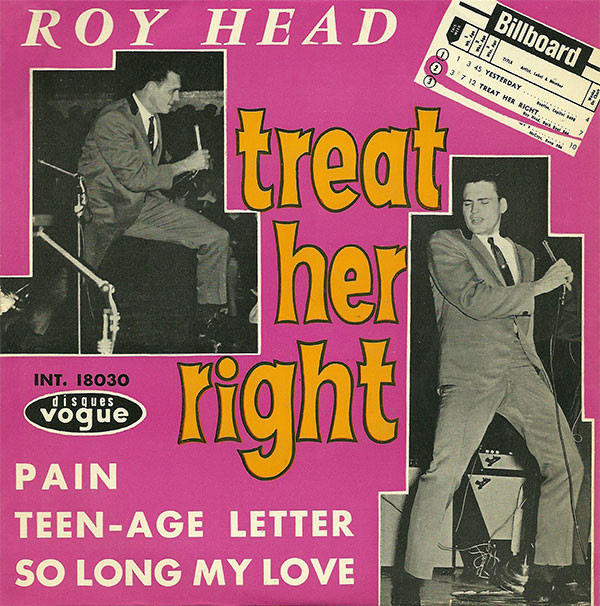 Roy Head, the singer best known for the 1965 hit "Treat Her Right," which he co-wrote and then recorded with his band, the Traits, died September 21, 2020, at age 79. His death was reported by his son, Sundance Head, on his Facebook page. No cause of death was revealed but he was believed to have suffered a fatal heart attack. The blue-eyed soul singer had been known to be ill for some time.
"Treat Her Right" reached #2 on the U.S. pop chart and has since become a concert staple for many rock performers.
Sundance Head wrote, "My old dad Roy Head has went to be with the lord this morning he was an amazing person and a wonderful dad. He slept away in the arms of my mother at home. He was a giant to me."
Head was discovered by San Antonio, Texas's TNT Records, performing an R&B-laced style of rockabilly with his band the Traits. They cut the song "One More Time" in 1959 and followed it up with "Live It Up" and "My Baby's Fine."
Roy Head and the Traits moved on to other labels and in 1965 they recorded and released "Treat Her Right," which Head wrote with bandmate and bass guitarist Gene Kurtz. The take-no-prisoners style song, on the Back Beat label, ultimately reached #2 on the U.S. pop chart.
The song was blocked from the #1 spot by the Beatles' "Yesterday," on Oct. 16, 1965, and ahead of such classics that week as "Hang on Sloopy" and "Do You Believe in Magic."  Roy Head and the Traits had two follow-up successes in '65, "Just a Little Bit" and "Apple of My Eye."
"Treat Her Right" has since been covered on recordings or in concert by such stars as Bruce Springsteen, Jerry Lee Lewis, Billy Gibbons, Rory Gallagher and George Thorogood.
Gibbons called Head "a genuine Texas rock 'n' soul phenomenon who had been one of our early and continuing inspirations. ZZ Top's 'Tush' partially appropriated its title from one of his B-sides. The follow up to 'Treat Her Right' was 'You're Almost Tuff' and the flip side was a blazing blues-rock instrumental titled 'Tush Hog,' attributed to the Roy Head Trio."
Head was born on January 9, 1941, in Three Rivers, Tex. He and the Traits were inducted into the Rockabilly Hall of Fame in 2007.
Watch Bruce Springsteen and the E Street Band perform the song in 2014
Related: Musicians we've lost in 2020

Latest posts by Best Classic Bands Staff
(see all)