Dolly Parton, Linda Ronstadt and Emmylou Harris' 'Trio': Soaring Sisterhood
by Sam Sutherland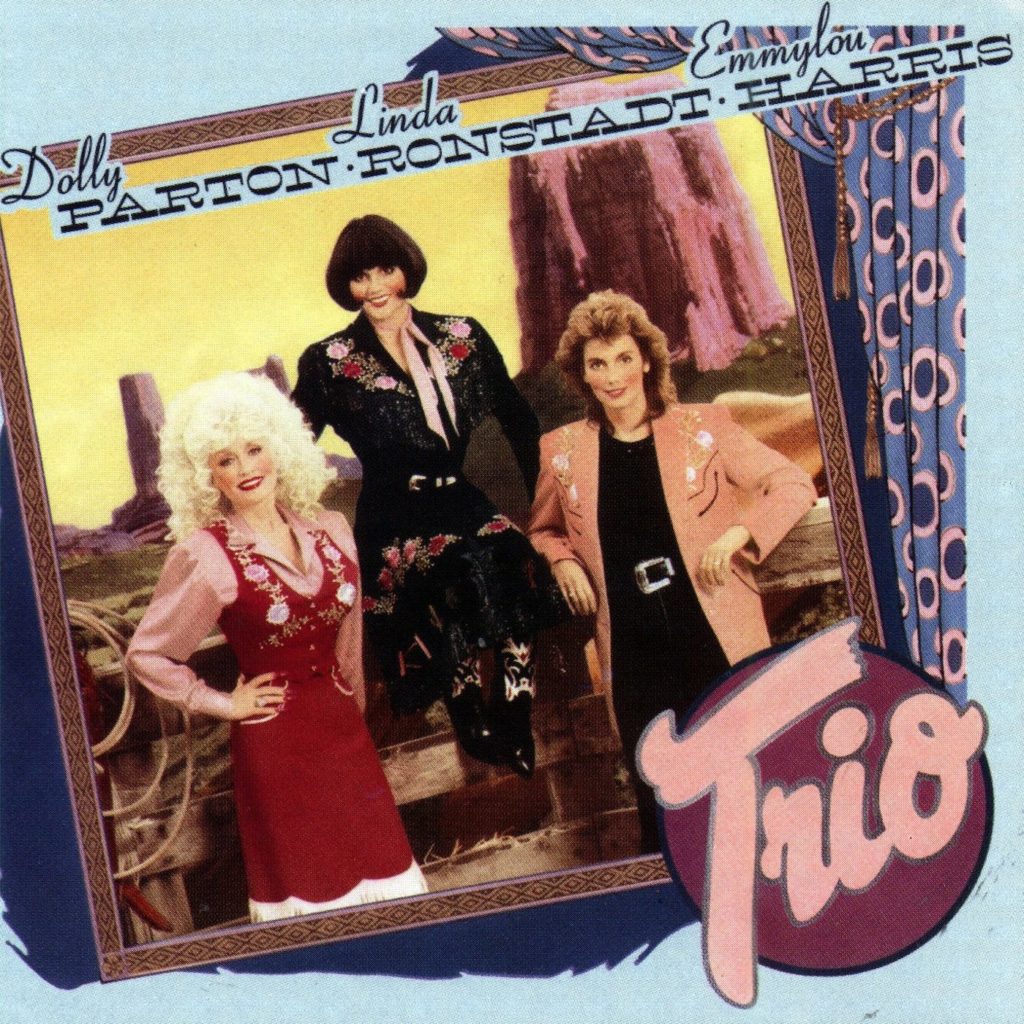 As vocal partnerships go, the bond between Dolly Parton, Linda Ronstadt and Emmylou Harris stands as among the purest, a sisterhood boasting a celestial vocal blend, rooted in mutual admiration and the sheer joy of making music. Trio, the 1987 album that landed long after Crosby, Stills and Nash inspired the star-making machinery to crank out more mercenary joint ventures, glows with an effortless sonic beauty framed within the enduring modesty of traditional country music.
The Parton/Ronstadt/Harris constellation began its formation in 1973, backstage at the Houston venue where Ronstadt was opening for Neil Young's Time Fades Away tour. It was there that Chris Hillman, the Byrds and Flying Burrito Brothers alumnus soon to be entangled in his own would-be supergroup with J. D. Souther and Richie Furay, introduced Ronstadt to a rising young singer named Emmylou Harris. Hillman suggested the two might hit it off, just as he had suggested two years earlier to Gram Parsons when that ex-Burrito was looking for a female harmony singer.
Years later, Harris would remember that meeting with a smile. "The first thing that girl singers do when they meet is to ask each other, 'Who's your favorite girl singer?' And we both said, 'Dolly,'" Harris recalled. In hindsight, the mutual admiration was natural. Ronstadt was then on the cusp of a platinum breakthrough with 1974's Heart Like a Wheel, while Harris had blossomed under Parsons' influence to immerse herself in country music. Both women had begun as folk singers before tracing paths back to their roots in Ronstadt's Southwest and Harris' deep South. Both were the same age, both relied primarily on other writers' material, and both would welcome invitations to sing on other artists' records.
Related: Our interview with Linda Ronstadt
Where Ronstadt and Harris were then identified with L.A.'s rock community, Parton was perceived through links to older Nashville country stars. Yet Parton was only a year older, her longer track record the result of a precocious career launched in her early teens before she escaped her tiny Eastern Tennessee hamlet to Nashville's Music Row. There, she quickly made inroads as a songwriter before country veteran Porter Wagoner became her mentor, featuring her on his syndicated TV show and recording with her as a duo, which led in turn to her own solo record deal. That Ronstadt and Harris admired Parton's songcraft and not just her luminous voice was borne out by their own covers of Parton's songs beginning in 1975.
Country music was the common denominator for all three singers in the '70s, yet each took a different path. Ronstadt helped map country-rock's L.A. fault line, Harris followed Parsons' country obsessions back to their traditional sources, and Parton diverged from her long string of country hits to cross over to pop success, as well as TV and movie notoriety. It was on Parton's TV show that the three first wove their voices into angelic harmonies on familiar country songs.
Watch the trio sing "Silver Threads and Golden Needles" in 1976
By 1978, their personal and musical rapport nurtured a shared goal to record together, yet the momentum of their solo careers pushed the goal posts into the future. Their earliest studio performances appeared as highlights on three of Harris' albums, starting with 1979's holiday-themed Light of the Stable. Finally, in 1987, the women cleared their schedules and began work on their long-delayed vocal summit, assembling a repertoire that shrugged off trends of the moment to revisit the country cadences of their first performances.
Dolly Parton and Porter Wagoner's "The Pain of Loving You" affords a natural entry point for Trio, with all three voices declaiming the title chorus before Harris takes the solo verses. With each bringing a wide vocal range to the mic, their ability to alternate between tonic, third and fifth harmonies is just one of their formidable tools; spacious arrangements rooted in traditional country belie the first-call L.A. credentials of the studio ensemble as they erect a trellis of acoustic guitars, mandolin and fiddle. Parton steps into the lead role for another standard country weeper, "Making Plans," her signature vibrato the essence of heartbreak.
Without abruptly altering the instrumentation, they turn to '50s pop and rock 'n' roll, as they had earlier when covering the Chordettes' ur-girl group pop confection, "Mr. Sandman," released on Harris' Evangeline album. Phil Spector's first major songwriting hit, "To Know Him is to Love Him," inspired by the epitaph on his father's tombstone, translates easily to romantic yearning, with Harris' aching middle register a worthy foil in a performance that delivered a #1 country single hit.
Parton's high, lonesome soprano shines on both her own material and covers, including "Those Memories of You," a moonlit bluegrass dirge first cut by Bill Monroe in 1978 but sounding decades older.
Producer George Massenburg and the blue chip band sustain the sense of musical space and time while the song choices invoke early country roots (Jimmie Rodgers' "Hobo's Meditation," with Ronstadt carrying the solos, Jean Ritchie's "My Dear Companion" led by Harris, and Parton's delicate lead on "Rosewood Casket"), and traditional gospel (the closing standard, "Farther Along") while making room for two brilliant performances from contemporary female songwriters.
Ronstadt carries the solo verses on "Telling Me Lies," written by Linda Thompson (with Betsy Cook) as she reeled from the breakup of her musical and marital partnership with British folk-rock pioneer Richard Thompson. Ronstadt begins the solo verses with a gentle resignation, making their accusations of romantic betrayal all the more devastating: "They say a woman's a fool for weeping/A fool to break her own heart/But I can't hold the secret I'm keeping/I'm breaking apart." It's here that Trio's design opens up to tap into pop drama, served handsomely by David Campbell's sweeping orchestral arrangement and Bill Payne's electric Wurlitzer piano. The chorus rises as if awakening to awful truth as Ronstadt sings, "I cover my ears, I close my eyes/I still hear your voice and it's telling me lies, telling me lies…"
If Trio's other singles scored largely through the aural balm of those platinum harmonies, "Telling Me Lies" reached #3 on the country singles chart and earned a Grammy nomination as Best Country Song by elevating a country trope—another cheatin' song—with a harrowing authenticity. It also stands as a precursor to Kate McGarrigle's "I've Had Enough," with Ronstadt again carrying the solos on a verdict of emotional defeat, a dry-eyed sequel to Thompson's ballad forged in McGarrigle's own failed marriage to Loudon Wainwright III (who, by bittersweet coincidence, had since become a friend and collaborator with Richard Thompson).
Set against spare piano and presented in terse lines, the song documents the tears shed, the love ignored and the fateful decision to leave, with an understated allusion to their children as Ronstadt sings, "And if you choose/I'll break the news/This part is rough/So very rough."
The March 2, 1987, release would go on to win the Grammy for Best Country Group or Duo recording, carry four singles into the Country top 10, and earn platinum album status, bridging pop and country audiences without straining for a commercial crossover. Its sonic celebration of sisterhood was informed by a gentle but no less conscious feminism that may have been overlooked then (and certainly would have been a decade earlier) by what would later be codified as the male gaze.
A looser, more varied sequel would gradually take shape over the next decade, with a number of early tracks initially released on Ronstadt's 1995 return to country-rock, Feels Like Home, for which Parton's parts were removed at her request, due to contractual conflicts. They would later be restored for inclusion on Trio II, released in 1999.
Bonus Video: Watch the 'Trio' singers cover Neil Young's "After the Goldrush" on The Late Show with David Letterman, March 24, 1999

Latest posts by Sam Sutherland
(see all)