The Rolling Stones Bring Howlin' Wolf to U.S. TV
by Jeff Tamarkin
If you were an American teenager on May 26, 1965 (or May 20… sources vary on the precise date), there's a very good chance that you finished your dinner and then went over to the family's black-and-white console TV, where you turned the dial to the local ABC affiliate. You waited until 7:30 and then sat down to watch Shindig!, the hour-long weekly program that, much to your parents' chagrin, brought your favorite rock and roll acts into your living room. On this night you were particularly excited because the main stars were to be The Rolling Stones, England's newest hit makers, as the title of their debut American LP attested.
The Stones, as everyone called them, had already made an impact in the States with top 10 singles like "Time Is on My Side" and "The Last Time." You had no way of knowing this, but just a couple of weeks earlier they had recorded a new original song called "(I Can't Get No) Satisfaction," which would soon break them wide open, going straight to #1 on the Billboard singles chart.
But maybe, if you read the fan magazines, you did know that the Stones adored the music called the blues, that they idolized and emulated African-American artists with names like Little Walter, Muddy Waters and Sonny Boy Williamson, many of whom worked for a label out of Chicago called Chess Records.
Still, you could not have been prepared for what was to come this evening.
The episode, the 37th Shindig! to date, opened as innocuously as possible, with teen idol Bobby Sherman—a regular on the show—covering "Reelin' and Rockin'," a song by another of those Chess artists, Chuck Berry. A few other singers, including Sonny and Cher, had their turn and then, there they were, the Rolling Stones. They were scruffy, these boys. Their hair was longer than the Beatles' and—although they wore nice jackets for this appearance—there was something menacing about them. They didn't just want to hold your hand; they wanted more.
On this Wednesday night, you first saw them singing a rocking boogie-woogie number called "Down the Road Apiece," which they got from Berry but which actually went all the way back to 1940. When they returned, following tunes by Jackie DeShannon and others, they reached into the Chess vault themselves, performing a song they had recorded for their third studio album, The Rolling Stones, Now!, released in February 1965. It bore the songwriting credit of Willie Dixon, another Chess artist, but the Stones knew it from the single—released in 1961, also on Chess—by a fellow named Howlin' Wolf.
Even if those teenagers watching Shindig! that evening had seen the name Howlin' Wolf, they probably had never actually seen the man himself—16 Magazine wasn't in the habit of featuring old bluesmen. And he was an older man by this time, just shy of his 55th birthday. His given name was Chester Arthur Burnett. Originally from Mississippi, he'd recorded for Memphis' Sun Records—home of Elvis Presley, Johnny Cash, Jerry Lee Lewis and so many others—before he, too, went over to Chess. His songs would eventually find favor with many rock bands—Cream recorded his "Spoonful," the Doors cut "Back Door Man" and there were many others—but for now he was still a mystery figure to most of the white audience.
The Stones were about to change that. Prior to accepting the Shindig! booking, they had, in fact, insisted that Howlin' Wolf also appear on the program. Just about midway through, host Jack Good called over Mick Jagger and Brian Jones, two of the band's members. A bit of small talk ensued, Good noting that he saw a "fantastic" blues artist in a restaurant in Chicago "so I booked him."
Howlin' Wolf "is one of our greatest idols," Jones, palpably excited, tells the host. "Let's get him on stage, Howlin' Wolf!" announces Good and then, to the screams of pubescent white girls, the six-foot-plus black man takes the microphone.
He points his index finger straight ahead and sings, in a voice that sounds as if its owner gargles with hot tar:
"How many more years?
Since I have to let you dog me around
How many more years?
Do I have to let you dog me around
I would rather be dead
Sleeping six feet in the ground"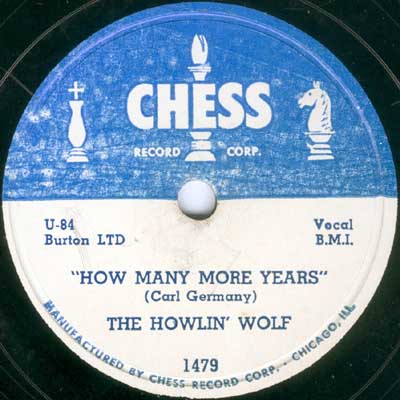 As he puts a harmonica to his lips, the camera zooms in on his face. Howlin' Wolf—there's no other way to say it—is one tough-looking dude. When he says that he'd rather die than be "dogged around," you can tell he means business; he's been around. When he sings this music, there's no doubt he knows of what he speaks. And he's not content to just stand there and tell his saga, either: As the song progresses, Wolf jumps around a bit, blows more harp, points that finger again and gets a look on his face that says, you want to know what the blues is, you English punks, this is the blues!
Sitting off to the side, we see Jones and Jagger. Maybe those teenagers in the studio audience and at home have no idea what to make of this larger-than-life figure, but for the band members, it's a dream come true.
As "How Many More Years" wraps up after three minutes or so, Howlin' Wolf shakes and shimmies as if a bee has just landed in his shirt, blows a few more licks and, as the camera pans out, removes his hulking frame from the Shindig! stage.
Howlin' Wolf's appearance on Shindig!—his first time on national TV—has been called nothing less than "one of the great cultural moments of the 20th century." It'd be difficult to argue otherwise.
Our Classic Video…
Howlin' Wolf, born Chester Burnett on June 10, 1910, died at age 65 on January 10, 1976.
A little bit of trivia: That pianist with the slicked-back hair that you can see in the still photo right above, before you click to play the video? That's the amazing Billy Preston!
Related: Our Album Rewind of The London Howlin' Wolf Sessions

Latest posts by Jeff Tamarkin
(see all)