The Rolling Stones' 'Honk' Collection: Review
by Jeff Burger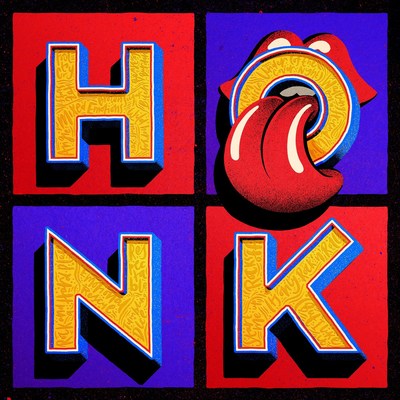 The first two discs of the Rolling Stones' new three-CD Honk collect highlights from nearly five decades of the group's catalog, starting with 1971's Sticky Fingers and continuing through 2016's Blue and Lonesome, an album of blues covers. (The ABKCO label controls the group's work from the 1960s, which is why you'll have to turn to the original LPs for that indispensable material or, if your budget is tight, to the excellent Singles Collection: The London Years.)
As for Honk, it offers an excellent 36-song snapshot of the period it covers. Most of the obvious candidates are here, including nearly a dozen U.S. Top 10 singles ("Brown Sugar," "Tumbling Dice," "Angie," "Fool to Cry," "Miss You," "Beast of Burden," "Emotional Rescue," "Start Me Up" "Undercover (of the Night)," "Harlem Shuffle" and "Mixed Emotions"). Aside from the few tracks from the aforementioned Blue and Lonesome and several that first surfaced on 2012's GRRR! anthology, most of the rest are radio staples that should also need no introduction, such as "Wild Horses," "Bitch," "Happy," "It's Only Rock 'n' Roll (But I Like It)," and "Waiting on a Friend."
Of course, every fan is bound to find omissions to quibble about. (Yours truly would have thrown in a few more ballads, including "Moonlight Mile," "'Till the Next Goodbye," "Time Waits for No One" and "Memory Motel.") But if you have to whittle the hundreds of songs in the post-ABKCO catalog down to three dozen, you could do worse than to wind up with the track list here.
The real question, however, is whether you ought to whittle at all. Many of the classic songs on Honk come from albums that are themselves classics, and it's easy to argue that any serious rock collector needs records like Exile on Main Street, Sticky Fingers and Some Girls in their entirety, not just their highlights.
Related: Some 2019 Stones tour dates are being postponed due to Mick Jagger's surgery
Note, though, that the three albums mentioned above all appeared in the 1970s and that Honk's program acknowledges that decade's dominance by including nearly as many tracks from it as from the next four decades combined. Some fans may want this anthology as a wallet-friendly way to hit the highlights of LPs from those later years, some of which are less consistently satisfying than the earlier work.
And Honk's nearly hour-long third disc includes a major additional carrot for those who already own much of the material from which CDs one and two were culled: 10 previously unreleased concert recordings, all from 2013 to 2018. These live tracks, which are invariably excellent, consist mostly of early gems like "Get Off My Cloud," "Let's Spend the Night Together," "She's a Rainbow," "Under My Thumb," "Wild Horses" (with Florence Welch), "Dead Flowers" (with Brad Paisley) and "Bitch" (with Foo Fighters' Dave Grohl).
While the dominance of decades-old material on all three discs suggests that the Stones' songwriting heyday may have passed, these concert tracks demonstrate rather definitively that, more than half a century after they first gained prominence, these now-septuagenarian performers are as potent on stage as they've ever been.
Watch the trailer for Honk
Latest posts by Jeff Burger
(see all)