Rolling Stones Defy Age at Spectacular 2019 MetLife Concert
by Greg Brodsky
Decades ago, while in their 20s and 30s, the Rolling Stones were often referred to as the world's greatest rock and roll band. Now, Mick Jagger, Keith Richards, Charlie Watts and Ronnie Wood are each well into their 70s. On August 1, 2019, just four months after Jagger underwent a heart valve procedure at 75, the still undisputed world's greatest rock and roll band defied their age with a spectacular 19-song set at MetLife Stadium in East Rutherford, N.J.
Opening with a superb "Street Fighting Man," the Stones wended their way through a well balanced set of hits and album cuts from such classic rock masterpieces as Exile on Main Street and Beggars Banquet.
Hopscotching back-and-forth from among their mighty '60s and '70s output, the four legends and their band–which again features the touring veterans bass guitarist Darryl Jones, keyboardist Chuck Leavell, saxophonist Tim Ries, keyboardist and French horn player Matt Clifford, and percussionist Bernard Fowler–offered variations on some of the Stones' warhorses.
"Honky Tonk Women" was slowed down significantly, and with the stadium house lights on, the presentation was one of the evening's many highlights, with Richards' making his ringing guitar look effortless.
The recording of 1967's "She's a Rainbow" features a vibrancy that follows Nicky Hopkins' lovely piano intro. On this night, four songs in, the band performed it as a ballad, with Jagger playing guitar for the first of many occasions, and Leavell offering a beautiful keyboard solo.
For two acoustic songs, the core four played together on the catwalk, including Watts on a kit, far away from the rest of the touring band, which remained on the main stage. "Sweet Virginia," the first number, was superb, with Watts setting the tempo and Wood playing a beautiful solo.
Jagger demonstrated his wit throughout the evening. "It's great to be in New Jersey," he said midway through. "The health food capital of the world." He allowed that the band ate at the legendary Tick Tock Diner in nearby Clifton.
The 2019 edition of the Stones' "No Filter" tour, sponsored by the Alliance For Lifetime Income, consisted of just 17 concerts, spread over a generous two-and-a-half months. The schedule clearly allowed them to perform at their peak.
If there was any doubt of his prowess as the consummate frontman, Jagger shimmied on the catwalk throughout the evening, at one point whipping out a harmonica as he strutted, taking off his jacket and twirling it around for effect. His untucked t-shirt revealed a flat stomach that would make beachgoers on the Jersey Shore jealous.
The main set ended with a run of six Stones favorites. "Miss You," driven by Watts and Jones' bass, was a tour-de-force. Jagger, in yet another costume change, handed off his guitar to again venture down the runway, strutting during Jones' solo midway through.
The instantly recognizable guitar and drum intro heralded an outstanding "Paint it Black," showing the song's evolution since it was released in 1966.
"It's our 90th show in the tristate area," Jagger said. (Earlier, he thanked the fans "for your patience when we had to change the dates. You stuck with us.")
1969's "Midnight Rambler" featured a dynamic solo from Wood, with Jagger on harmonica. The song's extended blues ending suddenly speeded up with the band rocking out.
"Jumpin' Jack Flash" and "Brown Sugar" showed how tight the 2019 edition of the Stones and their band still are. What a treat.
Thanks to Jim Powers and others for the great videos.
The Stones have announced 2021 tour dates. Tickets are available here and here.
Related: When the Stones performed on Fifth Avenue in NYC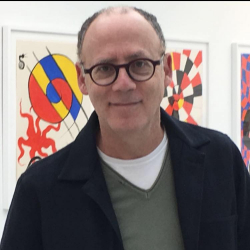 Latest posts by Greg Brodsky
(see all)