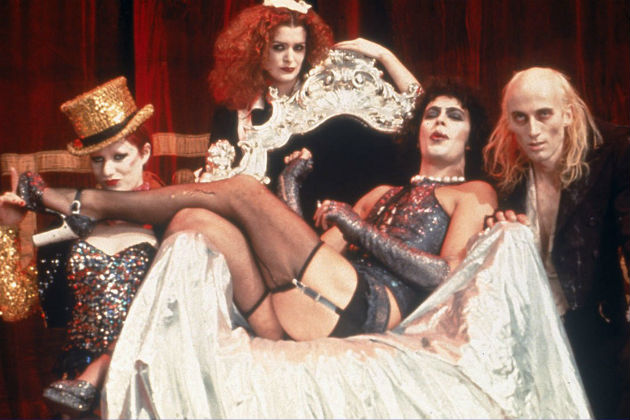 It's been 41 years since the subversive camp-horror musical film, The Rocky Horror Picture Show, was released. And now the cast will be reuniting for a two-day fan event this summer in Los Angeles.
On Friday July 8th, original cast members of the show will gather at The Westin Los Angeles Airport for a meet and greet plus viewing of the original show. Lead actor Tim Curry will make a rare appearance on the second day of the event (7/9). Curry, who suffered a major stroke in 2013 that left him wheelchair bound, starred in the show as scientist Dr. Frank N. Furter. This will be the first public appearance Curry has made since then.
Also joining Curry will be original cast members Nell Campbell who played Columbia and Patricia Quinn who starred as Magenta. Click here for details and ticket info.
Singer Meat Loaf, who you might remember as Eddie, is expected to appear as well but is not yet officially confirmed. He is currently on a North American tour promoting his new album, Braver Than We Are. His last scheduled date as of now is June 28 in Abbotsford, Canada, so an appearance may not be out of the question.
The Rocky Horror Picture Show movie was released in 1975 and was based on Richard O'Brien's original stage show. After what was an initial lukewarm reception, the film became a cult classic when The Waverly Theater in New York City began running midnight showings the following year. Audience members started talking back to the screen and and began dressing as the characters, returning week after week. It spawned similar performance groups across the United States. At almost the same time, fans in costume at the King's Court Theater in Pittsburgh began performing alongside the film. This "shadow cast" mimed the actions on screen above and behind them, while lip-syncing their character's lines.
Never miss a post! Sign up for Best Classic Bands' Newsletter; form is on every page.
Still in limited release four decades after its premiere, it is the longest-running theatrical release in film history. Today, the film has a large international following. The Library of Congress also selected it for preservation in the U.S. National Film Registry in 2005.
Director Kenny Ortega is working on a TV movie remake that will star Laverne Cox, Victoria Justice, Ryan McCartan, and Christina Milian. Tim Curry also has a small role as The Criminologist. The Halloween-season airdate is scheduled for October 28th.

Latest posts by Best Classic Bands Staff
(see all)