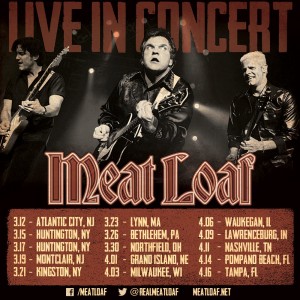 Update (April 5): Meat Loaf has added a slew of Canadian dates (see below). On April 4, he again teased his upcoming album on his Facebook page, calling it "explicit and politically incorrect."
Word comes from Meat Loaf that he has finally finished a new album with longtime collaborator Jim Steinman. Braver Than We Are is scheduled for a September 9th release in most territories and September 16th in the U.S. The album marks the singer's first since 2011's Hell in a Handbasket. It's his first new recording with Steinman since 1995's Welcome to the Neighbourhood which contained two Steinman compositions.
Meat Loaf shared the news via his Facebook page with this all caps post:
THE ALBUM IS FINISHED . IT WILL BE OUT SEPT 9TH EUROPE . SEPT 16TH NORTH AMERICA . THERE WILL BE IN STORES BEFORE THE RELEASE . WITH WATER MARKED COPIES THAT CAN'T BE COPIED . I CAN'T DESCRIBE THE RECORD IN WORDS . AFTER YOU HAVE IT IT BELONGS TO YOU . IT WILL BE YOUR INTERRUPTION. IT IS A JIM STEINMAN AND MEAT LOAF RECORD . WITH GREAT PRODUCTION BY PAUL CROOK . WHATS IT CALLED " BRAVER THAN WE ARE "
M
After Meat Loaf's initial post, he did an impromptu Q-and-A with his fans. One named Daniel wrote: "Jim Steinman wrote, decided not to produce. How's it sound?" "Like a rocket taking off!!!" He continued: "Jim was involved through the whole process. He was not physically in the room but his spirit was and everyday anything was recored (sic) it was sent to him for his input."
Fan Michael asked: "This is still only February so why so long for it to be issued out to us all, what delays a release?" Meat Loaf: "Not enough time to set it up before may . Plus I have 2 tours, also the summer is the worst time to put out a record . then after Sept 16th you start to run in to the contemporary artists , starting to put out there Records for Christmas . I don't want to fight with them."
Fan Jesper asked if it would be available on vinyl. "Yes it will be !! Meat vinyl almost sells more today than CD's."
Sonny ID'd Meat Loaf as the best singer of all time. Meat Loaf's response: "Thank you, wish that was True , Aretha Franklin , best of all time , for his Era Frank Sinatra was. Rock male Freddie Mercury . He had it all ."
Braver Than We Are has been in the works for several years. In a note dated August 11, 2014, producer Crook wrote that it would be released "soon."
The 68-year-old Meat Loaf is in the midst of a 14-date U.S. tour beginning next month. Tickets are available here. He indicated on Facebook that he plans to tour "all the way to Sept. 24, 2017." There's no word yet on song titles, personnel or album artwork.
Meat Loaf's 1977 breakthrough classic rock album, Bat Out Of Hell, was his initial collaboration with Steinman. The recording has sold a reported 43 million copies worldwide, making it among the best selling albums of all-time.
(If you're a new Best Classic Bands reader, we'd be grateful if you would Like our Facebook page and/or bookmark our Home page.)
Meat Loaf 2016 North American Concert Dates:
April 6 – Waukegan IL – Genesee Theatre
April 9 – Laurenceburg, IN – Laurenceburg Event Center
April 11 – Nashville, TN – Schermerhorn Symphony Center
April 14 – Pompano Beach, FL – Pompano Beach Amphitheater
April 16 – Tampa, FL – Busch Gardens Food & Wine Festival
May 25 – Bethlehem, PA – Sands Event Center
May 28 – Kingston, Canada – Rogers K Rock Center
May 30 – Hamilton, Canada – Hamilton Place Theatre
June 1 – London, Canada – Budweiser Gardens
June 4 – Toronto, Canada – Massey Hall
June 6 – Ottawa, Canada – TD Place Arena
June 9 – Winnipeg, Canada – MTS Centre
June 11 – Moose Jaw, Canada – Mosaic Place
June 13 – Calgary, Canada – Southern Alberta Jubilee
June 16 – Edmonton, Canada – Northern Alberta Jubilee
June 18 – Cold Lake, Canada – Imperial Oil Place
June 21 – Lethbridge, Canada – Enmax Centre
June 23 – Penticton, Canada – South Okanagan Events Centre
June 25 – Victoria, Canada – Save-On-Foods Memorial Centre
June 28 – Abbotsford, Canada – Abbotsford Centre

Latest posts by Best Classic Bands Staff
(see all)