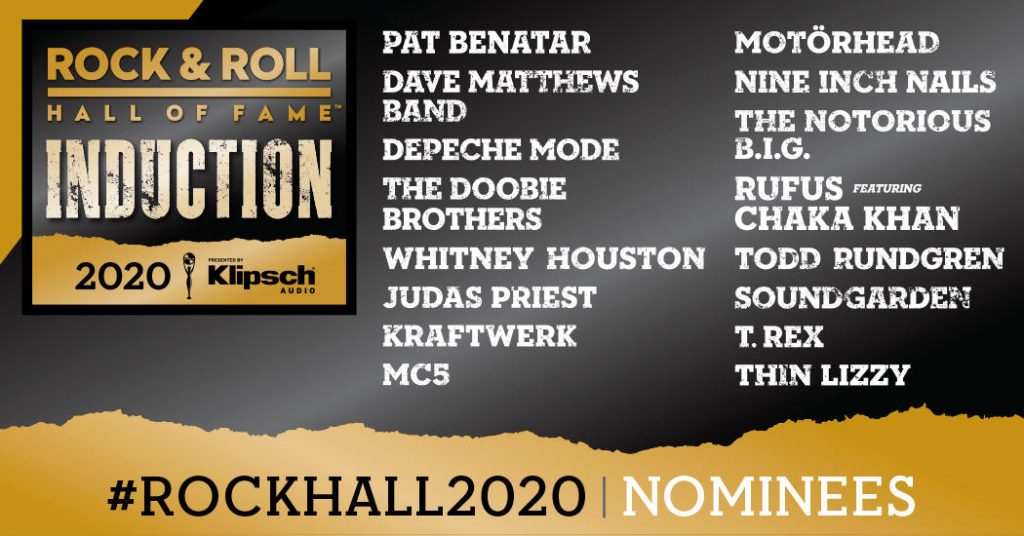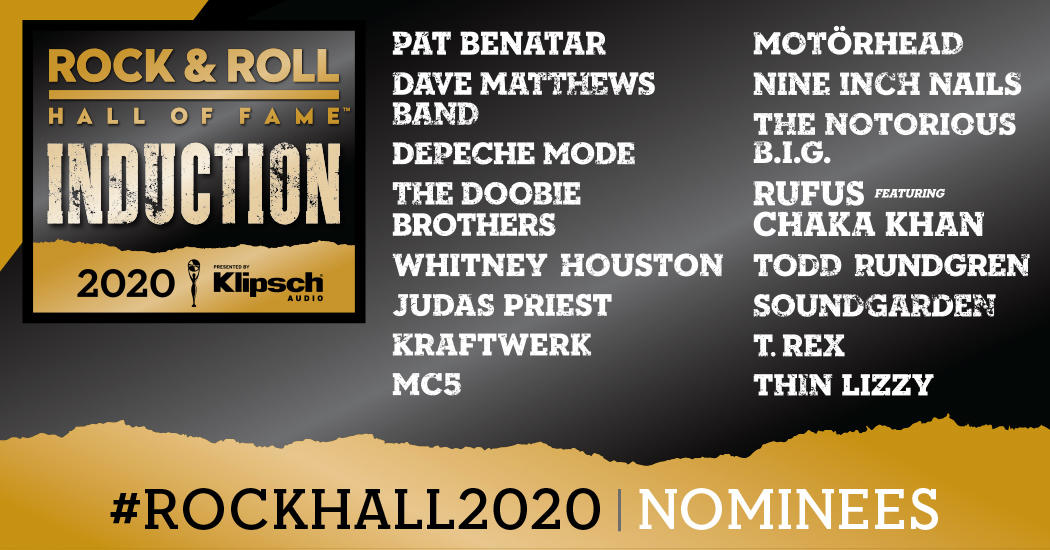 Every rock fan's favorite parlor game is to complain about the Rock and Roll Hall of Fame: which artists deserve to be inducted and which don't. Each year, the Hall announces its latest nominees and the outcries explode immediately: Why isn't (fill in the blank) in there?!
This year the HoF nominated 16 artists spanning various musical eras and genres. Every fan should find at least a few artists they desperately want to see inducted and probably just as many that trigger a head-scratching: Who is that person and why are they even on this list?
From the annual list of nominees, traditionally the Hall chooses around five to seven new inductees, depending on the percentage of votes the artist receives. (The nominations are made by a committee of a few dozen music industry folks, artists and critics; a ballot is then sent out to 1000+ voters, also involved in the music biz.)
What that means is that some of these people are going to be in the Hall of Fame's Class of 2020, and many more won't be. But which ones will make it and which ones will be shunned?
Your guess is as good as ours (it really is—we have no spies inside the Hall), but each year we like to look at the overall list and try to determine who we think will be celebrating and who will be bummed.
Please don't shoot the messenger: This article doesn't reflect which artists we personally like or don't like or think should/shouldn't be inducted. It's all about who we think the voters will choose, based on our knowledge of how they usually vote.
The winners will be announced in January 2020. (The induction will be held in Cleveland on May 2.) We'll return to this list after the announcement and see how we fared.
Pat Benatar
First, let's just admit that the Rock Hall has not inducted enough women who actually rock. Benatar does. Next, she had a lot of hits—solid top 10s like "Hit Me With Your Best Shot" and "Love is a Battlefield"—that lit up the radio in the '80s. She still has a dedicated fan base. She's a natural, so we say… Odds: Welcome to the Hall!
Depeche Mode
Among the initial slew of British post-punk bands that figured out how to incorporate electronic instruments into the popular dance music of the day and sell it in massive quantities, Depeche Mode was unquestionably one of the best. Some of their early stuff was especially innovative, and good for them for keeping it going for so long. But popularity alone, as Hall watchers know, is never enough of a reason to induct someone, and it's just our gut feeling that the voters are going to pass Depeche Mode over, at least for now, in favor of some of the more noteworthy acts. Odds: Soon, But Not Now
The Doobie Brothers
We're really talking two different bands here, the Michael McDonald-led later years and the pre-Michael McDonald early years. Either way, they were always a classy act (who doesn't like "Listen to the Music" or "Black Water"?) and they still have a very devoted fan base that has been waiting years to see them get their chance. There aren't many compelling reasons for them to be kept out, so… Odds: Welcome to the Hall!
Whitney Houston
You can debate all day whether she was actually a "rock" performer (or whether she should be going in yet—her superstar cousin Dionne Warwick, who was a huge star before Whitney, hasn't even been inducted yet. But you can't deny that she was one of the most successful artists ever, with nearly a dozen #1 singles to her credit in the '80s and '90s, not to mention three albums (including the gargantuan soundtrack for The Bodyguard) that totaled 45 weeks in the top spot between them. There's simply no question that she deserves the nod. Odds: Welcome to the Hall!
Judas Priest
The Rock Hall has had an uncomfortable relationship with metal. While some of the top bands have been inducted, there are many others that have been ignored, for whatever reason. Of that latter category, we've seen the name Judas Priest more than any other as being unfairly overlooked. While they didn't score a top 10 album in the U.S. during their '80s heyday (yeah, we were surprised to see that too), they've nonetheless been consistently popular for four decades and metalheads think the world of them. Odds: Welcome to the Hall!
Kraftwerk
These German electro-pioneers are a good example of what often causes divisiveness among fans. Let's see, they had one top 5 album, their debut, then never came near the top again, and the closest they came to a hit single was the #25 title track from that first album. If you're going by chart performance alone, then, Kraftwerk might elicit a big "Huh?" from you. But there's no way around it—their influence has been enormous; it's impossible to imagine where synth-pop/electronica would have gone without them leading the way. We previously had them in the "Welcome" column but voters have shown an indifference, so we're downgrading them. Odds: Soon, But Not Now
Dave Matthews Band
They define the post-Grateful Dead jamband scene, having sold more than 100 million concert tickets and nearly as many albums. Several of those have bolted straight to the top of the Billboard chart. But here's the thing about DMB: Their audience, as large as it is, is insular: people who don't care about them really don't care about them. We just don't think they have enough support to make the cut this year. Odds: Soon, But Not Now
MC5
These Detroit wildmen came about as close as any rock band could to being real revolutionaries. It was built into their music, which itself went against the prevailing peace-and-love grain of the day. They've been tremendously influential, beloved by punks, especially. But even today, they're more rock critics' darlings than fan favorites. We wonder how many of the Hall's voters even own an MC5 album. They deserve to get in due to their impact alone, but we're not so sure that'll happen if it hasn't be now. Odds: Soon, But Not This Time
Motörhead
Motörhead is loved by a lot of people who aren't otherwise big fans of metal or punk—or other associated genres of loud, fast rock that bear their influence. The late Lemmy Kilmister is a genuine rock 'n' roll hero to many fans, one of those likable characters whose own influence, above and beyond the band, extends into numerous different areas of music. But if the Hall is going to pick one metal band this year, we think that's probably going to be Judas Priest, who've been waiting for it for some time. Odds: Soon, But Not Now
Nine Inch Nails
The Hall of Fame is looking to freshen up its reputation as an institution that recognizes the evolution of the music. Nine Inch Nails checks off the right boxes: they're popular and their music is of high quality, and pretty much everyone agrees that Trent Reznor, who basically is NiN (and whose soundtrack work alone is laudatory), is a brilliant artist, and is on the board of the Hall's Foundation. Odds: Welcome to the Hall!
Notorious B.I.G.
The Hall of Fame has been inducting major hip-hop artists one at a time, and—even if some fans object—it's going to continue to do so. The Notorious B.I.G., a.k.a. Biggie Smalls, was one of the, er, giants of the genre—some say the greatest of them all—with a tragic but inspiring life story and a catalog of massive-sellers behind him. Odds: Welcome to the Hall!
Rufus Featuring Chaka Khan
Does anyone even know any members of Rufus other than Chaka Khan? No, so let's look at Chaka, who's also been nominated as a solo artist but has yet to woo voters. As we wrote about Chaka before. Long career? Check. Sales galore? Some 70 million. Awards? Ten Grammys. Crossover appeal? From the start. Household name? Your mom probably digs her. And when it comes to influence, we can't blame Chaka for all the over-singers who followed. But, compared to the other acts on the list this year, we just don't think she's going to get enough love. Odds: Not a Chance
Todd Rundgren
Every time Best Classic Bands runs an article about potential Hall of Famers we get complaints from readers about those who've been snubbed. Todd has repeatedly been near the top of that list. How is he not in already?! A beloved innovator since his early days, he should have been inducted long ago, for his production work (Grand Funk, Meat Loaf's Bat Out of Hell, New York Dolls, etc.) alone. So, what are they waiting for? Odds: Welcome to the Hall!
Soundgarden
No doubt about it, the Seattle-centered grunge movement was one of the last vital waves in rock. Nirvana and Pearl Jam (both already inducted) changed the course of the music, and many fans think that Soundgarden was as good (if not better) as either of those bands. The late Chris Cornell was certainly a very talented frontman, and the band's Superunknown album is one of the most important of the '90s. But they're up against too many other bigger names this year, so we think they'll have to wait a bit. Odds: Soon, But Not Now
T. Rex
A truly beloved band, and Marc Bolan was a seminal figure of the '70s glam scene. So many great songs ("Bang a Gong," "Jeepster," "Metal Guru") and memorable albums (Electric Warrior holds up as a classic). But once again, we think they're simply outranked this year, and that the Hall will be shifting its attention in other directions. Odds: Soon, But Not Now
Thin Lizzy
Same story as T. Rex: Great rock band, charismatic, long-gone frontman in Phil Lynott, hits you've got to love ("The Boys Are Back in Town" alone is an anthem for the ages). They really deserve the recognition but we don't think they're going to get it just yet. Odds; Soon, But Not Now
Related: 100 crucial Rock Hall omissions

Latest posts by Best Classic Bands Staff
(see all)