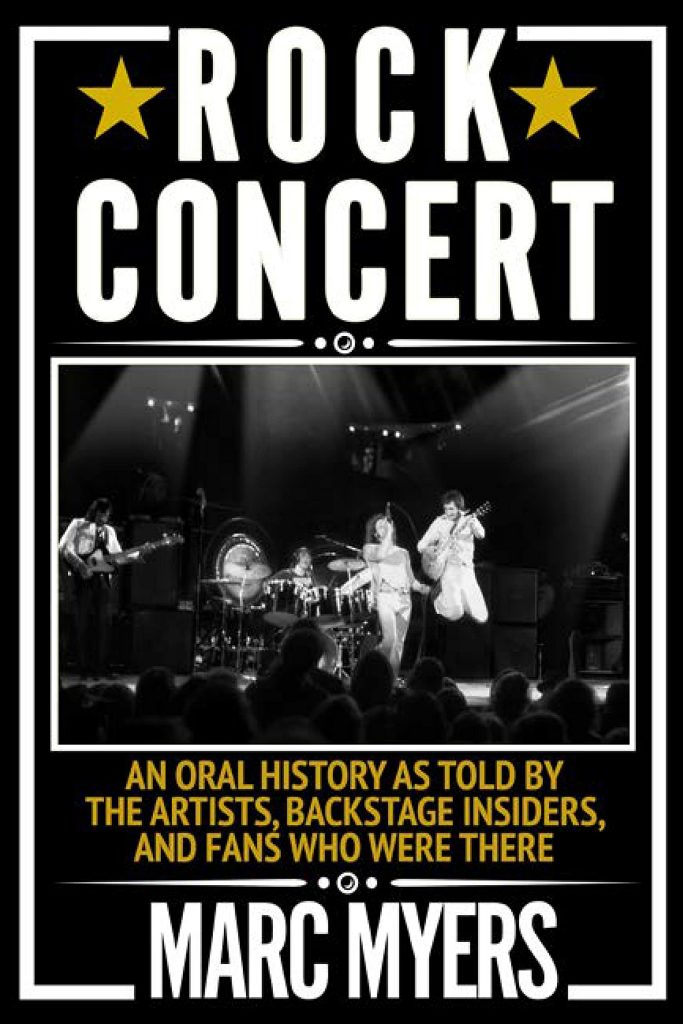 Author Marc Myers has announced the forthcoming publication of his new book, Rock Concert: An Oral History as Told by the Artists, Backstage Insiders, and Fans Who Were There. The book will be out November 9, 2021, via Grove Press.
Says a press release: "Decades after the rise of rock music in the 1950s, the rock concert retains its allure and power as a unifying generational experience—and as an influential multi-billion-dollar industry. With Rock Concert, Myers presents a 360-degree account of live rock's emergence by weaving together ground-breaking stories from those who were on stage, in the wings, behind the scenes, and in the audience."
Rock Concert, the announcement continues, "provides a fascinating, intimate look at rock 'n' roll's evolution through the lens of live performances—beginning with the blossoming of R&B concert circuits in the 1950s, through the hippie gatherings of the '60s, to the growing arena tours of the '70s and '80s. Elvis Presley's superstardom, the British Invasion that brought the Beatles in the '60s, the Grateful Dead's free-flowing psychedelic jams, and Pink Floyd's operatic, live production of The Wall are just a few of the defining musical acts that drive this rich, 35-year narrative."
Related: Another new book focuses on rock bootlegs through the ages
In an appendix, Myers includes lists of the 50 best live albums, concert films and rock documentaries, each broken out by decade for readers interested in taking a deeper dive into the milestone performances across the era covered in the book.
Drawn from his original in-depth interviews with 94 wide-ranging sources, Myers combines tales from performers like Joan Baez, Bob Weir, Todd Rundgren, Tina Weymouth, Ian Anderson, Alice Cooper, Steve Miller, Roger Waters, Daryl Hall, John Oates, and Angus Young; stories about the disc jockeys who first began playing rock on the radio, like Alan Freed in Cleveland and New York; promoters such as Don Law in Boston; the audio innovators who developed new technologies to accommodate ever-growing rock audiences and venues; music journalists, like Cameron Crowe; and of course the roadies, tour managers, regional promoters, and festival organizers who orchestrated concerts, like Michael Lang of Woodstock fame, to create a rounded and vivid account of live rock's stratospheric rise from 1950 to 1985.
Rock Concert features dozens of key players in rock 'n' roll history and is filled with colorful anecdotes.

Latest posts by Best Classic Bands Staff
(see all)