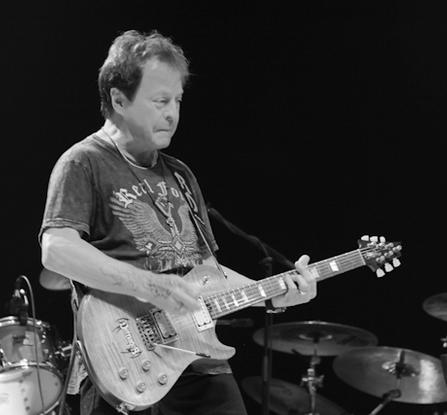 He came into the world as Ricky Dean Zehringer in Fort Recovery, Ohio, on August 5, 1947. And then while still a teenager enjoyed a #1 hit, "Hang On Sloopy," in 1965 with his band the McCoys. (His stage name Rick Derringer was a natural variation on his last name inspired by the pistol in the logo of Bang Records, the band's label.)
What to do for an encore? Build a 50-year career as a guitarist, songwriter, artist, producer and entertainer that is still going strong today.
The McCoys became the "And" in Johnny Winter And, and Derringer made good use of all of his above listed talents working with the albino Texas blues guitarist as well as his brother Edgar. In 1970 Johnny Winter recorded a catchy lil' number written by Derringer titled "Rock and Roll, Hoochie Koo" that soon was achieving the status of a classic rock standard, secured for all time when Rick recorded it on his 1973 solo debut album, All American Boy, and the tune was a #23 hit.
Watch them perform it on The Midnight Special on November 2, 1973
If you're a new Best Classic Bands reader, we'd be grateful if you would Like our Facebook page and/or bookmark our Home page.
Derringer has played on albums by Alice Cooper, Todd Rundgren, Steely Dan, Cyndi Lauper, Kiss and even Barbra Streisand, to name some but hardly all. He discovered and produced Weird Al Yankovic to smash hit radio and video success. He wrote, produced and performed Hulk Hogan's theme song "I Am A Real American." He's done tours with Ringo's All-Starr Band, made a successful foray into smooth jazz, delved deep into the blues, and still rocks.
In the You-Can't-Make-This-Stuff-Up Dept., Derringer was charged in 2017, with carrying a loaded weapon on a flight to Atlanta. It presumably was not a, er, derringer.

Latest posts by Best Classic Bands Staff
(see all)