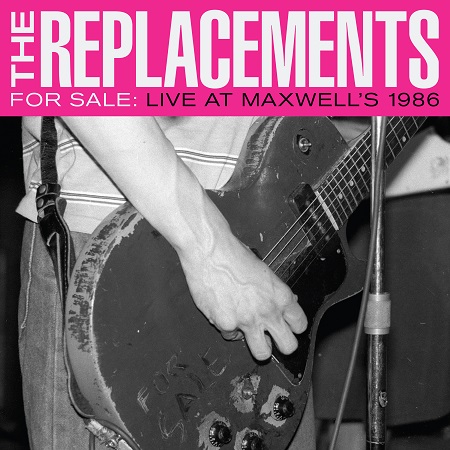 For Sale: Live at Maxwell's 1986, the first-ever live album by The Replacements, will be released by Rhino on Oct. 6. In a press release, the label tells the backstory: "In February 1986, The Replacements performed a classic live show at Maxwell's in Hoboken, N.J. That night, a 24-track mobile studio was on hand to record the quartet as they careened through a 29-song marathon that mixed tracks from all of the band's albums to date with B-sides and covers. Until now, that pristine recording of the legendary performance has only been available in low-quality bootleg form."
The album will make its commercial debut as a two-disc set and a double-LP. The music will also be available on digital download and streaming services. According to the release, "This marks the first live album by the band to see an official release on any of these formats. Their infamous 1985 live release The Shit Hits the Fans, famously recorded with an audience of roughly 30 people, was only available on cassette."
The set also includes new liner notes by Bob Mehr, author of Trouble Boys: The True Story of the Replacements, as well as never-before-seen photos from the Maxwell's show by Caryn Rose. (Order the book here.)
Related: Read more about Mehr's Replacements bio
Paul Westerberg, Bob Stinson, his brother Tommy Stinson and Chris Mars made their major-label debut in October 1985 with the release of Tim on Sire/Warner Bros. When the album reached the charts in January, the band was preparing to perform on Saturday Night Live, where they would later be banned for life for using profanity live on air, before launching a short East Coast tour that included the show in Hoboken.
The show at Maxwell's would prove to be one of the last performances by the four original members of the Replacements, a before Bob Stinson's departure from the band in 1986. The songs they played spanned the band's entire history while giving prominence to new material from Tim, including "Bastards Of Young," "Left Of The Dial" and "Kiss Me On The Bus." Mixed in were favorites like "I Will Dare" from Let It Be (1984) and "Color Me Impressed" from Hootenanny (1983), as well as songs from their debut, Sorry Ma, Forgot to Take Out the Trash (1981).
The original 24-track master tapes of the show sat in the Warner Music vaults until being given a proper mix in 2007, but it would still be another decade before the concert would get its official release.
Track List
Disc One
Hayday
Color Me Impressed
Dose Of Thunder
Fox On The Run
Hold My Life
I Will Dare
Favorite Thing
Unsatisfied
Can't Hardly Wait
Tommy Gets His Tonsils Out
Takin' A Ride
Bastards Of Young
Kiss Me On The Bus
Black Diamond
Disc Two
Johnny's Gonna Die
Otto
I'm In Trouble
Left Of The Dial
God Damn Job
Answering Machine
Waitress In The Sky
Take Me Down To The Hospital
Gary's Got A Boner
If Only You Were Lonely
Baby Strange
Hitchin' A Ride
Nowhere Man
Go
Fuck School
Watch the Replacements' infamous 1986 SNL appearance

Latest posts by Best Classic Bands Staff
(see all)