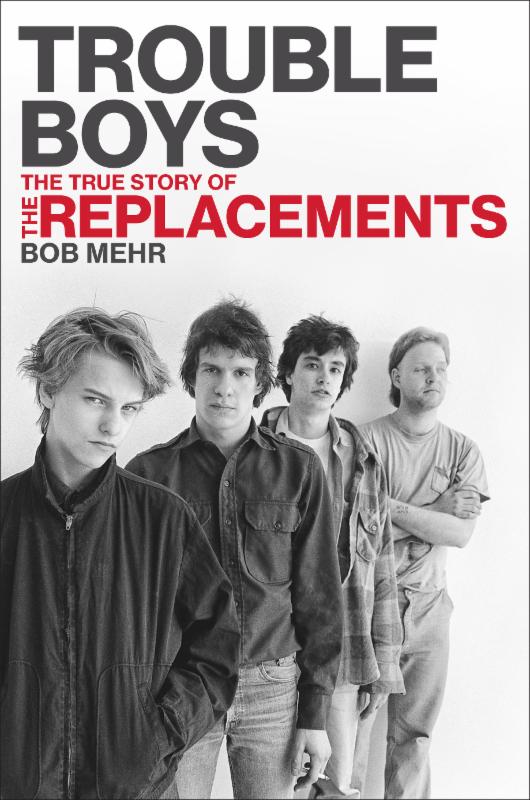 As author Bob Mehr crosses the nation promoting Trouble Boys: The True Story of the Replacements (Da Capo Press), he won't be alone at a number of stops along the way. The tour will feature special guests associated with the book's subject band and live musical performances at a number of stops.
Mehr, a veteran music journalist who is the music critic for the Memphis Commercial Appeal, enjoyed the cooperation of founding group members singer/guitarist Paul Westerberg and bassist Tommy Stinson plus guitarist Slim Dunlap, who replaced original guitarist Bob Stinson, who died in 1995. He conducted hundreds of interviews and was given full access to the band's archives at Twin/Tone and Warner Bros. Records in telling the story of the Minneapolis foursome who left a trail of critical praise and live performance mayhem behind them in their original run from 1979 to '91.
The book has received positive notices in the media; The Chicago Tribune observed that Trouble Boys is "the type of book any band would kill for," while USA Today declared it a "compelling tale full of some of the most colorful characters you'll ever encounter on page."
Joining Mehr on the tour as guests will be members of the bands Superchunk and the Young Fresh Fellows, among others, two later-career "replacement Replacements" who played in the group, and former Warner Bros. A&R executive Michael Hill, who signed the band to their major label deal. The book and tour coincide with the recent release of the Replacements vinyl box set The Sire Years on Rhino Records.
Trouble Boys Book Tour Dates:
5/31: Boston, MA – Café 939 – "In Conversation" with Replacements/Neighborhoods guitarist Dave Minehan
6/3: Philadelphia, PA – Main Street Music – Author discussion and Q&A
Live performances by Dave Hause (The Loved Ones), and Frank Brown (Travel Lanes)
6/4: Hoboken, NY – Little City Books – "In Conversation" with Replacements A&R Man and
Nurse Jackie/Bored to Death music supervisor Michael Hill. Live performances by Freedy Johnston (with Dave Schramm), Glenn Morrow's Cry for Help, Jennifer O'Connor, the Dead Wicks, etc.
6/8: New York City – The Strand Bookstore – "In Conversation" with Jon Wurster of
Superchunk/Bob Mould Band/Scharpling & Wurster
6/11: Long Beach, CA – Fingerprints – "In Conversation" with Replacements drummer Josh Freese
6/12: Los Angeles, CA – Book Soup – Author discussion and Q&A
7/16: Phoenix, AZ – Changing Hands Bookstore – Author discussion and Q&A
7/20: Seattle, WA – KEXP Performance Space – Author discussion and Q&A; musical guests TBA
7/24: Portland. OR – Powell's Books – "In Conversation" with Scott McCaughey of
The Young Fresh Fellows/Minus 5/R.E.M.

Latest posts by Best Classic Bands Staff
(see all)