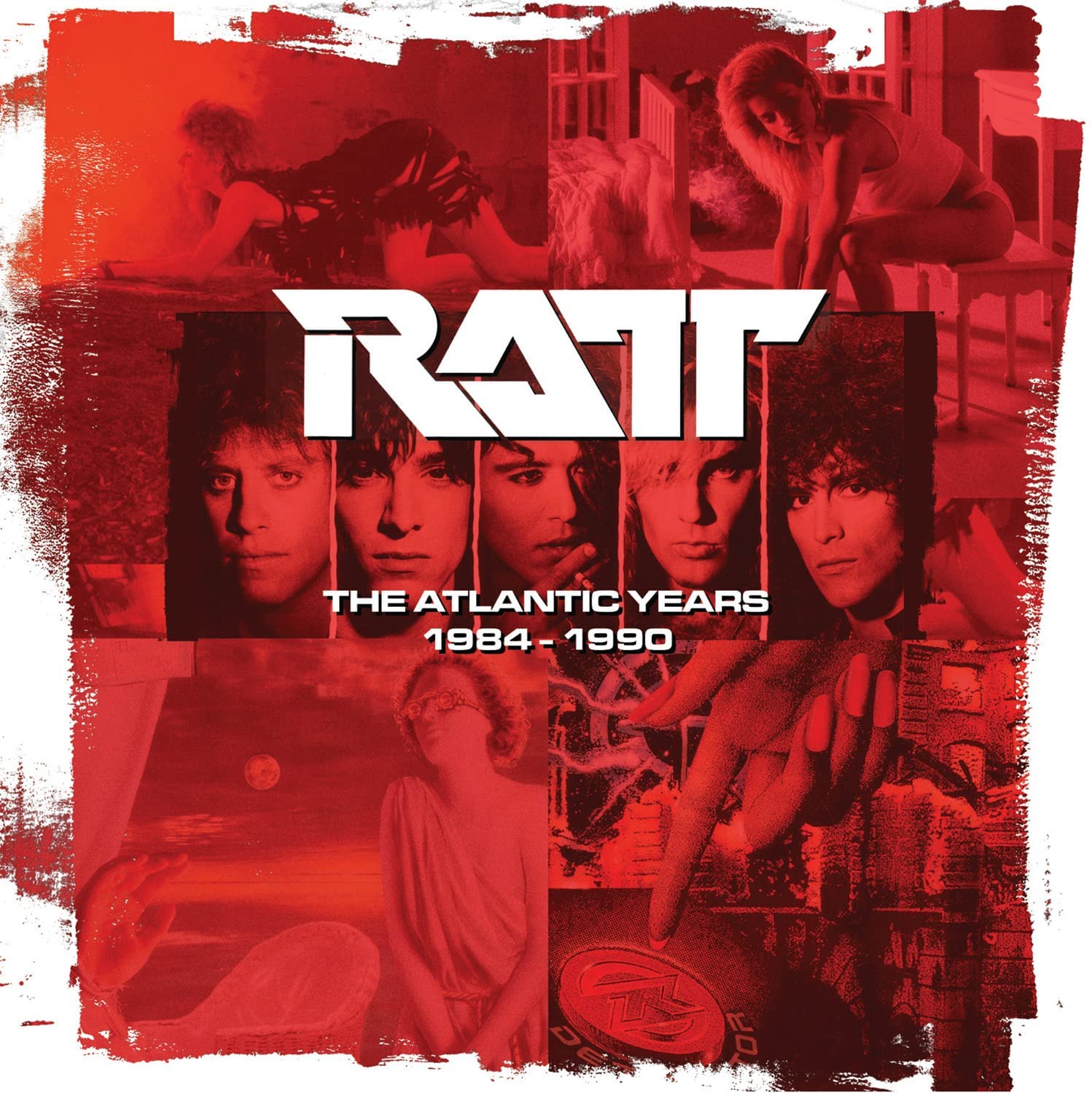 Ratt's massively successful period that began in 1984 is being celebrated with the release of a new box set, The Atlantic Years: 1984-1990. The new set from BMG, in partnership with Rhino Entertainment, arrives June 9, 2023, on CD and vinyl. All five of their studio albums during this period were certified Gold, Platinum or Multi-Platinum. The LP edition features each album remastered on 180g vinyl, a rare "Nobody Rides For Free" 7" single, 12-page replica tour book (featuring rare and never before seen photos from Ratt's personal archives), 11"x17" Wanted poster, bumper sticker, replica backstage pass, and guitar pick in a custom lift top box. The CD set features all 5 of the studio albums in a side loading box. The albums have been newly remastered by Andy Pearce.
All albums feature the classic line up of Stephen Pearcy (vocals), Warren DeMartini (guitars), Robbin Crosby (guitars), Juan Croucier (bass/vocals), and Bobby Blotzer (drums). Formed in Los Angeles, Ratt was featured as an unsigned act on the local rock station, KLOS-FM. This was their first time on radio and led to their signing to Atlantic Records.
From the April 6 announcement: Ratt exploded on to the national scene in 1984 with the release of Out of the Cellar. Featuring an undeniable hook and legendary music video, lead single "Round and Round" hit #12 on the Hot 100, while the album reached #7 on the Billboard Top 200 and was ultimately certified triple platinum. Ratt started their tour as an opening act, but by the end of the tour had climbed to arena headliner.
The band returned in 1985 with their second LP, Invasion of Your Privacy, certified double platinum and also reaching #7 in the U.S. Dancing Undercover followed in 1986 as Ratt toured North America with a brand new LA band, Poison, as the opening act. The album became their third consecutive Platinum release and reached #26.
1988's Reach For the Sky saw Ratt return to the Top 20 of the Billboard Top 200 album chart, peaking at #17. The bluesy hit and MTV favorite "Way Cool Jr." helped the album reach Platinum.
RATT released their last full-length record of the Atlantic era, Detonator, in 1990, their first to feature major outside songwriting contributions (Desmond Child, Diane Warren) and guests (Jon Bon Jovi, Michael Schenker). The lead singles were "Lovin' You's a Dirty Job" and the power ballad "Giving Yourself Away." The album peaked at #23 and went Gold.
In 1991, they released the single "Nobody Rides For Free" from the hit film Point Break starring Keanu Reeves and Patrick Swayze, which is exclusive to the LP box.
See the complete track listing below the Amazon links.
Pre-Order link: https://lnk.to/rattatlanticyearsPR
Out Of The Cellar (1984)
1. Wanted Man (Cristofanilli/Crosby/Pearcy)
2. You're In Trouble (DeMartini/Pearcy/Crosby)
3. Round And Round (DeMartini/Pearcy/Crosby)
4. In Your Direction (Pearcy)
5. She Wants Money (Croucier)
6. Lack Of Communication (Croucier/Pearcy)
7. Back For More (Pearcy/Crosby)
8. The Morning After (DeMartini/Pearcy/Crosby)
9. I'm Insane (Crosby)
10. Scene Of The Crime (Crosby/Croucier)
Invasion Of Your Privacy (1985)
1. You're In Love (Croucier/Pearcy)
2. Never Use Love (Pearcy)
3. Lay It Down (DeMartini/Pearcy/Crosby/Croucier)
4. Give It All (Pearcy/Crosby)
5. Closer To My Heart (Crosby/Pearcy)
6. Between The Eyes (DeMartini/Pearcy)
7. What You Give Is What You Get (Croucier)
8. Got Me On The Line (Crosby/Pearcy)
9. You Should Know By Now (Crosby/Pearcy/Croucier)
10. Dangerous But Worth The Risk (DeMartini/Pearcy/Croucier)
Dancing Undercover (1986)
1. Dance (Pearcy/Crosby/DeMartini/Hill)
2. One Good Lover (Crosby/Pearcy)
3. Drive Me Crazy (Pearcy/Crosby/DeMartini/Blotzer)
4. Slip Of The Lip (DeMartini/Pearcy/Croucier)
5. Body Talk (DeMartini/Pearcy/Croucier)
6. Looking For Love (Crosby/Pearcy/Croucier)
7. 7th Avenue (DeMartini/Pearcy/Croucier)
8. It Doesn't Matter (Croucier/Pearcy)
9. Take A Chance (DeMartini/Pearcy/Crosby/Croucier)
10. Enough Is Enough (DeMartini/Pearcy/Crosby/Croucier)
Reach For The Sky (1988)
1. City To City (Pearcy/Crosby/DeMartini/Croucier/Hill)
2. I Want A Woman (Crosby/Pearcy/Croucier/Hill)
3. Way Cool Jr. (DeMartini/Pearcy/Hill)
4. Don't Bite The Hand That Feeds (Pearcy/Crosby/Croucier/Hill)
5. I Want To Love You Tonight (DeMartini/Crosby/Pearcy)
6. Chain Reaction (DeMartini/Pearcy/Croucier)
7. No Surprise (DeMartini/Pearcy)
8. Bottom Line (Croucier/Pearcy/DeMartini/Crosby/Hill)
9. What's It Gonna Be (Croucier/DeMartini/Crosby/Pearcy/Hill)
10. What I'm After (Croucier/Pearcy)
Detonator (1990)
1. Intro To Shame (DeMartini)
2. Shame Shame Shame (DeMartini/Pearcy/Child)
3. Lovin' You's A Dirty Job (DeMartini/Pearcy/Croucier/Child)
4. Scratch That Itch (Croucier/Pearcy/Child)
5. One Step Away (Blotzer/Pearcy/DeMartini/Croucier/Child)
6. Hard Time (DeMartini/Pearcy/Child)
7. Heads I Win, Tails You Lose (DeMartini/Pearcy/Child)
8. All Or Nothing (DeMartini/Pearcy/Crosby/Kilgore/Child)
9. Can't Wait On Love (Crosby/Croucier/DeMartini/Pearcy/Blotzer/Child)
10. Givin' Yourself Away (Child/Warren/Pearcy)
11. Top Secret (Pearcy/DeMartini/Child)
"Nobody Rides For Free" – 7" Single – Exclusive to LP box
(Caton/Pearcy/DeMartini/Croucier)
Related: Listings for 100s of classic rock tours

Latest posts by Best Classic Bands Staff
(see all)