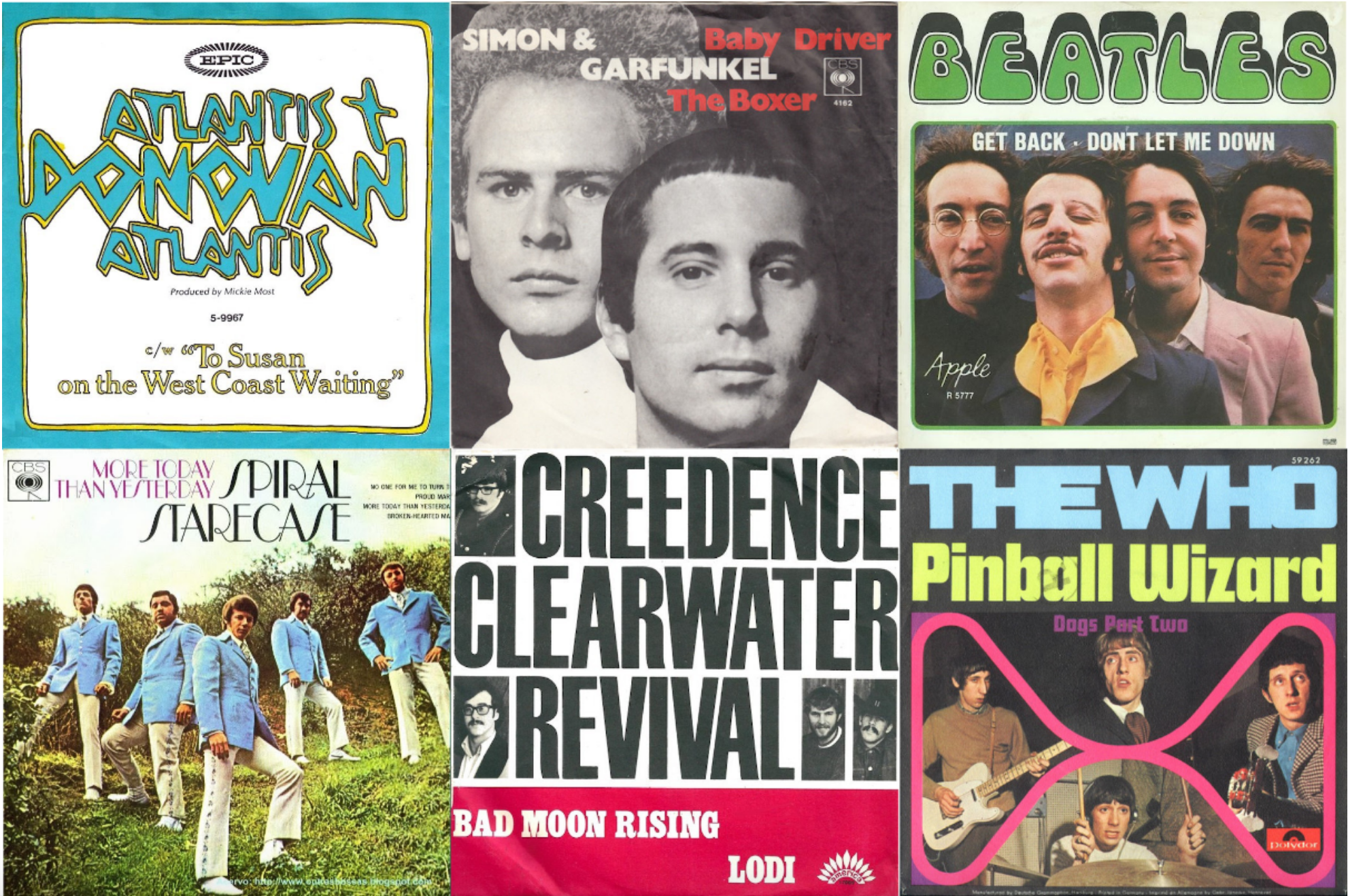 In May 1969, Apollo 10 was launched, as a full "dress rehearsal" for the Apollo 11 lunar space mission to come that summer.
The film Midnight Cowboy, starring Jon Voight and Dustin Hoffman, was released. The X-rated picture would go on to win the Academy Award for Best Picture, among its three awards.
In a few weeks, Blind Faith would make their concert debut to over 100,000 people in London's Hyde Park. And in a few months, the Woodstock Festival would take place in upstate New York.
And pop music was dominating Top 40 radio, as reported by industry trade magazine Record World.
Three Dog Night were on their way to the first of what would become 21 Top 40 hits between 1969 and 1975 as "One" jumped this week from #48 to #41.
Another band that was dominating the format was Creedence Clearwater Revival. Jumping from #46 to #26 this week was "Bad Moon Rising." The song would become one of the band's nine Top 10 hits in just two-and-a-half years.
Despite dozens of singles releases, "In the Ghetto" – rising from #29 to #19 this week – would become Elvis Presley's first Top 10 hit since 1965. It would ultimately reach #1 on Record World on June 28 (though it peaked at #3 on Billboard).
We took a double take when researching this one: The Who's "Pinball Wizard," was at #15 – its peak. (Billboard had the single reaching only #19.) In an era when British rock groups regularly scored on U.S. charts, The Who earned just one Top 10 hit in America: 1967's "I Can See For Miles" reached #9.
Donovan's final U.S. hit, the mythological "Atlantis," was at #12.
Bubbling under the Top 10 was Spiral Starecase, with their biggest hit, "More Today Than Yesterday," jumping from #16 to #11. The song would peak at #8 on Record World (and #12 on Billboard).
Related: Our feature story on "More Today Than Yesterday"
The Fifth Dimension's "Aquarius/Let the Sunshine In," #1 one month earlier – and the year's #1 single – was at #10.
Related: What were 1969's biggest singles?
Hugh Masekela had a #1 instrumental hit with "Grazing in the Grass" in 1968. A year later, the Friends of Distinction reached #3 with the song, with amazing lyrics added by group member Harry Elston. The single rose this week from #26 to #9.
The gospel tune "Oh Happy Day" was an unlikely pop smash from the Ed Hawkins Singers, at #8 this week (up from #14), on its way to #4.
Country-pop vocalist Ray Stevens had six Top 20 pop hits with two that topped the chart. His novelty song, "Gitarzan," was at #6 this week.
The Guess Who began a streak of hits with "These Eyes." The song, at #5 this week, was the first of six Top 10 U.S. hits the Canadian band would have from 1969-70.
Classic one-hit wonders, Mercy, were at #4 with "Love (Can Make You Happy)."
Though Simon & Garfunkel's "The Boxer" peaked at "just" #7 on Billboard, it reached #3 on Record World. The single was the first of four big hits on the duo's final studio album, Bridge Over Troubled Water.
The previous week's #1, the Cowsills' "Hair," was at #2.
And at the top of the chart? The Beatles' "Get Back," jumping from #8. The song was #1 for a total of four weeks.
Related: The #1 albums of 1969
41. "One" – Three Dog Night (Dunhill)
26. "Bad Moon Rising" – Creedence Clearwater Revival (Fantasy)
19. "In the Ghetto" – Elvis Presley (RCA)
15. "Pinball Wizard" – The Who (Decca)
12. "Atlantis" – Donovan (Epic)
11. "More Today Than Yesterday – Spiral Starecase (Columbia)
10. "Aquarius/Let the Sunshine In" – The Fifth Dimension (Soul City)
9. "Grazin' in the Grass" – Friends of Distinction (RCA)
8. "Oh Happy Day" – Edwin Hawkins Singers (Pavilion)
7. "Gitarzan" – Ray Stevens (Monument)
6. "It's Your Thing" – Isley Brothers (TNeck)
5. "These Eyes" – The Guess Who (RCA)
4. "Love (Can Make You Happy)" – Mercy (Sundi)
3. "The Boxer" – Simon & Garfunkel (Columbia)
2. "Hair" – The Cowsills (MGM)
1. "Get Back" – The Beatles (Apple)

Latest posts by Best Classic Bands Staff
(see all)