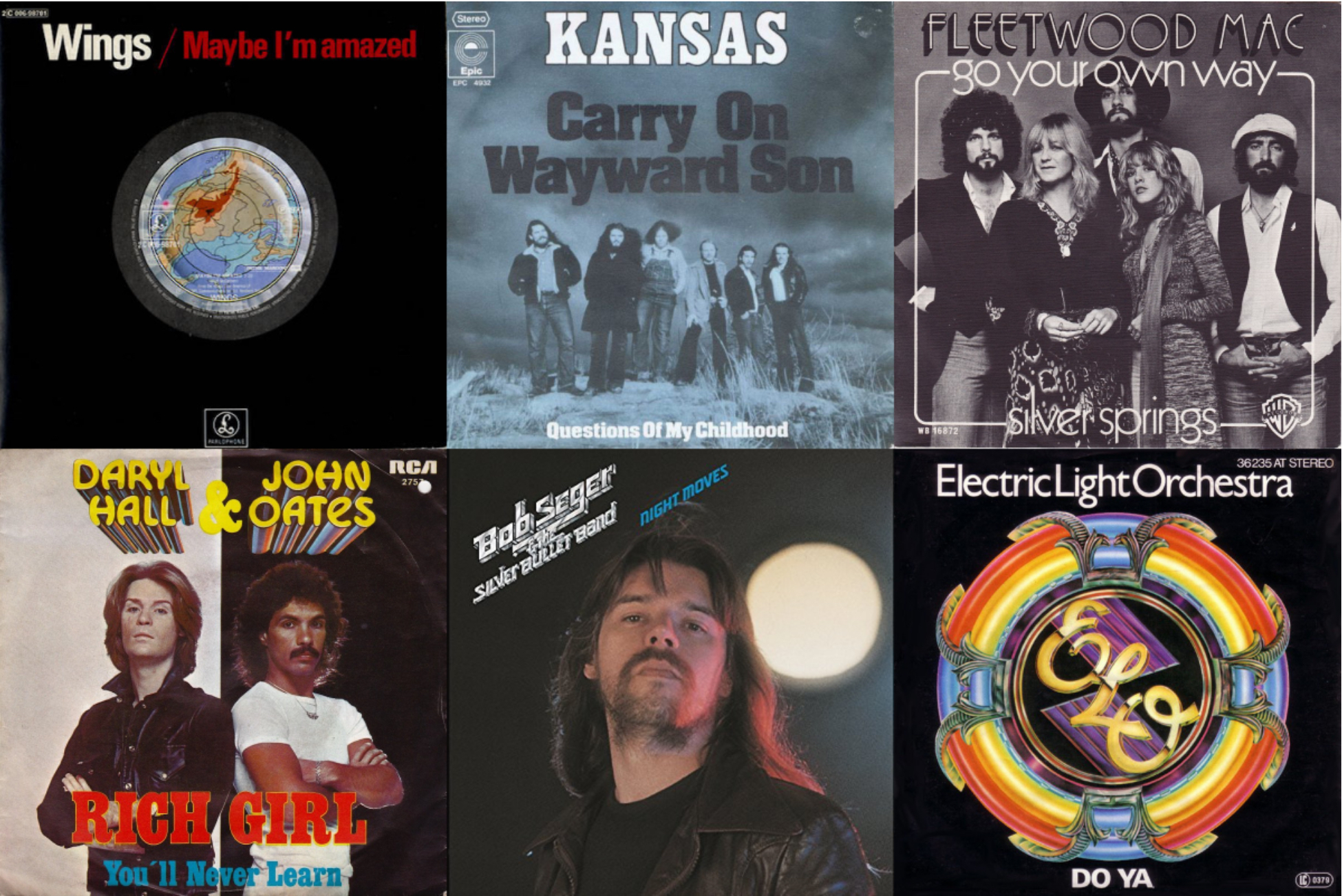 In March of 1977, the rings of Uranus were discovered.
The NCAA Men's Basketball Tournament was underway and included just 32 teams. The eventual champions were Coach Al McGuire's Marquette Warriors, who defeated the Univ. of North Carolina.
And the survey from Chicago's Top 40 powerhouse, WLS, reflected a more easy listening tone to the rock songs that were being played. Many of classic rock's biggest names are featured on the chart, but the sounds were softer.
Between 1974 – 1980, singer-songwriter Leo Sayer had four U.S. Top 10s. Entering the chart this week at #41 was "When I Need You," which would ultimately become his second straight #1 smash, following "You Make Me Feel Like Dancing."
The title cut and second single from Eagles' Hotel California album was the week's highest debut at #38. It would become the album's second consecutive #1 record. (The first was "New Kid in Town.")
Jumping from #38 to #31 was the Electric Light Orchestra's cover of "Do Ya" from the band's precursor, the Move. Jeff Lynne wrote the song in 1971, while a member of the latter. A few years later, ELO recorded it for their A New World Record album, and the song ultimately reached #24.
Watch the band's Bev Bevan introduce "our leader, Jeff Lynne" (who's not wearing his now-customary shades)
Rod Stewart had moved away from his rocking days. No matter. His A Night on the Town album had two U.S. smash hits, 1976's "Tonight's the Night (Gonna Be Alright)" and "The First Cut is the Deepest," which moved up from #36 to #28 this week, on its way to #3 on the Hot 100.
The live version of Paul McCartney and Wings' "Maybe I'm Amazed" from their 3-LP Wings Over America was at #18 on WLS. It would ultimately hit #10 in the U.S.
Hall and Oates' pop successes fell into two distinct eras: their three mid-1970s hits ("Sara Smile," "She's Gone" and "Rich Girl") and their longer run for RCA that began in 1980 where their cover of "You've Lost That Lovin' Feelin'." The latter stretch yielded no less than 13 Top 10 singles. This week, "Rich Girl" jumped from #20 to #14 on its way to becoming the duo's first #1 smash.
WLS was way ahead of the curve when it came to Boston. The band's "Long Time" would peak at only #22 nationally. This week, the station took it to #12 (up from #16).
At #10, was "Go Your Own Way," the first of four Top 10 singles from Fleetwood Mac's humongous Rumours album.
Abba had scored plenty of hits throughout Europe but it wasn't until "Dancing Queen" that they enjoyed huge U.S. success. The song, moving from #14 to #9 this week, became the Swedish quartet's first (and only) #1 hit in America.
Related: Our inside story on the group's U.S. breakthrough
The title cut from Steve Miller Band's Fly Like an Eagle became their third big hit from the album. It was at #8 this week on WLS.
"Night Moves" was the breakthrough hit for Bob Seger & the Silver Bullet Band. The song, at #6 this week, reached #4 on the Hot 100 and was their first of 14 career Top 20 singles.
10cc enjoyed 11 Top 10 hits in the U.K. Two of them, "I'm Not in Love" and "The Things We Do For Love," were Top 5 U.S. singles.
Singer-songwriter Al Stewart had a pair of big hits in the late '70s, the first of which was "Year of the Cat," at #3 this week.
Related: Our Album Rewind of Year of the Cat
The first of a steady string of hits from Kansas was "Carry on Wayward Son." (WLS had it at #2; it peaked nationally at #11.) Its album, Leftoverture, ultimately sold four million copies.
Related: Our Album Rewind of Leftoverture
41. "When I Need You" – Leo Sayer
38. "Hotel California" – Eagles
31. "Do Ya" – Electric Light Orchestra
28. "The First Cut is the Deepest" – Rod Stewart
18. "Maybe I'm Amazed" – Paul McCartney and Wings
14. "Rich Girl" – Hall and Oates
12. "Long Time" – Boston
10. "Go Your Own Way" – Fleetwood Mac
9. "Dancing Queen" – Abba
8. "Fly Like an Eagle" – Steve Miller Band
7. "Hotline" – Sylvers
6. "Night Moves" – Bob Seger & the Silver Bullet Band
5. "The Things We Do For Love" – 10cc
4. "Torn Between Two Lovers" – Mary MacGregor
3. "Year of the Cat" – Al Stewart
2. "Carry on Wayward Son" – Kansas
1. "A Star is Born" – Barbra Streisand

Latest posts by Best Classic Bands Staff
(see all)