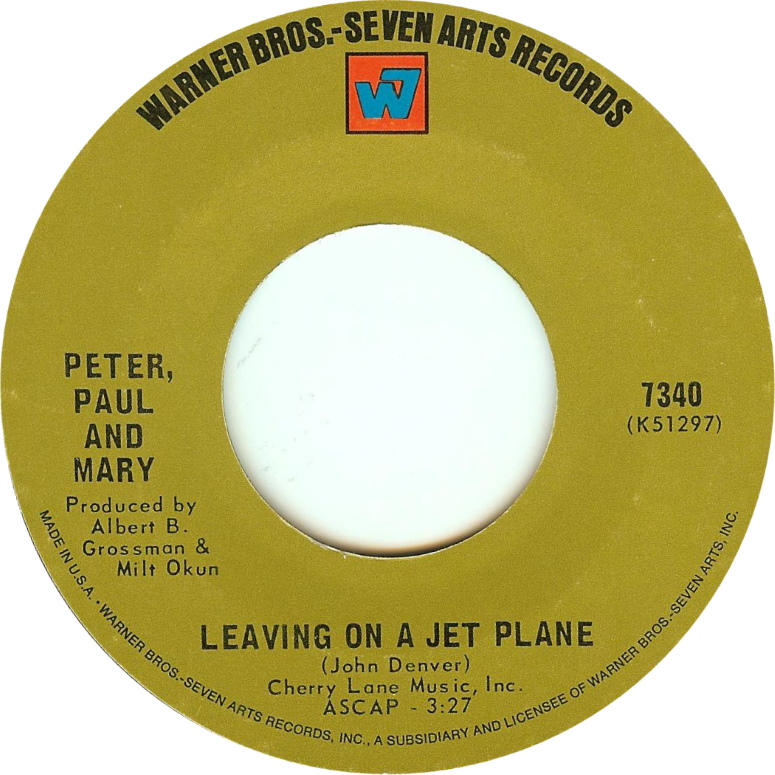 The turbulent '60s were coming to an end in December 1969. It was just a few months after Woodstock, Neil Armstrong and the Miracle Mets. The Vietnam War was in full swing and if you knew of Watergate it was because you were familiar with the Washington DC apartment complex and not because of a political scandal that was yet to happen.
And Miami's WQAM 560 had a phenomenal Top 40 survey as the decade was coming to a close, including three classic songs written by Laura Nyro.
Moving up from #34 to #31 was the song that would become The Band's biggest single. "Up on Cripple Creek" would ultimately reach #10 in Canada and #25 in the U.S.
Just outside the Top 10 was Led Zeppelin with "Whole Lotta Love," making a huge leap from #27 to #12. The song would eventually peak at #4 in the U.S. nationally, the band's highest-charting single of their career.
Related: Our inside story of Led Zeppelin's breakthrough
At #10 was the third huge single from Blood, Sweat & Tears' self-titled second album, "And When I Die," which was written by Laura Nyro. Oddly enough, all three singles from the album – the other two were "You've Made Me So Very Happy" and "Spinning Wheel" – peaked nationally at #2 for the jazz-rock group.
British group Flying Machine were essentially one-hit wonders, with their single, "Smile a Little Smile For Me." Of note: the song was co-written by Tony Macaulay, who also co-wrote the Foundations' big hits ("Baby Now That I've Found You" and "Build Me Up Buttercup") and Edison Lighthouse's "Love Grows (Where My Rosemary Goes"), among others, and by Geoff Stephens, who also wrote "Winchester Cathedral" and co-wrote "There's a Kind of Hush," among many others.
Three Dog Night were in the early stages of their unreal run of singles: their "Eli's Coming" (also written by Nyro, who had three songs in the Top 10 this week) was at #7, one of their 17 straight singles to reach the Top 20.
Related: Three Dog Night – The ultimate cover band
At #6 this week was "Na Na Hey Hey Kiss Him Goodbye" by Steam, a #1 single nationally. The tune has earned its songwriters plenty since it's used frequently at sporting events to bid a not-so-fond farewell to the visiting team when victory was assured.
Stevie Wonder weighed in with "Yester-Me, Yester-You, Yesterday" at #5, one of his 27 Top 10 singles (take that, Three Dog Night!).
The 5th Dimension's cover of Laura Nyro's beautiful "Wedding Bell Blues" was at #4, a month after topping the chart for three weeks.
At #3 was B.J. Thomas' huge hit recording of the Burt Bacharach-Hal David song, "Raindrops Keep Fallin' On My Head." The song was featured prominently in the movie Butch Cassidy and the Sundance Kid and ultimately earned an Academy Award for Best Original Song.
Related: We talked to Thomas about how he was chosen to record the song
At #1 in the final week of the decade? Peter, Paul and Mary's "Leaving On A Jet Plane," the biggest chart hit for the trio. It's composer? None other than John Denver.
Survey courtesy of the WQAM Sixties Tribute Site
31. "Up on Cripple Creek" – The Band (Capitol)
12. "Whole Lotta Love" – Led Zeppelin (Atlantic)
10. "And When I Die" – Blood, Sweat & Tears (Columbia)
9. "Midnight Cowboy" – Ferrante & Teicher (United Artists)
8. "Smile a Little Smile For Me" – Flying Machine (Congress)
7. "Eli's Coming" – Three Dog Night (ABC/Dunhill)
6. "Na Na Hey Hey Kiss Him Goodbye" – Steam (Fontana)
5. "Yester-Me, Yester-You, Yesterday" – Stevie Wonder (Tamla)
4. "Wedding Bell Blues" – Fifth Dimension (Soul City)
3. "Raindrops Keep Fallin' On My Head" – B.J. Thomas (Scepter)
2. "Someday We'll Be Together" – Diana Ross & The Supremes (Motown)
1. "Leaving On A Jet Plane" – Peter, Paul and Mary (Warner Bros.)

Latest posts by Best Classic Bands Staff
(see all)