The highly influential Poco are, along with the likes of the Flying Burrito Brothers, best known for being early proponents of what would soon become recognized as country rock. Poco were originally formed by Richie Furay, Jim Messina and Rusty Young when Buffalo Springfield split in 1968, joined by George Grantham on drums and future Eagle Randy Meisner on bass. Playing their debut at LA's legendary Troubadour in October 1968, they signed to Epic Records in 1969. When Randy Meisner left to join the newly hatched Eagles, he was replaced on bass guitar by another future Eagle bass guitarist, Timothy B. Schmit.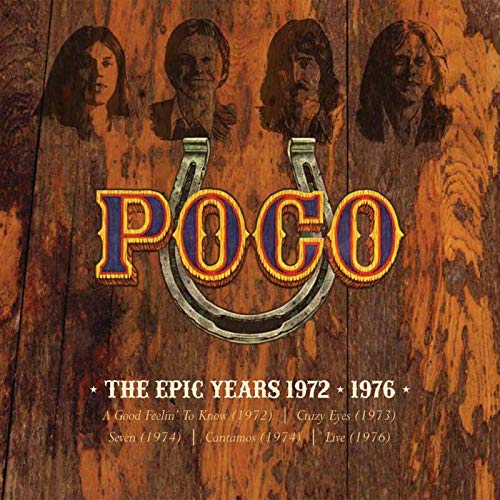 A new collection, Poco: The Epic Years 1972-1976, is coming from Cherry Red Records. The 5-CD set arrives August 30 in the U.K.; September 6 in the U.S.
The new set bypasses their first three studio albums for Epic, released from 1969-1971. It thus kicks off with their fourth, A Good Feelin' to Know, released in September 1972, by which time they had been joined by Paul Cotton on guitar and vocals. The album features the upbeat title track – and classic rock favorite – penned and sung by Furay, plus a cover of "Go and Say Goodbye," a Stephen Stills song which Furay had previously recorded with Buffalo Springfield. There are two bonus tracks: a remix of "I Can See Everything" and the single edit for "A Good Feelin' To Know."
Poco's fifth LP, Crazy Eyes, was issued in September 1973. It would be Furay's last Poco record for more than a decade, as he would transition to the newly formed country rock supergroup, the Souther–Hillman–Furay Band with J.D. Souther and Chris Hillman, even before Crazy Eyes was released. The album includes a cover of J. J. Cale's "Magnolia," which was released as a single, plus an early take of Gram Parsons' "Brass Buttons." At #38, Crazy Eyes became their best charting studio record to date. The new collection also features the bonus tracks "Nothin's Still The Same," "Get In The Wind" and "Believe Me."
Related: Furay talked to us about Buffalo Springfield and Poco
Their seventh album, Seven, was their sixth studio record, and first without Furay. Released in April 1974, it featured Rusty Young's "Rocky Mountain Breakdown."
A mere six months later Poco followed Cantamos, Spanish for "to sing" or "we sing."
Though Poco switched labels to ABC Records for their next few releases, Epic retained the rights to a live album and Poco Live was released in April 1976. Building on the foundations from their years on Epic, they were gaining more commercial success with their ABC LPs in 1975 and 1976, and this archive release, demonstrated what Poco did so well, performing live on stage.
Schmit would play on his final Poco record in 1977 before he was invited to join the Eagles for their The Long Run album, and with whom he continues to tour.
Related: A reunion featuring several members of Poco took place in 2018

Latest posts by Best Classic Bands Staff
(see all)