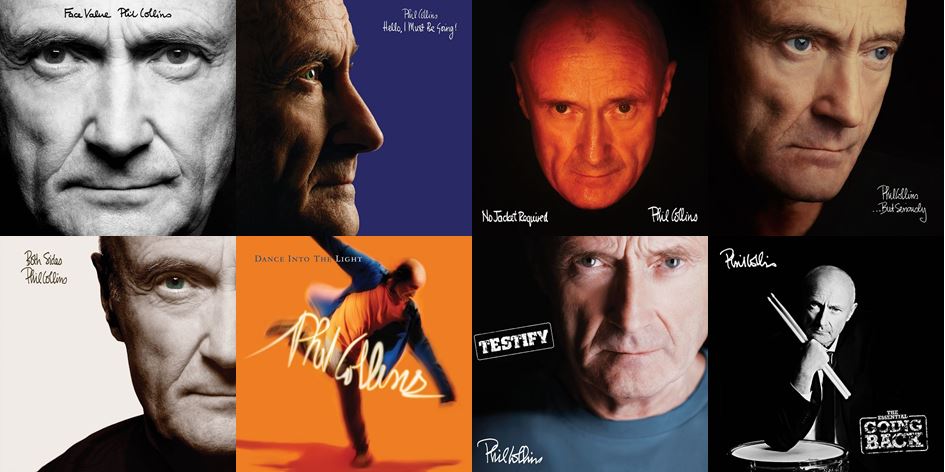 The eight solo albums from longtime Genesis frontman, drummer and songwriter Phil Collins received a complete overhaul from Rhino Records and Atlantic Records this year. The ambitious "Take A Look At Me Now" retrospective reissue campaign revisits a solo career that boasts over 100 million sales and numerous worldwide #1 albums. Each title features extended and remastered deluxe editions featuring live tracks, demos and B-sides, all curated by Collins.
We're huge Phil Collins fans and are thus excited to tell you that Best Classic Bands is going to award one of its readers with a complete set of CDs of his eight solo album reissues.
Each album in the series was remastered by Nick Davis, who earned a Grammy® nomination for Best Surround Sound Album for his work on the Genesis 1970-1975 boxed set. Davis has also worked on all of the Genesis retrospective reissues.
The series features a new artwork concept in which Collins recreated his poses from the original album covers with new photography that was shot in the present day.
The campaign kicked off with the January 29 release of Collins' solo debut Face Value. When the album was initially released in 1981, Genesis was on the verge of breaking through as international superstars. Each title examines how his songs have evolved over time, with the majority of the additional content throughout the series focused on live versions of the tracks, as well as demos and B-sides.
Face Value's first single, "In The Air Tonight," features Collins' pounding drums that are atypical of what listeners would hear then or now on Top 40 radio. The song became a huge worldwide hit. The CD and digital reissues contain a dozen bonus tracks including live and demo versions of the Genesis hit "Misunderstanding," a demo of Collins' 1984 #1 hit "Against All Odds," and live versions of "If Leaving Me Is Easy," "Hand In Hand," "In The Air Tonight" and the album's other chart hit "I Missed Again."
Collins' second solo album, 1982's Hello, I Must Be Going! focused on a more organically produced sound than Face Value, with lyrics on tracks such as "I Don't Care Anymore" and "Thru These Walls" providing a darker thematic core. By contrast, the album's biggest hit was Collins' upbeat interpretation of The Supremes' "You Can't Hurry Love," which became his first solo #1 single. Hello, I Must Be Going! peaked at #2.
1985's No Jacket Required topped the charts in the U.K., U.S., and numerous other countries and earned him Grammy® Awards for Best Album, Best Pop Vocal Performance, Male, and Producer of the Year (for Collins and co-producer Hugh Padgham) and over 20 million sales. Mixing Collins' trademark ballads alongside strong funk and R&B influences, the album's hit singles – "Sussudio," "One More Night," "Don't Lose My Number," and "Take Me Home" – would also become staples of his live set in the years that followed.
…But Seriously, released in 1989, was Collins' fourth solo album and became a worldwide #1 smash, led by the #1 hit "Another Day in Paradise." The song earned the Grammy Award for Record of the Year. (The LP was nominated for Album of the Year.) Three other singles went Top 5: "Something Happened on the Way to Heaven," "Do You Remember?" and "I Wish it Would Rain Down."
The other four titles are Both Sides, Dance Into the Light, Testify and Going Back.
So what are you waiting for? Enter our contest stat! Since only one of you will win, we'll understand if you can't wait and want to order these great albums right away via the links below…
No purchase necessary. Deadline for entries is 11:45PM Eastern time on August 5, 2016. For complete Best Classic Bands contest rules, click here.
[wcc_contest id=25679]

Latest posts by Best Classic Bands Staff
(see all)