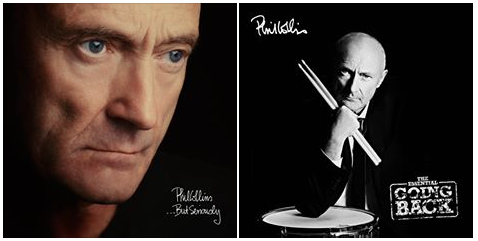 The Phil Collins "Take A Look At Me Now" reissue campaign from Rhino/Atlantic enters its fourth stage with deluxe editions of his albums …But Seriously (1989) and a reimagined version of Going Back (2010), entitled The Essential Going Back, arriving on June 10. The six albums that have been reissued so far – Face Value (1981), Hello, I Must Be Going! (1982), No Jacket Required (1985), Both Sides (1993), Dance Into The Light (1996) and Testify (2002) – have sparked a major rediscovery and reappraisal of his solo career.
As with all of the previous reissues, Collins has recreated the album covers with newly updated images.
…But Seriously was Collins' fourth solo album and became a worldwide #1 smash, led by the #1 hit "Another Day in Paradise." The song earned the Grammy Award for Record of the Year. (The LP was nominated for Album of the Year.) Three other singles went Top 5: "Something Happened on the Way to Heaven," "Do You Remember?" and "I Wish it Would Rain Down."
Don't miss a post! Sign up for Best Classic Bands' Newsletter; form is on every page.
Going Back was Collins' homage to 1960s Motown and soul music with cover versions of no less than seven Holland-Dozier-Holland songs including "Love is Here and Now You're Gone" and "(Love is Like a) Heatwave."
The "Take A Look At Me Now" campaign finds the longtime Genesis lead vocalist, drummer and songwriter revisiting a career that has achieved over 100 million sales and numerous worldwide #1 albums.
Entirely curated and compiled by Collins himself, his idea for the "Take A Look At Me Now" concept is to examine how his songs have evolved over time, with the majority of the additional content throughout the series focused on live versions of the tracks. By contrasting the original studio versions of the material with later performances, the series demonstrates how Collins' songs take on a life of their own once they're freed from the confines of the studio.
…But Seriously Track Listing
CD1
1. Hang In Long Enough
2. That's Just The Way It Is
3. Do You Remember?
4. Something Happened On The Way To Heaven
5. Colours
6. I Wish It Would Rain Down
7. Another Day In Paradise
8. Heat On The Street
9. All Of My Life
10. Saturday Night and Sunday Morning
11. Father To Son
12. Find A Way To My Heart
CD2
1. Hang In Long Enough (live)*
2. Something Happened On The Way To Heaven (live)*
3. Colours (live) *
4. Saturday Night And Sunday Morning (live) *
5. Always (live) *
6. Find A Way To My Heart (live)*
7. That's How I Feel (B-side)
8. You've Been In Love (That Little Bit Too Long) (B-side)
9. Another Day In Paradise (demo)
10. That's Just The Way It Is (demo)
11. I Wish It Would Rain Down (demo)
12. Hang In Long Enough (demo)
13. Do You Remember? (demo)
The Essential Going Back Track Listing
CD1
1. Going Back
2. Girl (Why You Wanna Make Me Blue)
3. (Love Is Like A) Heatwave
4. Some Of Your Lovin'
5. Going To A Go-Go
6. Papa Was A Rolling Stone
7. Loving You Is Sweeter Than Ever
8. Something About You
9. Talkin' About My Baby
10. Do I Love You
11. Never Dreamed You'd Leave In Summer
12. Take Me In Your Arms (Rock Me For A Little While)
13. Too Many Fish In The Sea
14. Uptight (Everything's Alright)
CD2 (live)
1. Signed Sealed Delivered (I'm Yours) intro *
2. Ain't Too Proud To Beg *
3. Girl (Why You Wanna Make Me Blue) *
4. Dancing In The Street *
5. (Love Is Like A) Heatwave *
6. Papa Was A Rolling Stone *
7. Never Dreamed You'd Leave In Summer *
8. Talkin' About My Baby *
9. Do I Love You *
10. Ain't That Peculiar *
11. Too Many Fish In The Sea *
12. You Really Got A Hold On Me *
13. Something About You *
14. Uptight (Everything's Alright) *
15. My Girl *
16. Going Back *
* previously unreleased on CD

Latest posts by Best Classic Bands Staff
(see all)