Peter Asher Q&A: Producing Linda Ronstadt & More
by Jeff Tamarkin
In the first part of our interview with the legendary Peter Asher, the British-born producer and performer talked mostly about his early days as half of the duo Peter and Gordon, his relationship with the Beatles and their Apple Records and his work with James Taylor as producer and manager.
In part two, Asher, born June 22, 1944, discusses the vital role he played in the creation of Linda Ronstadt's recordings and his management of the singer, as well as some of his other production clients.
When you took on the management and production of Linda Ronstadt, she was known as the lead singer of the Stone Poneys. What made you want to work with her?
Peter Asher: My God, what wasn't there? Somebody said, "You've got to come see this girl at the Bitter End. She's amazing." There was this incredibly gorgeous, ridiculously hot girl wearing short shorts and bare feet, the epitome of California hotness in every respect. Then she turns out to be one of the greatest singers you've ever heard in your life, just nailing these incredible songs with emotion, with control and a big amazing voice. I was overwhelmed.
Did you know right away what you wanted to do with her in the studio?
I didn't immediately sign her. I had just started managing Kate Taylor, James' sister, and I wasn't sure whether that would be a potential conflict. Linda had a complicated setup—she had a manager she wasn't very happy with and wanted to get away from—but I said, "Look, you're brilliant," and eventually we met again in California. I can't remember if I first agreed to be her producer or her manager, but I became both and finished the record she was in the middle of, which was Don't Cry Now. Then we did Heart Like a Wheel and things started to go crazy.
Watch Peter Asher joining Ronstadt and band live in 1980 for "It's So Easy"
James Taylor wrote his own songs but Linda didn't. How did you choose songs for her?
She chose a lot herself. People tend to assume that I was the mastermind and she was the chick but it isn't true. She's brilliant at finding songs. Some of the ideas were mine, like "It's So Easy," another Buddy Holly song. But she introduced me to John David Souther, to Lowell George, even Jimmy Webb. I knew "MacArthur Park" and "Up, Up and Away" but I really didn't know his body of work. One of Linda's remarkable abilities is finding songs that she can do and then wrestling a whole new meaning and intensity out of them. When she sings a song you can believe it. I don't listen to lyrics that much—I'm much more listening to the melody. But in her case, when she sings those words she's got some example in mind. She's not singing some generic song about heartbreak. She's remembering some bastard of a guy who broke her heart.
Related: BCB's interview with Linda Ronstadt
What do you consider Linda's best work?
For me, "You're No Good," because it's a producer's record, but for Linda probably the Nelson Riddle-arranged albums. If anything I was a naysayer, but she said, "I want to do these kinds of songs and rescue them from the elevator and make people really listen because they're such great songs."
Listen to the studio recording of "You're No Good"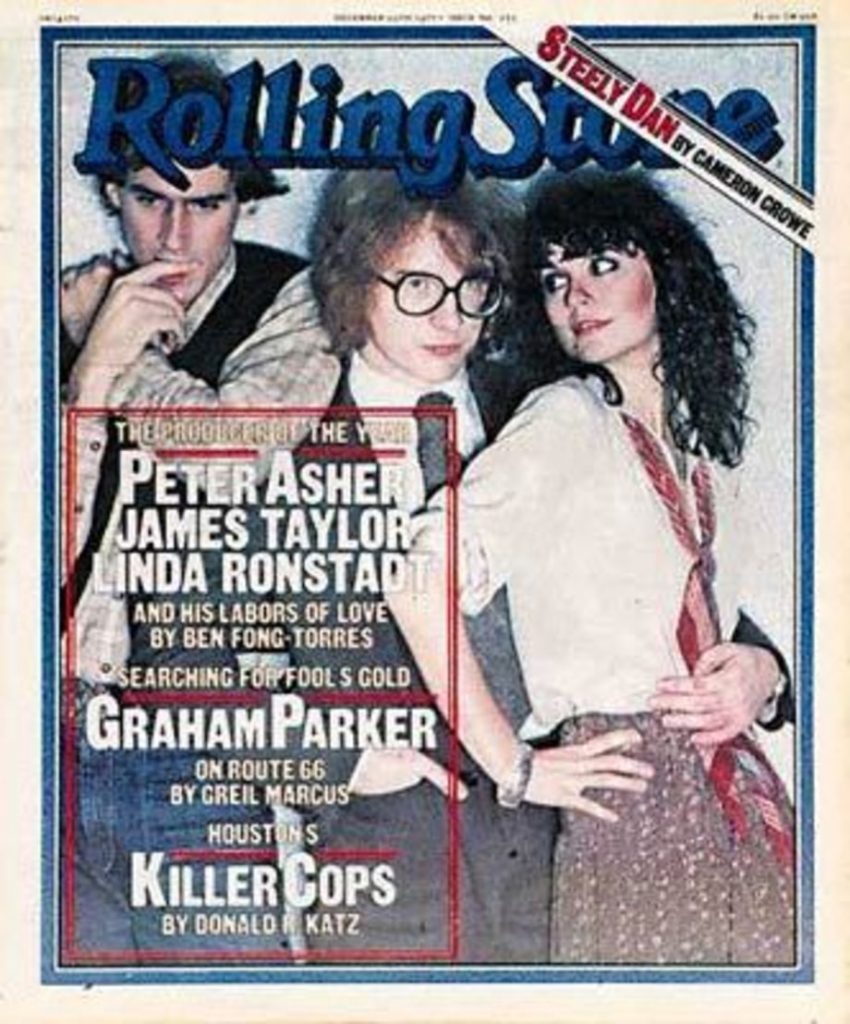 And James?
"Fire and Rain" is a good record. The JT album. But he sings everything well. He was identified as a white folk singer but he was trying to sing like Sam Cooke and Ray Charles. He didn't succeed but by taking some of the soulful stuff that he was devoted to, that made him different from everybody else.
Listen to "I Think it's Gonna Work Out Fine," a Linda Ronstadt-James Taylor duet from her 1982 Get Closer album, produced by Asher
Linda caught some flak for the 1980 Mad Love album, where she sort of went new wave.
She did. If you look at punk as a musical influence, then you're already doomed but it's not that. It's a whole moral, anarchistic, lifestyle, sociological [movement] and it's true that we were ignoring all that. We just said that there was something musical happening there that we could learn from and take advantage of. And yes, then Elvis Costello said some mean things and we went, "Screw you." [Editor's note: Costello was not impressed at the time with Ronstadt's covers of three of his songs on the album.] I'm a huge fan of his though—the guy is a genius. He and Randy Newman are two people who write better songs now than they ever did. But yeah, we knew we were asking for trouble by doing that because we were taking something that was a social phenomenon and lifting just the musical aspect. There's nothing wrong with that. We weren't saying we were fighting for the revolution. We just liked this kind of music.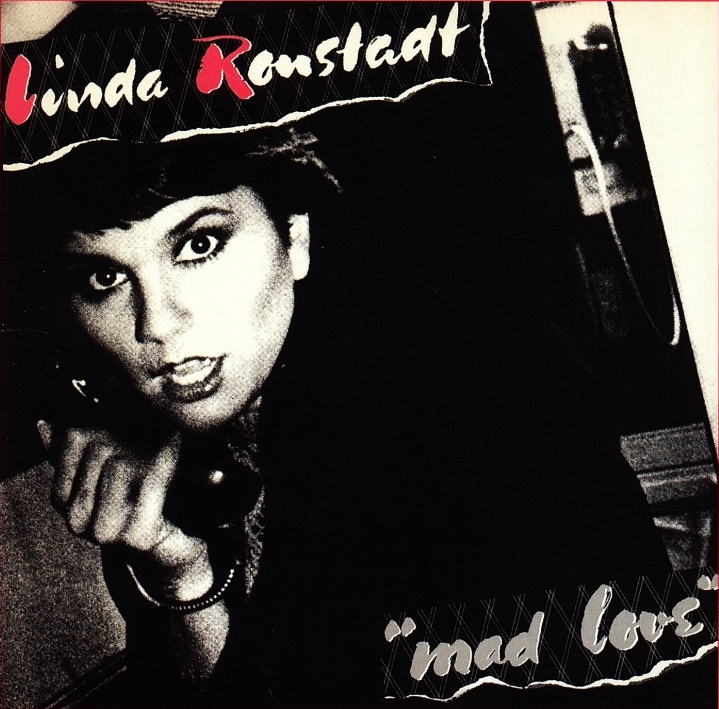 Did you choose the engineers that you worked with?
Yes. Val Garay was the original engineer on most of that stuff and then we gradually moved on to George Massenburg, who Linda had met through Lowell George.
You've worked with many other artists but do you feel that, because of James and Linda, you've been miscast as someone who only works with California soft-rock?
A little bit, yeah. But James didn't like L.A. at all. He'd come in to record and leave as soon as he could. And Linda always thinks of herself as a chick from Tucson.
Let's talk about some of those other artists you've produced. First on the list is Cher.
Cher is great! I love Cher, both personally and as a singer. She's so determined and very hard-working. I really like people whose voices are distinctive. One thing that Linda, Cher, Diana Ross, Natalie Merchant all have in common, is that a few syllables and you know who it is. What scares me is when people say, "I can do any style." I say, "Oh, go away."
Speaking of Natalie, what about working with 10,000 Maniacs? You produced their breakthrough, In My Tribe. That was different for you.
It was very brave of them because I was an older producer from the previous generation. I listened to their independent albums and loved them, but I really thought I knew better what kind of record they should make. So I met them and explained my ideas. There was a lot of tension going on [between Merchant and the band] but I loved making those records.
Diana Ross. She has a reputation as something of a diva. Did you find that to be the case?
Not at all. I knew her socially, even since we [Peter and Gordon] did [the '60s music TV program] Hullabaloo with the Supremes some time in the 18th century. And she was great. When I worked with her, early on we were working on a vocal and Diana had been outside and came back in and was sitting behind me and Frank Wolf, the engineer. Then suddenly she stood up and we thought, "Oh, shit what is she going to say?" She said, "You guys have been at this a long time. Do you want some coffee?" We went, "So that's the myth?" I think she would be very impatient if you didn't know what you were doing. I would not want to make a big mistake in front of Diana. But you really have to kick yourself when you think, "I'm sitting here listening to bloody, fucking Diana Ross!" She still sings great and does every take differently. She likes to try stuff every time.
You worked on one album with Ringo Starr [1992's Time Takes Time]. What was he like?
Wonderful. I wanted to get him back playing drums, which he did. I love his drumming. He remains a friend to this day.
Neil Diamond?
Great singer, underestimated songwriter. He wrote some brilliant songs. He's a very straightforward guy, and very funny. His voice is so huge and he's another who is so distinctive—one note and you know who he is.
And what about Bonnie Raitt?
She's just so soulful. An underestimated guitar player too. I wanted her to play on everything and she kept going, "I'm not really a guitar player," but she really is. She's one of the best slide players in the world.
Now that we are in an era where anyone can record an album at home, how has your role as producer changed?
Surprisingly little. I love all the new technology. People go, "Don't you really miss tape?" I say, "No, I'm so happy to see the back of it." We can do edits now that we could only dream of back then. Like all technology it can be wildly overused, but the fact that you can do things you'd only dreamed of doing is very exciting.

Latest posts by Jeff Tamarkin
(see all)