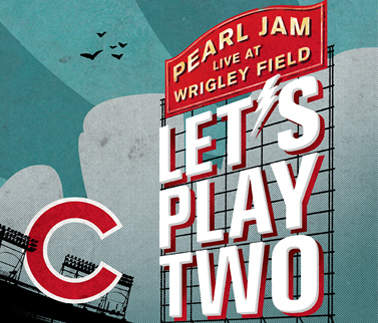 Pearl Jam announced today (August 21) the release of the documentary film Let's Play Two and accompanying soundtrack album, in celebration of the band's sold-out performances at Wrigley Field on August 20 and 22, 2016 during the Chicago Cubs historic World Series championship season. The film is directed by renowned director/photographer Danny Clinch.
With Eddie Vedder growing up in the nearby college town of Evanston, Pearl Jam has forged a relationship with the city, the Chicago Cubs and Wrigley Field. Via the announcement: "From Ten to Lightning Bolt, the feature film shuffles through Pearl Jam's ever-growing catalog of originals and covers — spanning the band's 25-year career. The film uses the past and present of both the band and the Chicago Cubs through the music, the sweat and the eternal hopes of being both a Cubs fan and Pearl Jam fan."
Pearl Jam were part of the Rock and Roll Hall of Fame's Class of 2017.
"In my films and photographs, I love to explore the relationship between a band, their fans and the location,"  Clinch explains. "When it happens that the main characters of your film are Pearl Jam, the Chicago Cubs, their fans, and Wrigley Field during a historic moment, you know it's going to be epic. Our instincts were correct to follow the story and it took us to a historic Game 7 of the World Series ending a 108-year drought for the Cubs. I have learned to welcome the unexpected and it always pays off if you're ready for it."
Watch the official trailer
Let's Play Two will hold week-long worldwide theatrical engagements in select markets starting on September 29 in addition to special one-night-only theatrical events in over 250 cities beginning on October 3. Full details are here.
The soundtrack and home video of the film will be released globally by Republic Records, with the soundtrack released simultaneous to the film on September 29 and home video due November 17. Pre-order is available at the band's website. The film's U.S. TV premiere will air on sports cable network FS1 on Friday, October 13 immediately following Game 1 of the American League Championship Series.
Let's Play Two Soundtrack Track List
Tracklist
1. Low Light
​2. Better Man
3. Elderly Woman Behind The Counter In A Small Town
4. Last Exit
5. Lightning Bolt
6. Black Red Yellow
7. Black
8. Corduroy
9. Given To Fly
10. Jeremy
11. Inside Job
12. Go
13. Crazy Mary
14. Release
15. Alive
16. All The Way
17. I've Got A Feeling
Related: Pearl Jam paid tribute to the 2015 Paris attack victims

Latest posts by Best Classic Bands Staff
(see all)