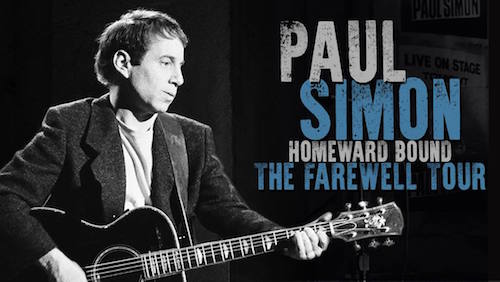 Fans of Paul Simon attending the singer-songwriter's "Homeward Bound" farewell tour may have noticed that in lieu of a traditional tour program, Simon is offering a "limited-edited folio" offering previews of music from an upcoming rarities collection and mention of a second collection. According to an article posted on the website The Second Disc, the two collections are titled Alternate Tunings and In the Blue Light.
The article, written by Joe Marchese, notes that the folio is a "clothbound, hardcover, roughly LP-sized book." It includes, he writes, "a six-song MP3 download 'from the forthcoming rarities collection Alternate Tunings.'"  The included download card, says the article, notes that the offered music is "drawn from Paul Simon's vast archive of recordings [that] spans his entire career." Marchese traces the genesis of the collection to 2003 and writes, "It's finally becoming a reality, with the following previously unreleased songs available now for download to purchasers of the folio."
Those titles, he notes, include solo demos of "Song for the Asking," which Simon and Garfunkel released in 1970 on their Bridge Over Troubled Water album, plus the songs "Papa Hobo," "Learn How to Fall," "Hearts and Bones" and "Citizen of the Planet," as well as an outtake from Still Crazy After All These years titled "Silent Eyes."
Related: Our Q&A with Robert Hilburn, author of Paul Simon: The Life
Marchese also writes that the second collection, In the Blue Light, will become available this fall from Legacy Recordings. No information is available yet on this title, he says, although "we do know that the album title derives from a lyric in 'How the Heart Approaches What It Yearns' from 1980's One Trick Pony." Additionally," he writes, "Simon mentioned from the stage of Philadelphia's Wells Fargo Center…that his longtime guitarist Vincent N'guini (who died last December at the age of 65) played on In the Blue Light—his final collaboration with the artist."
Simon's tour continues through Sept. 22, when it will wrap up at an as-yet-unannounced venue in New York City.
Watch Simon perform "The Boxer" on his farewell tour

Latest posts by Best Classic Bands Staff
(see all)