One of classic rock's most iconic vocalists, Paul Rodgers, has shared details of a significant health battle that prevented him from being able to speak. The beloved singer, in an interview that aired today (September 27, 2023) on CBS This Morning, revealed that he had suffered two major strokes and 11 minor strokes in the past seven years. He told the program's Anthony Mason, "I couldn't do anything to be honest. I couldn't speak. That was the very strange thing. You know, I'd prepare something in my mind and I'd say it, but that isn't what came out and I'd go, 'What the heck did I just say?'" Rodgers' first of two major strokes occurred in 2016. When the latter happened in 2019, it led to a risky surgical procedure known as an endarterectomy, which the network noted in its report is "a procedure to remove plaque clogging a carotid artery, which posed a considerable risk to Rodgers' vocal cords."
The legendary frontman for Bad Company and Free said to Mason, "They told me, they're very clear, 'You may not come out of this alive.' And I said, 'Oh, well, that's a plus, isn't it?'"
In the interview, Rodgers' wife, Cynthia, said, "I was just praying," she said. "All I wanted to be able to do was walk and talk with him again. That's all I asked for."
"And when I woke up, I opened my eyes, I thought, 'Oh, I'm still here,'" said Rodgers. The singer released a new studio album. Midnight Rose, his first solo album of new music in decades, on September 22, via Sun Records. When he saw the physical album for the first time during the interview with CBS, he said, "Will you look at that! Here comes the sun!" The singer and songwriter first shared the news of the album on June 23, the same day he released its first single "Living It Up." Listen to many of the songs below.
The founding member of English supergroup Bad Company along with guitarist Mick Ralphs, drummer Simon Kirke and bassist Boz Burrell, Rodgers has sold a reported 90 million records worldwide in his career. Rodgers formed and two other legendary English bands: Free with Kirke, Paul Kossoff, and Andy Fraser, and The Firm with Jimmy Page, Chris Slade and Tony Franklin. Yet despite his commercial acclaim and accolades from many of rock music's biggest stars, Rodgers has consistently overlooked by one prominent organization. Neither he, nor any of his bands, have been inducted into the Rock & Roll Hall of Fame.
Related: Rodgers' Bad Company bandmate, Ralphs, also suffered a stroke in 2016
Midnight Rose was produced by Cynthia Rodgers and Bob Rock, and was recorded at Roper Recording and The Warehouse over the last 18 months with unique album artwork contributed by Paul and his wife, Cynthia.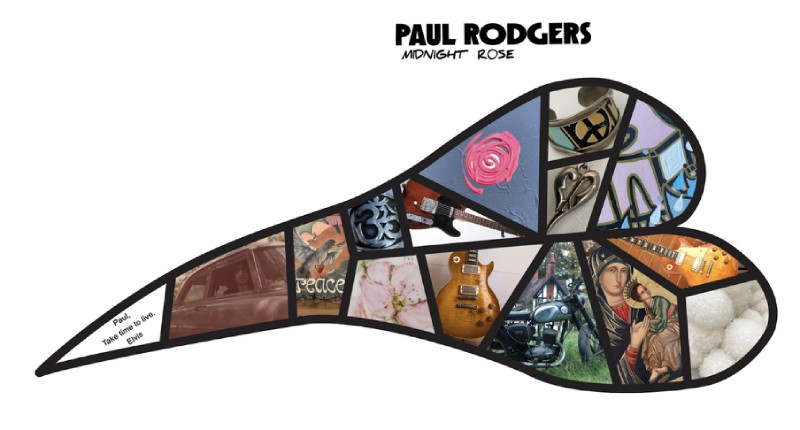 The eight-song collection of all new, original music was entirely written by Rodgers, with the exception of "Living It Up," co-written by Rodgers with his band's bassist Todd Ronning and drummer Rick Fedyk. Rodgers describes it as "a tribute to and my way of thanking America for all the music and love through the years."
A second track, "Take Love," was released on July 28.
"My new album grew from sparks of ideas I had," said Rodgers in the announcement. "The sparks developed into a raging fire when the band and everyone involved brought their absolute 'A' game." He turned 73 on Dec. 17, 2022.
Midnight Rose Track Listing
1. "Coming Home"
2. "Photo Shooter"
3. "Midnight Rose"
4. "Living It Up"
5. "Dance in the Sun"
6. "Take Love"
7. "Highway Robber"
8. "Melting"
Related: In 2018, we asked Rodgers who he regretted never having recorded with

Latest posts by Best Classic Bands Staff
(see all)