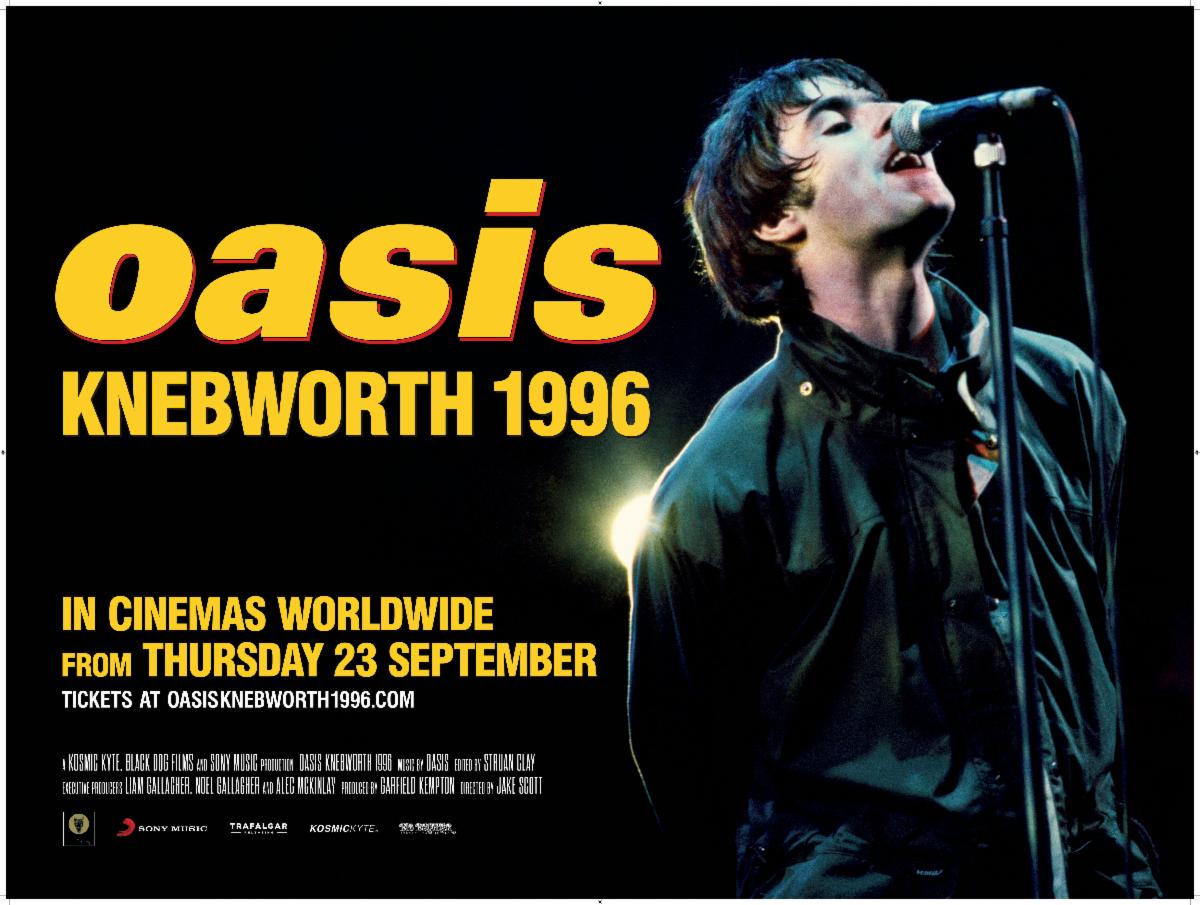 Oasis has shared a clip of "Champagne Supernova" from the upcoming feature length documentary film of their August 1996 concerts at Knebworth. Watch it as well as one for "Live Forever" below. The film, titled simply, Oasis Knebworth 1996, will be released in theaters on September 23, 2021, with tickets available here, marking 25 years since the events. Jake Scott, who has directed videos for the band, as well as the Rolling Stones, R.E.M, U2, The Verve, and many more, directed the film. The documentary's July 13 announcement noted the film "is told entirely in the moment through the eyes of the fans who were there, built around extensive, and never-before-seen archive concert and backstage footage from the event, with additional interviews with the band and concert organizers."
The earlier clip of "Live Forever" includes commentary from Noel Gallagher. "We were a pretty decent band the night before I wrote 'Live Forever,' but it was indie music," he says. "The day after I wrote 'Live Forever,' we were going to be the biggest band in the world. I knew it. I knew enough about music… I knew enough about songs to know that wasn't indie music, it was a f**king great song."
Watch the official trailer and several other performance clips below. Also announced on August 10, a full live album and DVD/Blu-ray, also titled Oasis Knebworth 1996, is due for release on November 19 via Big Brother Recordings Ltd.
Oasis' two record breaking nights at Knebworth took place on August 10 and 11, 1996, with over a quarter of a million music fans from all over the world converging on Knebworth Park, Hertfordshire to see the legendary sets. Tickets went on sale on May 11, 1996. Queues formed outside local record shops and ticket offices overnight, and fans around the world spent the day on their landline phones trying to get through to constantly engaged booking lines. All tickets sold out in less than 24 hours, breaking every U.K. box office record in the process. Organizers estimated the band could have sold two or three times as many tickets. Over 2% of the population of the U.K. had reportedly attempted to buy tickets.
News about the documentary was first revealed on May 11 when the then-still-untitled film would be released "later this year."
Watch the official trailer, released on Aug. 10, 2021, the 25th anniversary of the first night
It's easy to forget just how big Oasis was. Here's a wild fact: the group released seven studio albums. Each hit #1 in the U.K. (as did a 2008 compilation album). They also scored eight #1 U.K. singles and a remarkable 23 Top 10 hits. Two songs were U.S. hits: 1995's "Wonderwall" (#8) and 1996's "Champagne Supernova" (#20 on the airplay chart, since it didn't have an American physical release). Both are from (What's the Story) Morning Glory which has sold a reported 22 million copies worldwide.
Taken from the second night of the band's two era-defining Knebworth shows, the legendary performance sees Oasis joined on stage by the Stone Roses' John Squire for a 7-minute version of "Champagne Supernova." The new clip features snatched, first-hand accounts from the fans who were there, recounting their bond with the band and that weekend's life changing events.
Watch Oasis perform "Champagne Supernova" at Knebworth in 1996
From the original May 11 announcement: In 1996, Britain was in the midst of a cultural explosion. Set against a backdrop of the rise of New Labour, Euro '96, Mandela's visit to Britain, and the height of Britpop, the film will be a crucial document of the moment that defined an era and cultural revolution. In just over two years, Oasis had ridden to the top and Knebworth was the jewel in the crown. Nearly a quarter of a century later, that weekend lives on as a milestone in rock 'n' roll history.
It's estimated that 250,000 people attended the two performances in August 1996.
Watch Oasis perform at Knebworth
Speaking of the film, Scott said: "It's a story driven entirely by the music, a rock and roll experience, told in the moment, like a visual stream of consciousness that is built around the extensive archive footage from the event. No on-camera interviews or unnecessary celebrity recollections."
Liam Gallagher says, "Knebworth for me was the Woodstock of the 90's. It was all about the music and the people. I can't remember much about it, but I'll never forget it. It was Biblical."
Adds Noel Gallagher, "I can't believe we never played Rock 'n' Roll Star!"
The film is produced by RSA Films and the Gallagher brothers will serve as executive producers. It will be financed and distributed by Sony Music Entertainment and released theatrically by event cinema specialist Trafalgar Releasing.
Related: When Oasis' Noel Gallagher played at a fan's home

Latest posts by Best Classic Bands Staff
(see all)