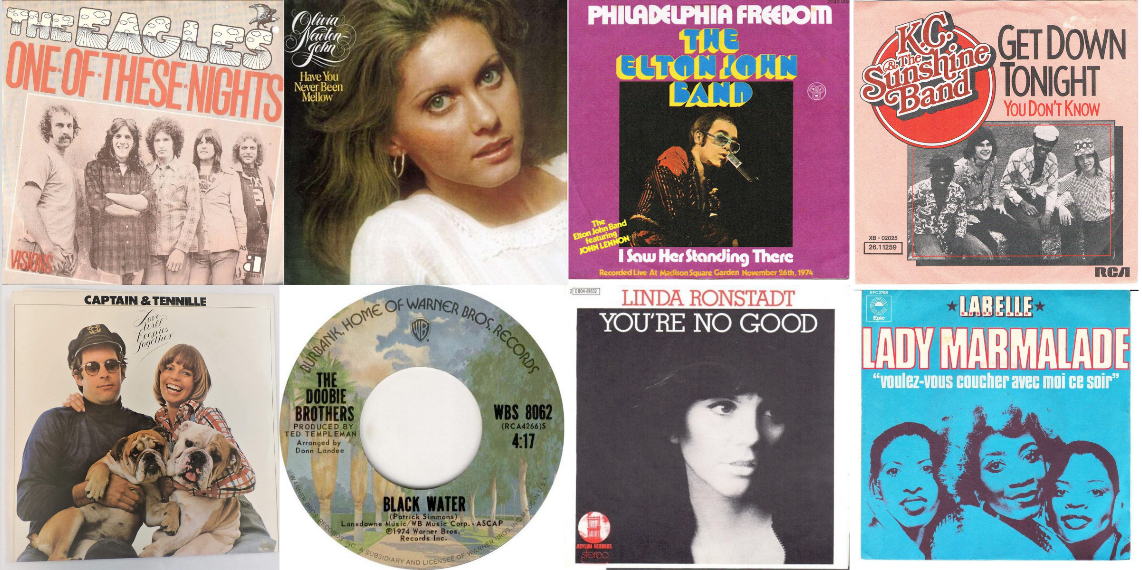 We continue our series of looking at the most popular music for a given year. The topic, as you know by the headline, is singles and while we have done stories on the biggest hits of the year, this series slices things a bit differently. Here, we look at 1975's #1 pop hits in the U.S. according to Record World, a competitor of Billboard.
Earning a #1 single is an achievement that goes on an artist's permanent biography.
In 1975, only four songs stayed at the top for three weeks or more. Just five more were at #1 for two weeks. Thus, 39 different singles, including many of the era's great dance floor numbers, reached #1 that year, as programmers were featuring less from rock acts. Our recap begins in reverse, and alphabetically by artist, starting with the 30 that grabbed the top spot for a single week as the decade reached its midway point. (Note: Many of the chart numbers will differ with those compiled by Billboard.)
1 Week
Average White Band – "Pick Up the Pieces"
The Scottish funk and R&B group got their big break as the opening act on Eric Clapton's comeback tour. The song's title, occasionally shouted, are the only lyrics on what is otherwise an instrumental.
America – "Sister Golden Hair"
The American rock band, formed in London, England, earned seven Top 10 hits.
Bay City Rollers – "Saturday Night"
The teeny bopper band from Scotland had already earned eight Top 10 hits in the U.K. when they were introduced to U.S. audiences with this toe-tapping guilty pleasure (c'mon, admit it).
David Bowie – "Fame"
Top 40 radio made up for their failure to fully appreciate the Star Man's previous single from the same album, the phenomenal"Young Americans," which peaked at #28.
The Carpenters – "Please Mr. Postman"
The recording duo were radio darlings, scoring 11 Top 5 singles between 1970-1975.
John Denver – "Thank God I'm a Country Boy" and "I'm Sorry"
The former has been played during the seventh-inning stretch at Baltimore Orioles home games for roughly 40 years.
The Doobie Brothers – "Black Water"
After scoring earlier success with such rockers as "Long Train Runnin'" and "China Grove," the band slowed things down with this gem, written and sung by guitarist Patrick Simmons, highlighted by its unique a cappella section.
Eagles – "One of These Nights"
The group were en fuego at this point, dominating the singles and album chart like no other band of the era.
Earth, Wind & Fire – "Shining Star"
The R&B, soul and funk band had already earned a pair of R&B hits but had lacked a crossover single. Then this juggernaut arrived, putting them on a trajectory for true superstardom.
Freddy Fender – "Before the Last Teardrop Falls"
The success of this bilingual recording by the Tejano musician is just one example of what makes Top 40 in the '70s so surprising. In its sole week at the top, it was being played alongside songs by Grand Funk and Chicago.
Dickie Goodman – "Mr. Jaws"
The record producer created novelty songs that featured a narrator commenting or asking questions and using samples from hit records to answer or reply. This one cashed in on the success of the summer blockbuster movie Jaws and features snippets of contemporary hits from Olivia Newton-John, Glen Campbell, James Taylor, the Eagles, Bee Gees, and others.
Hamilton, Joe Frank & Reynolds – "Fallin' in Love"
The soft rock trio scored four years earlier with "Don't Pull Your Love."
Elton John – "Someone Saved My Life Tonight"
The autobiographical song, and only release from the Captain Fantastic album, tells the story of the star's suicide attempt. Though it peaked at "only" #4 on Billboard's Hot 100, it continued his streak of #1 albums, which would run to seven.
Labelle – "Lady Marmalade"
This tour-de-force came from songwriters Bob Crewe (best known for his songs for the Four Seasons) and Kenny Nolan. (The pair also wrote Frankie Valli's "My Eyes Adored You"; more on that later.) The song was co-produced by New Orleans legend Allen Toussaint with lead vocals by Patti LaBelle and back-up by her group mates Nona Hendryx and Sarah Dash.
What a recording! Arguably the finest single of the year. And the bawdy French lyrics got past the gatekeepers.
Barry Manilow – "Mandy"
This cover of a song called "Brandy" had its title and lyric changed to avoid confusion with Looking Glass' 1972 hit. Manilow enjoyed an enviable track record with Top 40 programmers well into the '80s.
Van McCoy – "The Hustle"
The successful songwriter for other artists had released many of his own singles without success until, as legend as it, his music partner observed New York City club-goers doing a dance called "the Hustle." McCoy wrote the song and in July it reached #1, later earning a Grammy for Best Pop Instrumental Performance. Four years later, he was dead of a heart attack at age 39.
Olivia Newton-John – "Have You Never Been Mellow"
The 26-year-old was quickly becoming the girl-next-door with her dominance of the U.S. country and pop charts, while still three years away from her starring role in Grease.
The Ohio Players – "Fire"
The funk band from Dayton, Ohio had a run of success that included five R&B chart-toppers but were perhaps known more for their erotic album covers featuring nearly nude women.
Tony Orlando and Dawn – "He Don't Love You (Like I Love You)"
The final #1 for the highly successful singer, television personality and record executive (he signed Barry Manilow to his first recording contract).
Ozark Mountain Daredevils – "Jackie Blue"
The country-rock band were signed to A&M Records by an in-house producer who was said to be looking for an Eagles-type band.
Minnie Riperton – "Lovin' You"
The singer wrote the song with her husband, Richard Rudolph, who produced it with none other than Stevie Wonder. At the end of the unedited version, Riperton can be heard saying the name Maya, over and over. That's for her infant daughter, who grew up to become comedic actress Maya Rudolph, who was in the studio with her. Riperton died of cancer four years later at age 31.
Linda Ronstadt – "You're No Good"
The sensational singer earned several #1 albums but only one single that topped the pop chart, which she belts with gusto. Superb production from Peter Asher.
Neil Sedaka – "Laughter in the Rain" and "Bad Blood"
He earned his first chart success as a teenager in 1958 and remained a chart fixture throughout the early '60s, culminating with a #1 single in 1962 with "Breaking Up is Hard to Do." Within two years, he ran into a fallow period that lasted until his comeback hit with "Laughter in the Rain" when he was still just 35 years old. Just listen to that soaring vocal.
Nine months later, he returned to the top with "Bad Blood."
Silver Convention – "Fly, Robin, Fly"
The lyrics to the worldwide Euro disc hit consist of just six words: fly, robin, up, to , the (and) sky. Listen for yourself.
The Spinners – "Games People Play"
The vocal group had an amazing run of 18 Top 10 R&B singles. Seven of those reached the Top 5 of the pop chart, many of which were produced by their longtime collaborator Thom Bell, including this one, also known as "They Just Can't Stop It."
B.J. Thomas – "(Hey Won't You Play) Another Somebody Done Somebody Wrong Song"
The great vocalist scored his second #1 pop hit which also earned its songwriters, Larry Butler and Chips Moman, the Grammy for Best Country Song.
Frankie Valli – "My Eyes Adored You"
The Four Seasons' frontman earned a slew of solo hits in the '70s. One week after hitting the top, it was replaced there by "Lady Marmalade," which was written by the same songwriting team (see above).
Stevie Wonder – "Boogie On Reggae Woman"
This funk number paired with "You Haven't Done Nothin'" to deliver a big one-two punch to 1974's Fulfillingness' First Finale LP.
Related: The 44 (count em!) #1 singles of 1974
2 Weeks
Bee Gees – "Jive Talkin'"
The first song from their sensational Main Course album signaled a significant change of their musical direction, with a big assist from producer Arif Mardin.
Related: Our Album Rewind of Main Course
Glen Campbell – "Rhinestone Cowboy"
Another Top 40 fixture who had seen his star dimmed in recent years, Campbell returned to the top with gusto on this track penned by Larry Weiss, who had co-written "Bend Me, Shape Me," a big hit for the American Breed.
Elton John – "Lucy in the Sky With Diamonds"
Yet another smash from his incredible '70s run.
KC and the Sunshine Band – "Get Down Tonight"
Harry Casey (aka KC) captured four #1s in a two-year period. This dance floor crowd-pleaser was the first, in late summer '75.
Wings – "Listen to What the Man Said"
Truly not one of Paul McCartney's most inspired efforts but programmers and listeners embraced it nonetheless.
3 Weeks
Captain & Tennille – "Love Will Keep Us Together"
After being part of the Beach Boys' touring band, the pair began performing as a duo and earned a recording contract. This first single, co-written by Neil Sedaka and his frequent collaborator, Howard Greenfield, went on to win the Grammy for Record of the Year. Nice debut.
Elton John – "Philadelphia Freedom" and "Island Girl"
You thought we were done with Reg Dwight, with the two singles discussed earlier? You would be wrong. "Philadelphia Freedom" was written by John and Bernie Taupin as a favor to pal Billie Jean King, whose World Team Tennis franchise had that name.
As for the second of this pair of three-week chart-toppers, please see the Wings entry, a few tracks above.
KC and the Sunshine Band – "That's the Way (I Like It)"
The second of Casey's #1s in '75 earned an unusual distinction: after it was bounced after one week, it returned to the top for another two weeks.
Now get back on the dance floor!
Related: What a difference a decade makes… The #1 hits of 1965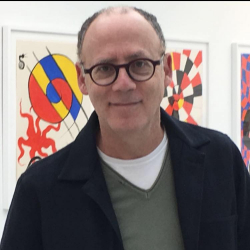 Latest posts by Greg Brodsky
(see all)