The #1 Singles of 1973: Each One Has a Story
by Greg Brodsky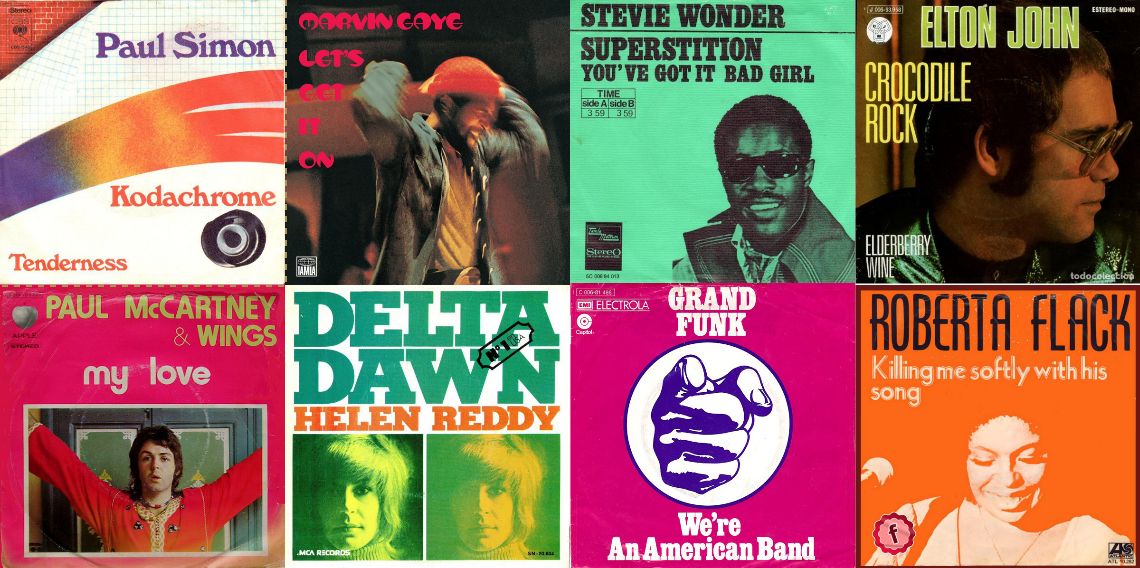 We continue our series of looking at the most popular music for a given year. The topic, as you know by the headline, is singles and while we have done stories on the biggest hits of the year, this series slices things a bit differently. Here, we look at 1973's #1 pop hits in the U.S. according to Record World, a competitor of Billboard.
Earning a #1 single is an achievement that goes on an artist's permanent biography.
In 1973, only three singles stayed at number one for three weeks or more. Just eight more were at #1 for two weeks. Thus, 36 different singles, including many of the era's great R&B numbers, reached #1 that year. (That's in contrast to 1969, when 27 songs topped the chart.) Our recap begins in reverse, and alphabetically by artist, starting with the 25 that grabbed the top spot for a single week as the decade came to a close. (Note: Many of the chart numbers will differ with those compiled by Billboard.)
1 Week
Carpenters – "Yesterday Once More"
It wasn't just because Karen sang about "listening to the radio." Top 40 loved them: the song was one of eleven Top 5 singles the duo earned between 1970-1975. (Interestingly, it "only reached #2 on Billboard; later that year, "Top of the World" would be #1 on Billboard but not "top of the Record World chart."
Cher – "Half Breed"
The song is included in Part 2 of our series, 11 Surprising 1970s radio hits.
Jim Croce – "Bad, Bad Leroy Brown"
Just two months after the talented singer-songwriter reached the top of his profession on July 21 with this rollicking number, he was gone at age 30.
Dawn featuring Tony Orlando – "Tie a Yellow Ribbon Round the Old Oak Tree"
Although it only stayed at #1 for a single week, it hung around long enough to rank as the year's #4 biggest on Record World. (If you knew that as a young exec Orlando signed the successful jingle writer/singer Barry Manilow to his first recording contract in 1969, raise your hand.)
DeFranco Family – "Heartbeat – It's a Lovebeat"
Four of the five Canadian siblings were still in their teens when this topped the U.S. chart in November.
Grand Funk – "We're an American Band"
This thing just rocks. Since 1969, GFR had flirted with pop success. When they were matched with producer Todd Rundgren for this album and the next… bam! Feelin' good, feelin' right, it's Saturday night.
George Harrison – "Give Me Love (Give Me Peace on Earth)"
In researching this story, I discovered that he supplanted one of his fellow Beatles at the top of the chart on July 7, marking the only time that two of the Fab Four were 1-2 on the U.S. singles chart.
Elton John – "Goodbye Yellow Brick Road"
Yeah… yeah… "only" #2 on Billboard. That's their problem. It's hard to come up with many acts that had the kind of five-year run of hit singles and albums that he did during the stretch from 1970-75. Probably just Stevie Wonder and the Rolling Stones. That's it. That's the list.
Eddie Kendricks – "Keep on Truckin'"
The lead singer for such Temptations singles as "The Way You Do the Things You Do" and "Get Ready" had only two big pop hits as a solo artist. He was just 52 when he died in 1992.
Gladys Knight & the Pips – "Neither One of Us (Wants to Be the First to Say Goodbye)" and "Midnight Train to Georgia"
The latter, considered to be her signature song, won the Grammy for Best R&B Vocal Performance by a Duo, Group or Chorus. Magnificent.
Maureen McGovern – "The Morning After"
The original earned an Academy Award for Best Original Song for 1972's disaster film, The Poseidon Adventure. After the film's release, McGovern's recorded version reached #1, in August 1973.
The O'Jays – "Love Train"
This stone cold R&B classic came from the super hot songwriting and production tandem of Kenny Gamble and Leon Huff, on their Philadelphia International label. Historians note that the single debuted on the chart on the very day that the Paris Peace Accords were signed. Click and sing along!
Billy Paul – "Me and Mrs. Jones"
Another Gamble-Huff classic, released in Sept. 1972, is about an extramarital affair. It reached #1 in late '72 and returned to the top in the first week of January '73, a rare occurrence. Paul earned a Grammy for Best R&B Vocal Performance.
Helen Reddy – "Leave Me Alone (Ruby Red Dress)"
The third of four #1 singles for the popular singer closed the year at the top.
Diana Ross – "Touch Me in the Morning"
Miss Ross' 14th #1 of her career was co-written by Ron Miller, who co-wrote many of Stevie Wonder's early hits including "For Once in My Life," and Michael Masser. It was the first big success for the latter, who went on to co-write "Didn't We Almost Have it All" and "The Greatest Love of All."
Carly Simon – "You're So Vain"
Just weeks after marrying James Taylor in Nov. 1973, her No Secrets album (with its iconic cover photo) was released, with a slew of guest classic rock musicians: Bonnie Bramlett, Nicky Hopkins, Jim Keltner, Bill Payne, among them. Jim Gordon, Klaus Voormann and an uncredited Mick Jagger (on backup vocals) performed on "You're So Vain." That's Voormann on bass in the intro right before Simon coos "Sonofagun…"
Paul Simon – "Kodachrome"
If you use the Billboard Hot 100 as the chart bible, then Simon is denied another career #1 since this marvelous piece of ear candy peaked there at #2.
The Spinners – "Could It Be I'm Falling in Love"
The vocal group had an amazing run of 18 Top 10 R&B singles. Seven of those reached the Top 5 of the pop chart, many of which were produced by their longtime collaborator Thom Bell, including this one.
Ringo Starr – "Photograph"
The first of two #1 singles from 1973's Ringo album became his signature solo hit.
Related: Our Album Rewind of Ringo's solo breakthrough
Three Dog Night – "Shambala"
The group was in the midst of a stretch of chart dominance. This song, with lead vocals by Cory Wells, was one of nine Top 5 hits they charted from 1969-73.
War – "Cisco Kid"
One of the things that made Top 40 so great in the '70s: This replaced "Tie a Yellow Ribbon… " at #1 from one week to the next.
Wings – "Live and Let Die"
This musical tour-de-force for the James Bond film represented a reunion between Paul McCartney and George Martin. The latter produced the track and arranged that incredible orchestra.
Stevie Wonder – "You Are the Sunshine of My Life" and "Higher Ground"
Part of his epic run of albums and singles. The former won a Grammy and was nominated for Record of the Year and Song of the Year. It's being played as the first dance at many weddings this weekend.
2 Weeks
Marvin Gaye – "Let's Get it On"
He was 33 years old when he recorded this classic, one of his 14 #1 R&B singles, and still just 44 when he was taken from us.
Elton John – "Crocodile Rock"
If you knew this was his first #1 single in the U.S., raise your hand.
Related: Elton John had two more #1s in 1974
Vicki Lawrence – "The Night the Lights Went Out in Georgia"
The actress was riding the wave of success she enjoyed as part of the ensemble variety series, The Carol Burnett Show.
Helen Reddy – "Delta Dawn"
Tanya Tucker's version was released a few months' earlier and gave the 13-year-old a Top 10 country hit with her debut single. Reddy's confident performance was accompanied by a big production number. It all added up to the year's overall #3 single, according to Record World.
Related: Our obituary of Reddy, who died in 2020
Charlie Rich – "The Most Beautiful Girl"
The Silver Fox had five Top 20 pop hits and five straight #1s on the country chart during his peak two-year run. This one's got a lush treatment from producer Billy Sherrill, one of its co-writers.
The Rolling Stones – "Angie"
It took only seven weeks for the lead single from Goat's Head Soup to reach the top. Though he's not in the video, that's session regular Nicky Hopkins on piano.
Eric Weissberg & Steve Mandell – "Dueling Banjos"
In an era for unlikely Top 40 radio hits, the song from the 1972 film, Deliverance, was as surprising as they come. And despite its title, the instrumental features guitar and banjo.
Stevie Wonder – "Superstition"
If you're keeping score, that's three #1 singles in '73 for the Wonder man. What a great production!
3 Weeks
Roberta Flack – "Killing Me Softly With His Song"
The great singer had three #1 pop hits within a two year period. (This was joined by "The First Time Ever I Saw Your Face" and "Feel Like Makin' Love." Her duet with Donny Hathaway, "Where is the Love," although #1 R&B, peaked at just #5.) Record World had this as 1973's overall #1. If you haven't heard it in a while, do yourself a favor…
Edgar Winter Group – "Frankenstein"
A monster hit if there ever was one. The song was not originally slated for the 1972 LP They Only Come Out at Night but was added to its tracks just prior to the album being manufactured. It was serviced to radio as a B-side. But when DJs started flipping the 45 over their request lines lit up.
4 Weeks
Paul McCartney & Wings – "My Love"
It's somewhat of a surprise that this would have the most weeks at #1 for the year. (It finished #2 overall for the year, according to Record World.)
Related: The #1 albums of 1973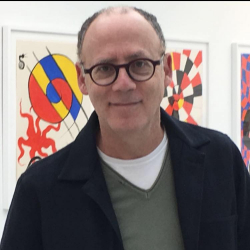 Latest posts by Greg Brodsky
(see all)