Three Vintage Films Capture San Francisco Rock's Glory Days
by Jeff Burger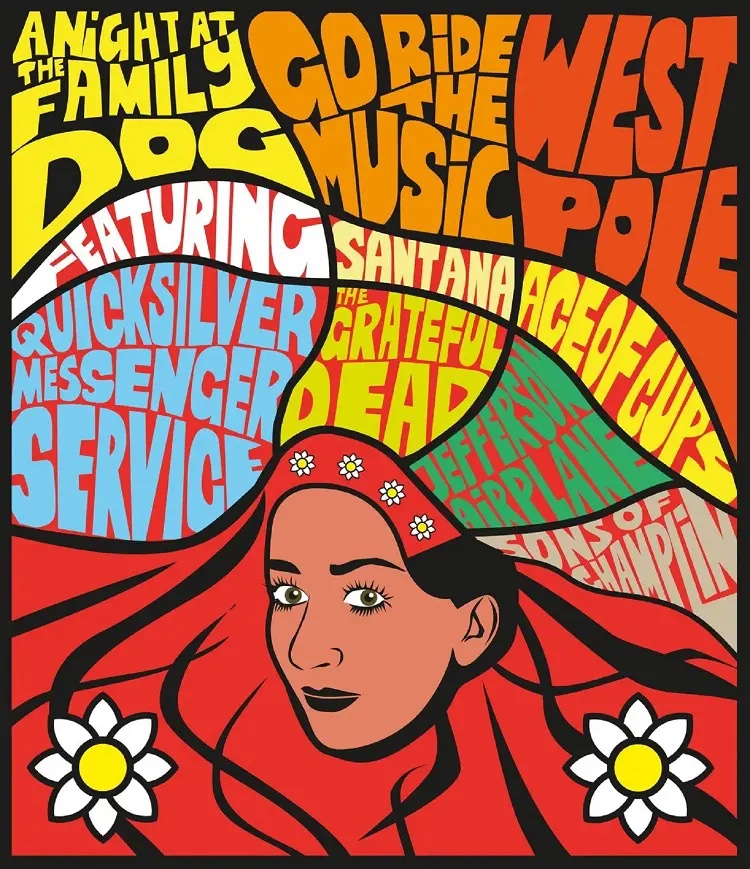 For a brief time in the late 1960s and early 1970s, San Francisco was at the center of what appeared to be a burgeoning new world, one in which rock bands were not just musicians. They were in the vanguard of a movement that rejected practically everything that had come before and sought to replace it with one never-ending night of sex, drugs, rock and roll, and revolutionary politics.
Alas, it didn't last, but you can still get a taste of Haight-Ashbury's heyday via three approximately hour-long films that Rolling Stone co-founder and cutting-edge-music champion Ralph J. Gleason originally presented on public television. A Night at the Family Dog first came out on DVD in 2007 while Go Ride the Music and Westpole followed in 2008. Now all three have been collected on a 2023 two-DVD set.
The first of these films delivers just what its title promises: a video of one evening's show at the Family Dog, a San Francisco concert venue run by Bill Graham competitor Chet Helms. Recorded on Feb. 4, 1970, it features two numbers by Santana, including the expansive instrumental, "Soul Sacrifice"; three by the Grateful Dead (their own "China Cat Sunflower" plus Otis Redding's "Hard to Handle" and the traditional "I Know You Rider"); and two by Jefferson Airplane ("Eskimo Blue Day" and a scorching "The Ballad of You and Me and Pooneil"). The night ends with a fiery jam that features members of all three groups.
Watch the "superjam" from A Night at the Family Dog, featuring members of Santana, Jefferson Airplane and the Grateful Dead
The producers did relatively more editing of the material included in Go Ride the Music, which incorporates some distracting split-screen images and a few forgettable interview snippets featuring the Grateful Dead's Jerry Garcia. The music, from Jefferson Airplane and Quicksilver Messenger Service is excellent, however. You can see an admiring Garcia looking on as the Airplane delivers incendiary versions of such early classics as "We Can Be Together," "Volunteers," "Wooden Ships," "Somebody to Love" and "Plastic Fantastic Lover." The vocal work, particularly by Grace Slick and Marty Balin, is impassioned, and so are the contributions by Jorma Kaukonen, Jack Casady, Spencer Dryden and Paul Kantner. And while Quicksilver isn't in the same league, it would be hard to conclude from their set that anything other than bad luck kept them from attaining the level of success enjoyed by some of their peers.
Westpole, in which Gleason appears on camera to introduce the bands, is the least noteworthy of the three movies. It includes brief, unilluminating interviews with fans who name their favorite acts plus live performances from only two groups: Ace of Cups, an early (and extant) all-female rock band that deserved more attention than it received in the '60s; and Sons of Champlin, who perform one number. The rest of the film pairs the audio from various studio recordings with psychedelic imagery and clips of the Steve Miller Band, Jefferson Airplane, Grateful Dead and Quicksilver. This material—the sort of thing that would have aired on MTV if there'd been such a network back then—is no match for the concert footage on the other programs.
Related: When Jefferson Airplane sang from a NYC rooftop
Of course, none of these more than half-century-old documentaries delivers anything close to today's production values. The films are not widescreen, the images are a bit grainy, and the camera work looks amateurish by current standards. The remixed and remastered audio is surprisingly good, though, with all three movies offering a choice of the original mono or "extrapolated" stereo or 5.1 surround sound.
Santana is on tour now. Get dates here.
Latest posts by Jeff Burger
(see all)