A live Neil Young album, EARTH, was released on June 24, with 11 songs and 98 minutes of uninterrupted audio. And unique accompaniment in addition to his recent backing band Promise of the Real: Creatures from the animal kingdom.
"We made a live record and every creature on the planet seemed to show up," says Young. "Suddenly all the living things of Earth were in the audience going crazy. Then they took over the stage, letting their wild sounds mingle with the Vanilla Singers perfect corporate harmony."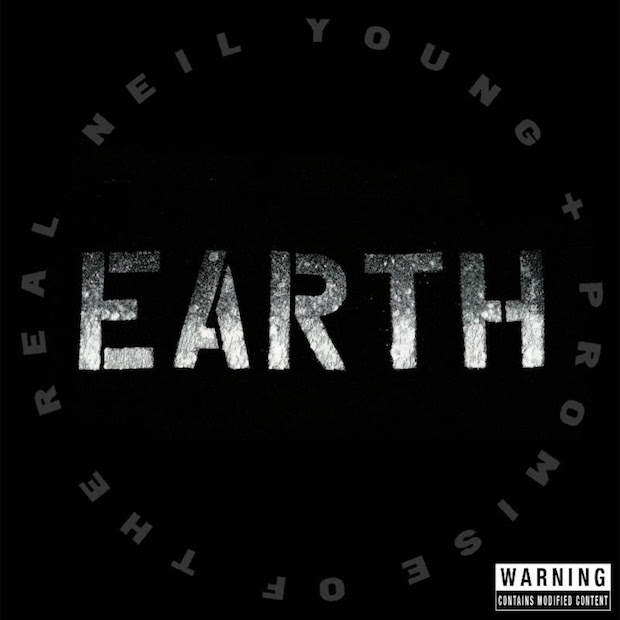 Truth be told the 11 songs were recorded while Young and POTR were on tour last year promoting his most recent studio album The Monsanto Years. (See track listing below.) It includes a previously unreleased number, "I Won't Quit," that was introduced on tour, four songs from The Monsanto Years, two from 1990's Ragged Glory and only one, "After The Gold Rush" – Young's original ecology song – from the artist's 1970s heyday. The uniting thread, Young says, is that they are all "songs I have written about living here on our planet together."
Overdubbed onto the tracks and threaded throughout are noises from bears, birds, crickets, bees, horses, cows and "sounds of the earth" juxtaposed with "city sounds" like car horns, according to a press release. Young will be doing a rare album premiere event on May 6th at the Natural History Museum Los Angeles County, where he will play the recording and discuss its construction and themes.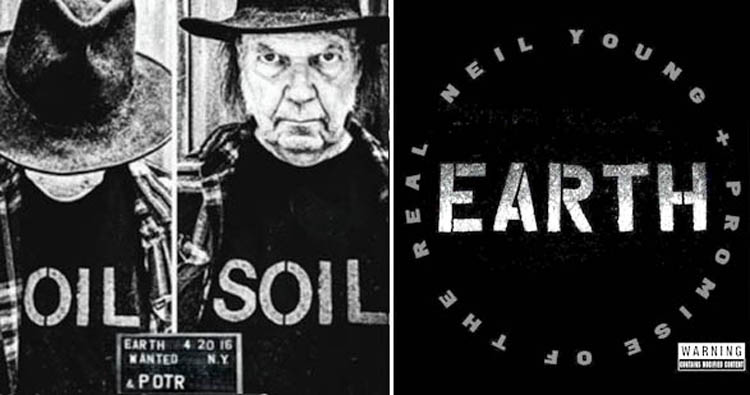 The album is available to stream on Young's Pono service. He says "EARTH does not fit on iTunes. It breaks all their rules (and couldn't all really be heard that way anyway)." Yet it is also expected to be streamed on Tidal, which now has his 57 album catalog, including his 125-song Archives Volume I [1963 – 1972] set, available to be streamed as part of its premium paid service.
Don't miss a post! Sign up for Best Classic Bands' Newsletter; form is on every page.
Young and POTR launched their 2016 tour together on April 26 at the Whitewater Amphitheater in New Braunfels, TX, where they were joined by Willie Nelson (whose sons Lukas and Micah play in Promise of the Real). After their May 1 appearance at the New Orleans Jazz and Heritage Festival, they headed to Europe for dates through June and July.
Related: Young to perform at Farm Aid 2016
Watch Young, Willie Nelson and POTR pay tribute to Merle Haggard:
EARTH track listing:
1. "People Want to Hear About Love" (from The Monsanto Years)
2. "Big Box" (from The Monsanto Years)
3. "Mother Earth" (from Ragged Glory)
4. "The Monsanto Years" (from The Monsanto Years)
5. "I Won't Quit" (previously unreleased)
6. "Western Hero" (from Sleeps With Angels)
7. "Vampire Blues" (from On The Beach)
8. "Hippie Dream" (from Landing On Water)
9. "After The Gold Rush" (from After The Gold Rush)
10. "Wolf Moon" (from The Monsanto Years)
11. "Love & Only Love" (from Ragged Glory)
Related: Young to play Desert Trip with other classic rock icons in October
Neil Young and Promise of the Real 2016 tour:
April 26 – New Braunfels, TX, Whitewater Amphitheatre
April 28 – Nashville, TX, Ascend Amphiteater
April 29 – Memphis,TN, Beale Street Music Festival
May 1 – New Orleans, LA – Jazz & Heritage festival
June 5 – UK, Glasgow, The SSE Hydro
June 7- UK, Belfast, SSE Arena
June 8 – Ireland, Dublin, 3Arena
June 10 – UK, Leeds, First Direct Arena
June 11 – UK, London, The O2 Arena
June 13 – France, Lille, Zenith Arena
June 15 – France, Lyon, Halle Tony Garnier
June 16 – France, Marseille, Le Dome
June 18 – Spain, Madrid, Mad Cool Festival
June 20 – Spain, Barcelona, El Poble Espanyol
June 21- France, Toulouse, Le Zenith
June 23 – France, Paris, AccorHotels Arena
June 24 – Belgium, Antwerp, Sport Palais
July 1- Denmark, Roskilde, Roskilde Festival
July 3 – Finland, Helsinki, Hartwall Arena
July 5 – Sweden, Rattvik, Dalhalla
July 7 – Norway, Larvik, Stavernfestivalen
July 9 – Netherlands, Amsterdam, Ziggo Dome
July 13 – Italy, Piazzola, Anfiteatro Camerin
July 15 – Italy, Rome, Bath of Caracalla
July 16 – Italy, Lucca, Lucca Summer Festival – Piazza Napoleone
July 18 – Italy, Milan, Estathé Market Sound
July 20 – Germany, Leipzig, Völkerschlachtdenkmal Open Air
July 21 – Germany, Berlin, Waldbuhne 21
July 23 – Austria, Linz, Castle Clam
Sept 17 – Bristow, VA – Farm Aid 2016
Oct 08 – Indio, CA – Desert Trip
Oct 15 – Indio, CA – Desert Trip

Latest posts by Best Classic Bands Staff
(see all)