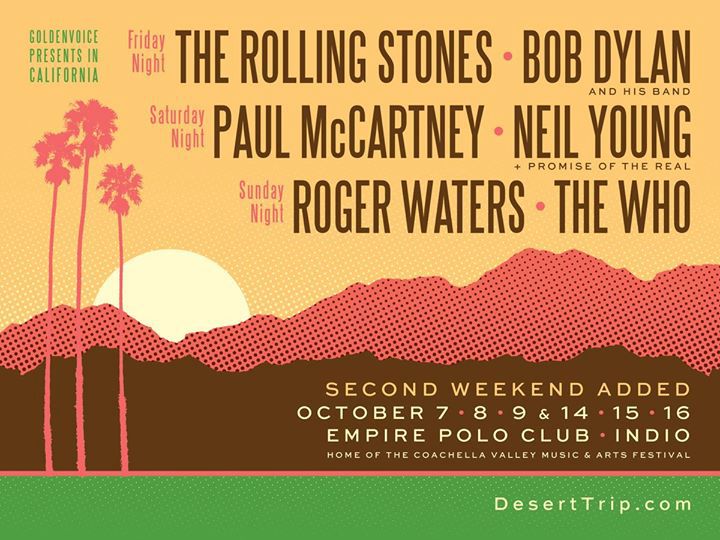 Just prior to tickets going on sale at 10 AM PT today (5/9), the Desert Trip classic rock festival featuring The Rolling Stones, Bob Dylan, Paul McCartney, Neil Young and Promise of the Real, Roger Waters and The Who added a second weekend. Now the acts will perform at the Empire Polo Grounds in Indio, CA on both October 7-9 and 14-16.
Don't miss a post! Sign up for Best Classic Bands' Newsletter; form is on every page.
The added weekend certainly seems to answer any questions about the fest's marketability and appeal. At the same time it raises questions. Once the Desert Trip shows sell out – which at this point seems expected – will any of the acts play other shows in between the two weekends: other locations, special small-venue gigs and such? Will other artists play in nearby cities and venues to take advantage of the influx of music lovers? Will the shows be aired on cable TV, streamed on the Internet, or shown as they happen in theaters? Will your Mom go and only get you this lousy t-shirt?
Will some of the artists extend their tours due to their Desert Trip bookings and to keep their crews and bands employed? At this point Paul McCartney, whose current tour ends on August 18th, also has two dates in nearby Sacramento, CA on October 4th and 5th. The Who's European "Back To The Who" tour currently finishes up on September 19th.
And will any other acts be added to the bills? As it stands now, it's two artists per night: The Stones and Dylan on the successive Fridays, Macca and Young on Saturday, Waters and The Who on Sunday.
Promoters Goldenvoice certainly seem to be going all out to accommodate the older classic rock audience. Bleachers will be added to the field to offer seating. There will also be premium seating in front of the stage, and they are selling travel packages. The general pass sales function on the fest's site allows buyers to get "in line" simultaneously to purchase passes for both weekends.
We've heard from some readers who have been able to purchase tickets directly from the official website. Best Classic Bands will continue to follow this story closely.
If you want to buy from our official ticket re-seller, click here and you'll be taken to Ticket Network.

Latest posts by Best Classic Bands Staff
(see all)