Sometimes you gotta underscore and even shout out the points that must be made. Quite a few rock fans don't want social activism and politics with their music. I get that. I get why. But sometimes all good men – and women – must come to the aid of their Mother Earth. We live in such times. Neil Young can't deny that, and won't stay quiet.
I'm not much of one for however many "best ever" counts. But if forced at gunpoint to name the greatest live rock'n'roll shows I've ever seen in what must by now be many hundreds, even more than a thousand perhaps, three stunners immediately spring to mind: Neil Young & Crazy Horse on the 1977 Zuma tour at New York's (much-missed) Palladium; 1979 at Madison Square Garden on Rust Never Sleeps; and not so long ago, 2012, at the Austin City Limits Music Festival (maybe the best of all three; maturity has its benefits).
Two years before that last Neil and the Horse show, I also saw a young band, Lukas Nelson & Promise of the Real, at an Austin, TX club show that by all rights should have been packed. Because Willie Nelson's singing, songwriting and hot-ass guitar playing son – the apple fell right below the tree of profound talent in this boy's case – and his kick-ass band blew me the hell away.
So I'm not surprised but am damn pleased and in fact thrilled that EARTH – the two-CD live album by Neil Young and Promise of the Real released last Friday (6/24) – now wows me as much as those shows. Yep, it's that good, that rocking, that real (as promised), that – yes – important.
And at some points it's not rocking, anything but, as on the eighth song here, 1970s "After the Gold Rush." It starts with a vocal harmony C chord at least as gorgeous as anything CSNY ever blended, maybe ever better, richer, deeper. It's the song where Young's path through our verdant yet fragile natural environment that now finds him crying out for EARTH began. It's a version even more beautiful – the harmonies are both earthy yet unearthly – than the original. Like a psalm in its meditative, peaceful beauty, it's also an urgent call for action. Look at Mother Nature on the run in the 21st Century.
Related: The Monsanto Years review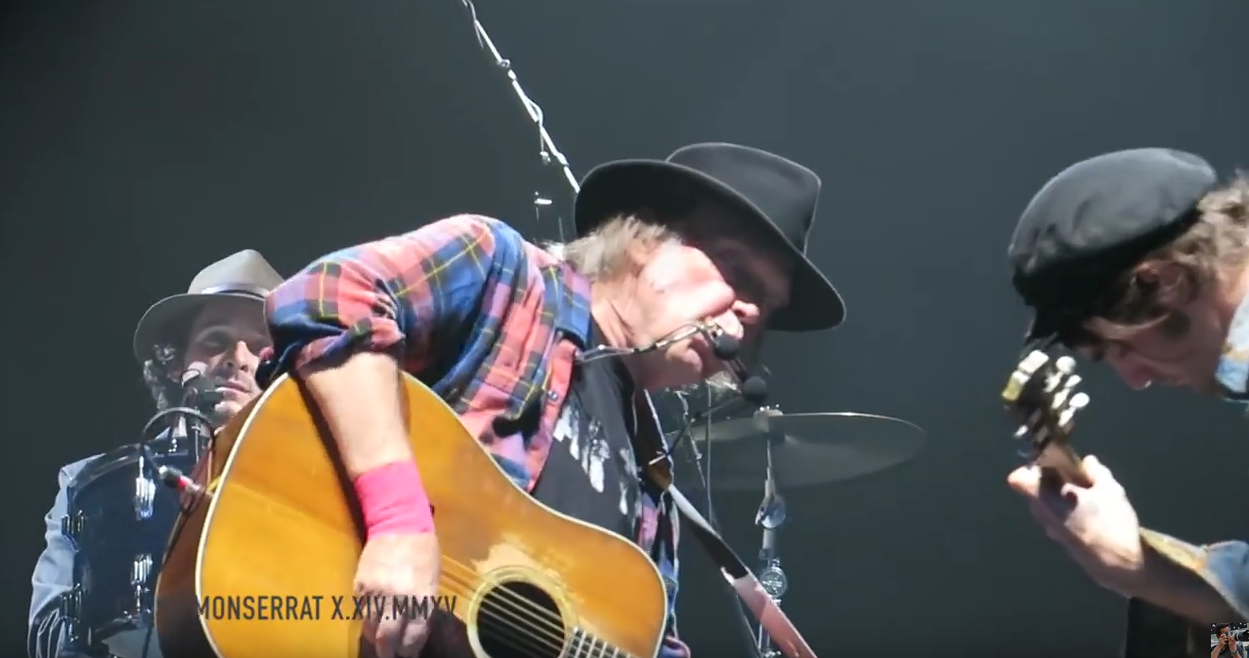 The album opens with the ominous sound of thunder, then rainfall, cicadas chirping and finally the wail of a lone harmonica. It's a sweet, stately prayer for the planet, or as Neil calls it, a "natural anthem" – "Mother Earth" from 1990's Ragged Glory. Then next, after audience applause mixes with the buzz of bees (threatened not threatening), lustrous voices in harmony plead: Show me the love! A crackling electric guitar roils through a descending chord pattern and then, bam! Rock'n'Fuckin'Roll! I won't quit! I won't quit! I won't quit! I won't quit! Young howls. Fighting for farming the land in the good old ways. It's "Seed Justice," an unreleased composition that may as well be the Farm Aid fight song.
Don't miss a post! Sign up for Best Classic Bands' Newsletter; form is on every page.
Ragged Glory, one of Young's killer LPs with the mega-mighty Horse, is where three songs here began. "Country Home" trots like a proud steed, its hooves throwing off sparks – the power source here being POTR as Neil's band. Young and Nelson's guitars rub against each other like sticks creating fire, as dynamic as his brotherly duels with Horsemen (the late great) Danny Whitten and then Frank "Poncho" Sampedro; Micah Nelson's six-stringing adds even more to the incendiary mix. "Love and Only Love" closes EARTH with a near-30-minute atomic blast of searing, soaring, incomparable and timeless rock'n'roll. Other catalog songs here like "Western Hero' (from '94's Sleeps With Angels), "Vampire Blues" ('74's On The Beach) and "Human Highway" ('78's Comes a Time) find fullest, deepest, vibrant fruition.
The immediate live redux of four songs from The Monsanto Years washes away any clumsiness they may have had in the studio – polemical rock is the trickiest bit in the pop music game – and blossom into undeniable Young classics. It's hard to not, ironically, chant Monsanto, Monsanto as Neil and POTR march along through their last album's title song, lacing the mantra of protest with a sweetly eerie vocal blend while Lukas Nelson's lead lines ominously swirl. Pretty much same goes as they step up into attack pace – How can we regain our freedom? – as "Big Box" opens the second disc. Neil shows us he knows the score when it comes to political rock on a snarling "People Want to Hear About Love" (because it will make them feel all right). And then after a visit into the sounds of nature he gives us one of his finest heartwarming pastorals with "Wolf Moon," right up there with "Harvest," "Comes a Time," "See the Sky About to Rain" and "Harvest Moon," to name some masterpieces.
Then, lastly, there's the animal sounds that when first announced gave pause with their quixotic nature. Yet they blend, harmonize, provide counterpoint and serve as Greek chorus. Best example: Tolling bells and mooing cows in the heart of "The Monsanto Years." A crow caws ominously at key junctures. Just after "Wolf Moon" the whales sing us a song. And the non-natural honking car horns and sirens beg a warning sticker: Be Careful When Listening While Driving.
Related: CSNY & Tom Jones in a Classic Video
Take my advice, don't listen to me, Young sings here on "Hippie Dream." Years ago Bob Dylan said, Don't follow leaders, watch your parking meters…. The answers my friend are blowing in the wind. Our greatest classic rock activists don't preach. But they can't help but cry out, shout and rabble rouse when their moral compasses get rattled.
Mother Nature's not only on the run, she's lashing out, striking back in a desperate struggle to stay alive and sustain life on this fragile speck in space that is the planet we live on. Neil Young cares enough for her and us to – as he often does – throw career considerations aside and try his best to motivate those already converted and maybe even change the minds of a few more.
The alliance with a young and spunky band on EARTH yields enough barrels of rock rebel piss and vinegar and pyres of righteous fire and brimstone to cut one of Young's highest flights yet in his 47 years of artistry under his solo banner. Over those years he has zigged and zagged in his collaborations as his muse has beckoned; right now his union with POTR begs but four words: Long may they run.

Latest posts by Rob Patterson
(see all)