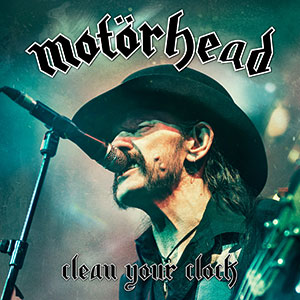 Thankfully when Lemmy Kilmister sadly passed away at the end of last year, he left a recorded legacy behind that now includes a live Motörhead album from their very last tour. It's titled Clean Your Clock and promises to do just that when it's released on May 27.
On November 20 and 21 last year at the Zenith in Munich, Germany, Motörhead delivered two storming sold-out shows that were recorded for posterity – the last time the band was tracked in concert. The set contains over an hour of Motörhead's indomitable cocktail of power, purpose and head-crunching volume. But where in earlier days there had once been an almost too-fast breakneck pace, in the group's veteran years they developed a measured yet still thunderous rock 'n' roll served up only as they could. Phil Campbell was playing better and better, and Mikkey Dee had elevated the art of drumming to the superlative heights which made him one of metal's most coveted skinsmen. And Lemmy was as he always did giving his all to his fans.
Clean Your Clock will be available in a variety of formats: audio CD, colored double vinyl in gatefold package with pop-up art, DVD and BluRay both with an audio CD, and of course as a digital download. It also comes as box set with colored double vinyl in gatefold package with pop-up art, DVD and audio CD plus the Motörhead metal medal. A limited edition box set available directly from UDR Music will contain the Motörhead medal in silver or gold.
Read tributes to Lemmy from throughout the classic rock community.
Clear Your Clock track list
1. Start – 00:00:00
2. Live Intro – 00:01:06
3. Bomber – 00:02:44
4. Stay Clean – 00:06:06
5. Metropolis – 00:09:41
6. When the Sky Comes Looking for You – 00:14:33
7. Over the Top – 00:18:16
8. Guitar Solo – 00:21:10
9. The Chase Is Better Than the Catch – 00:23:08
10. Lost Woman Blues – 00:28:39
11. Rock It – 00:34:07
12. Orgasmatron – 00:36:52
13. Doctor Rock Pt 1 – 00:43:28
14. Drum Solo – 00:45:18
15. Doctor Rock Pt 2 – 00:49:54
16. Just 'Cos You Got the Power – 00:52:11
17. No Class – 00:58:08
18. Ace of Spades – 01:01:07
19. Whorehouse Blues – 01:08:01
20. Overkill – 01:14:05


Latest posts by Best Classic Bands Staff
(see all)