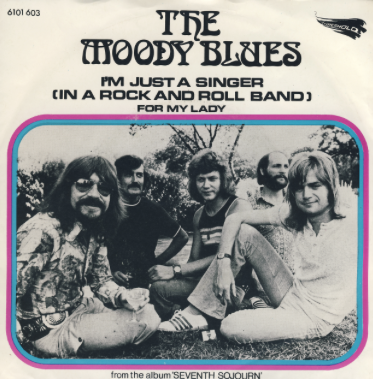 We've always had a soft spot for the Moody Blues and, judging from the reaction to their long overdue induction into the Rock and Roll Hall of Fame, it appears most Best Classic Bands readers do, too. On January 19, 1973, the classic rock band's "I'm Just a Singer (In a Rock and Roll Band)" was released.
The song was included in their 1972 #1-selling Seventh Sojourn album. Here's a pretty wild fact: from 1967 through 1972, the Moody Blues released one album every year. The last six in that streak of seven each performed better on the U.S. Album Sales chart than its predecessor. The numbers go: 23-20-14-3-2-1.
During that stretch, the symphonic-prog rock band earned a boatload of popular singles. While they were rarely Top 40 hits, they did enjoy significant pop success with "Tuesday Afternoon," "Question" and "The Story in Your Eyes." BCB has previously written about the successful re-release five years later of "Nights in White Satin" which had failed to chart in the U.S. in 1967.
Related: Our Album Rewind of Days of Future Passed
Back to "I'm Just a Singer (In a Rock and Roll Band)." The song was written by their bass player John Lodge and hit #12 on the Mar. 17, 1973, U.S. singles chart. (It peaked at just #36 in the U.K.) Its uptempo pacing has made it a crowd and classic rock radio favorite.
The vocals are a team effort. Just listen to how the song builds right at the outset with Graeme Edge's drums as Lodge's bass joins in. And at the 1:03 mark, as the lyrics – And if you want this world of yours to turn about you, and you can see exactly what to do please tell me – kick in, you can't help but tap your feet as the band explodes into the soaring: I'm just a singer in a rock and roll band.
Our Classic Video…
Related: Our Album Rewind of the Moodys' Seventh Sojourn

Latest posts by Best Classic Bands Staff
(see all)