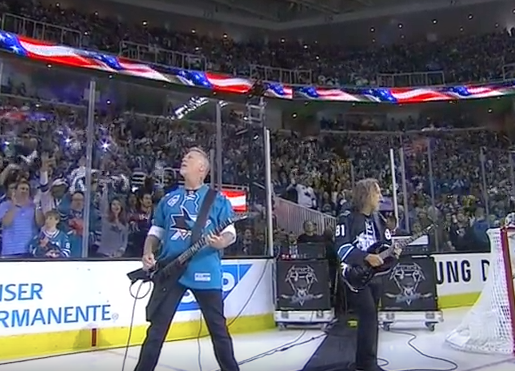 Whether you are a hockey fan or not, you gotta admit this is pretty cool. Metallica guitarists James Hetfield and Kirk Hammett rocked Game 4 of the Stanley Cup Finals in San Jose with their rendition of "The Star-Spangled Banner."
The two classic rock legends took to the ice prior to the host Sharks game versus the Pittsburgh Penguins. With Hammett delivering the anthem's main melody, Hetfield tastefully harmonized providing support throughout the song.
The Metallica members wore Sharks jerseys, sported a unique Sharks/Metallica logo on their on-ice amplifiers and Hetfield's Flying V included a Sharks sticker on it as well. Both guitars used in the performance will be sold through NHL Auctions to raise money for the Sharks Foundation. Check out Hetfield's here. (As of June 9, the high bid was over $10,000.) Hammett's is here and was "only" $5225 as of June 9.
Alas, the guys couldn't help the Sharks to victory that night. They now trail the Best of Seven three games to one. The band's affinity for Bay Area teams is well known. They've previously performed the National Anthem at Giants and Warriors games.
It seems the possibility of a new Metallica album is in the works and could possibly be out by the end of 2016. While the exact details surrounding the album are unknown, guitarist Kirk Hammett promises "It's metal. It's heavy." We wouldn't expect anything less, Kirk.
In other Metallica news, the classic metal band released deluxe remastered versions of their first two albums, 1983's Kill 'Em All and '84's Ride The Lighting for this year's Record Store Day. The albums were issued individually and together as a box set loaded with bonus material.
That same day they also issued Liberte, Egalite, Fraternite, Metallica! – Live at Le Bataclan, a nine-song concert recording from their 2003 special appearance at the Paris nightclub that was attacked by terrorists on November 13th last year. Proceeds from the records went to benefit victims of the attack.
Best Classic Bands also reported previously on the publication of Metallica: Back to Front, coming September 13. The fully authorized book by author Matt Taylor is about the band's breakthrough 1986 Master of Puppets album and the tour that followed. Said to be full of previously unseen material from the group's archives and material from exclusive interviews with the band members, this seems to be a ultimate Metallica fan's dream.

Latest posts by Best Classic Bands Staff
(see all)